Amazon workers in at least eight warehouses across the United States have tested positive for the CCP virus, according to news reports and the Seattle-based retailer.
Warehouse workers at two separate locations in New York City—Staten Island and Queens—tested positive. Similar cases were confirmed at Amazon warehouses in Oklahoma City, Oklahoma; Brownstown, Michigan; Jacksonville, Florida; Shepherdsville, Kentucky; and Wallingford, Connecticut.
The Epoch Times refers to the novel coronavirus, which causes the disease COVID-19, as the CCP virus because the Chinese Communist Party's coverup and mismanagement allowed the virus to spread throughout China before it was transmitted worldwide.
A manager at the Staten Island facility, Chris Smalls, told the New York Post that an employee was diagnosed with the virus.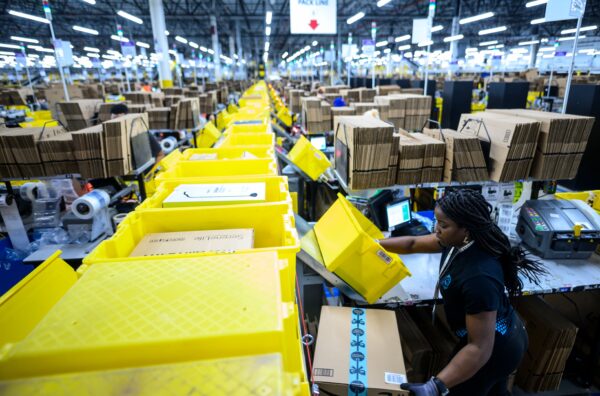 "They don't have people's best interests in mind. It's irresponsible and inhumane to have us keep working there," Smalls said. "We're going to be a second wave [of the outbreak]. I understand we're essential to our communities, but we're not helping out the community if we're carrying the virus."
Amazon told CNBC that its Queens warehouse was closed after a worker contracted the CCP virus.
"We are supporting the individual who is now in quarantine," an Amazon spokesperson confirmed. "Since the early days of this situation, we have worked closely with local authorities to proactively respond, ensuring we continue to serve customers while taking care of our associates and we're following all guidelines from local officials about the operations of our buildings."
Spokespersons for Amazon confirmed to local news outlets that employees contracted the virus at its Oklahoma City, Jacksonville, Brownstown, Katy, and Wallingford. Employees at the Shepherdsville location were told by the company via voicemail that three coronavirus cases were confirmed onsite, WDRB reported.
In some of the cases, Amazon temporarily closed down facilities to be sanitized.
Amazon said it will hire 100,000 new workers for warehouses and delivery services to meet surging demand as millions of Americans adhere to stay-at-home orders and attempt to stock up on key household products such as toilet paper, soap, and hand sanitizer.
A petition was launched by Amazon employees to "demand coronavirus protections" on March 17.  "As we continue to provide this valuable service to our communities, we must ensure that we are adequately protected," it reads.
And a New York-based group of Amazon workers said that when a CCP virus case is confirmed at any facility, the site be closed down.
"The facility must be shut down and workers given paid leave at their normal pay rate while the facility is thoroughly sterilized and workers are tested for the virus,"  Amazonians United NYC said.