Canada took home one of its first gold medals at the Pan Am Games in Peru this weekend, with the women's rugby sevens team scoring an impressive win in a 24-10 game against the United States.
The team, led by captain Kayla Moleschi, successfully defended the title they won in Toronto during the 2015 Pan Am Games. Thanks to winger Asia Hogan-Rochester's three tries and her teammate Breanne Nicholas' one try, Canada was able to finish with a landslide victory and add another gold medal to their 2019 record.
"It's unreal, I can't believe this has happened," Hogan-Rochester told The Canadian Press after the game. "This was our biggest opponent so we were a bit [nervous]. But we definitely used those nerves coming into this final and we came out on top thankfully."
Her captain, Moleschi, agreed, and said she couldn't have asked for more from her team. "The Pan Ams is always a tough competition, so to be able to come with a different squad that we had in Toronto in 2015 and win again is incredible," she said.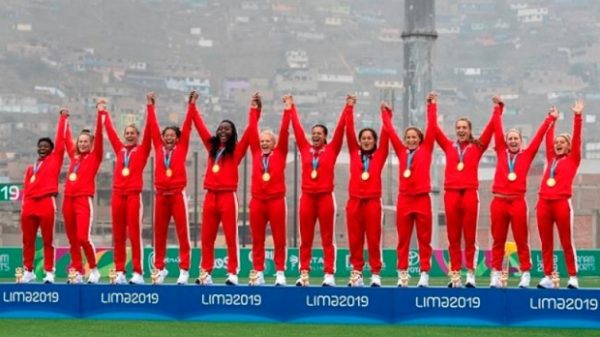 Women's rugby sevens was added to the Pan Am program only four years ago, but Canada's teams have had no shortage of success in the sport. Along with the women's team winning gold in 2015, also against the United States, the men's team won gold medals in the years of 2011 and 2015.
"Each game is a building block and we just kept stepping it up and stepping it up," said Morgan Williams, the team's assistant coach. "And they saved the best for last."
On the other side, although the Canadian men's rugby sevens team didn't quite manage gold this year—they lost 33-10 in the finals against Argentina—they still took home a silver medal for their efforts.
Both teams have also already qualified for the 2020 Olympic Games in Tokyo, earning the position with the men winning the Rugby Americans North Sevens title and the women finishing in the top four during the World Series.
Canada's Overall Performance Impresses
With the women's rugby sevens team's victory, Canada brings its total to two golds in just the first 3 days of the Games.
The first came during the K4 500-metre canoeing race, when teammates Alanna Braylougheed, Alexa Kaien Irvin, Andreanne Langlois, and Anna Negulic finished in the top spot with a time of one minute and 34.316 seconds. Mexico clocked in at just 0.33 seconds after, and Argentina trailed in third place by 1.29 seconds.
"We make sure we know the race plan and we follow it and at the end we debrief and say what we like and what we didn't like," Langlois said to CBC News after their win. "But for this race I would say it was pretty awesome the whole way so we have nothing to say about it except that it was perfect."
The men's K4 team finished their race in 4th place during the same event, just barely off the podium by 0.765 seconds.
Canada also brought back silver medals in both men's and women's squash doubles, as well as two bronzes in women's singles thanks to players Hollie Naughton and Samantha Cornett. The two women had the honour of winning Canada's first Pan Am medals of 2019.
When all the numbers are added up, Canada places 8th in overall medal rankings with 2 gold, 8 silver and 6 bronze, and 3rd in total amount of medals with 16.
After the sacrifice and dedication comes the celebration. This is the medal table of the fifth day of competitions. 🥇🥈🥉 Find out which country is in the lead at https://t.co/OPqabjIDdM #LetsAllPlay 😁✨ pic.twitter.com/LB7AM87aIS

— Lima 2019 #LetsAllPlay 🏅 (@Lima2019Games) July 29, 2019