WASHINGTON—Within 24 hours, Donald Trump received mass praise and mass condemnation.
On Inauguration Day, hundreds of thousands of people filled the National Mall to cheer for the new president. The next day, hundreds of thousands more came out to oppose him with the Women's March on Washington.
For the members of the march, an ascendant Trump evoked indignation, distrust, and fear. The march was a single day of catharsis and protest, but it may endure by beginning a political movement.
Maura Adamczyk came to Washington with an entire busload that drove overnight from Chicago. She said Trump's "example of how to treat women" could not be accepted. But she came not just on behalf of women. "He has insulted everyone on this planet," she said.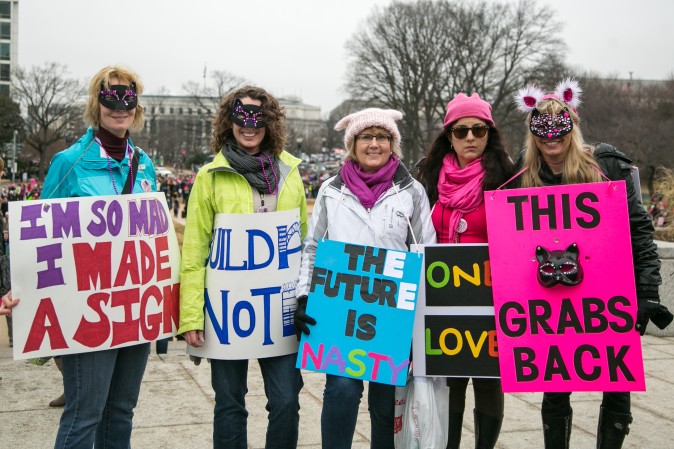 Sharon from Boston brought her 16-year-old daughters with her so that "they can learn they can stand up for themselves when we have a leader who has degraded them, assaulted them, [and] objectified young women his whole career."
Maura and Sharon were part of a crowd so large that it filled the route for the planned march to the White House, making a formal march impossible.
They came from all over the United States—some from as far away as Hawaii. The marchers were grandmothers and grandfathers, working-age men and women, college students, parents pushing babies in strollers or walking along holding their children's hands. Some were long-time veterans of protests, and some had never marched in one before.
Though billed as the Women's March, it was always understood to be a march focused not on all women, but on women espousing progressive causes.
The march's website lists Planned Parenthood as the "exclusive premier sponsor." The left-wing environmental group NRDC (National Resources Defense Council) is a "platinum sponsor." Emily's List, which supports pro-choice Democratic women candidates, and NARAL (National Abortion Rights Action League) are "social justice partners." The ACLU and MoveOn.org are among several "movement friends."

The marchers cited a long list of causes that they wanted to promote: women's rights, human rights, abortion rights, LGBTQ rights, Black Lives Matter, immigrant rights, the environment, climate change, Muslim rights, unemployment, nuclear disarmament, and so on.
Distrust and Accountability
The kind of indignation felt by Maura and Sharon was often joined with a feeling that something in the United States has gone badly wrong.
Sait Tarhan said that in all his life, he had never felt anything like this. "Every day I wake up and I can't get past what has happened in this country."
For Amy Atkins, who works with special-needs children, the moment she turned against Trump was "when he made fun of a special-needs reporter."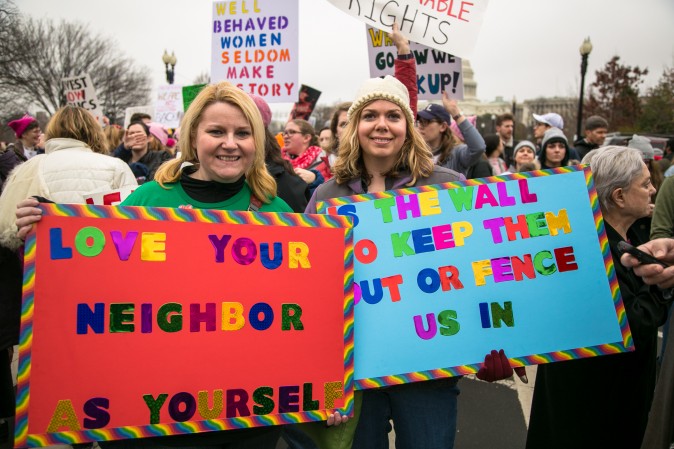 Cara sees the election of Trump as having approved bullying behavior. His example has, in her view, led to an increase in bullying of vulnerable populations across the United States.
Several marchers said they feared that with Trump in power, their rights might be taken from them.
Kym-Kisha Nixon from Baltimore, for instance, said, "We are going to do what we need to do to make certain that laws that apply to human dignity and human rights will not be tampered with."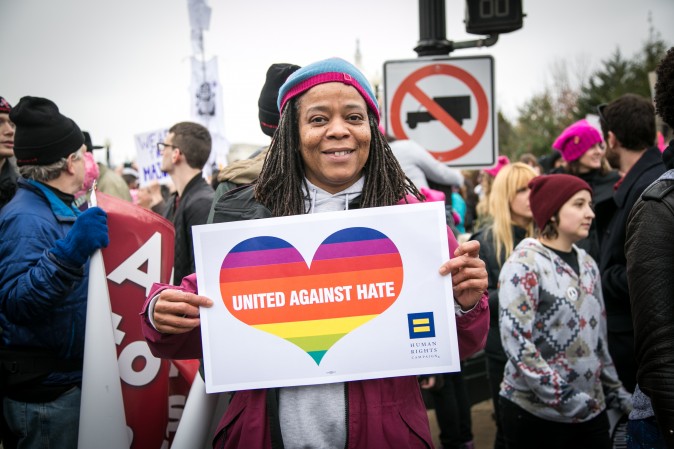 A woman employed by the federal government said, "This march is a reminder to our government that they were elected by part of this country, but they represent the rights and the values of the entire country. And I want to remind them of that for the next four years."
A common desire among the marchers was to use this massive protest to let not just Trump but also the Republicans controlling Congress know that they are being watched.
Sara said those "making decisions for everyone in this country need to see that there are this many people who are going to be holding them accountable on a regular basis."
Direct Action
Bailey Beeken of New York City said she loves the United States and feels that Trump's election is tearing it apart.

"I can't see us going backwards on civil rights and becoming even more unequal than we are," said Beeken.
"We want to get going with the revolution," she said. "Civil war is here."
When asked if she approved of the anarchists who had the day before smashed storefront windows and burned a limousine in downtown Washington, Beeken said, "I believe we have to make noise by any means necessary." For Beeken, the Republicans' intention to replace the Affordable Care Act is the real anarchy.
Mrs. Jones, from Pensacola, Florida, spoke with a tremble in her voice about her fears for the United States.

"We have seen this before in Germany, the rise of racism and hate," she said. "I am terrified at the way things are going. I will die rather than have another Hitler."
A New Movement?
Amy said that she had come to march "to share love and unity and peace. … We expect things chosen for our country to be chosen out of love and out of respect for everyone in our country."
Sait also hopes for a politics of love. "If you are a politician and you do have good in your heart, love in your heart, then your decisions will reflect your beliefs. Whatever you do comes from that place, and it will all work out."
Pundits have speculated that the Women's March on Washington could be the start of a progressive tea party. It was the tea party that provided the energy and the votes that led the Republicans to take control of the House of Representatives in 2010.
The march in Washington had sister marches in 17 cities in the United States, with an estimated 1.5 million attendees nationwide, and an estimated 1 million more attendees in marches around the world.
In order for a coherent political movement similar to the tea party to emerge from these huge events, the participants, who have a wide variety of agendas, will need to settle on a unifying message, say pundits. They will also need to translate the energy that brought people to march on the Saturday after Trump's inauguration into a commitment to engage in the daily work needed to elect candidates.
"This outpouring today is extraordinary and inspiring. But if all this energy isn't channeled into sustained pol [sic] action, it will mean little," tweeted David Axelrod, the chief strategist behind Barack Obama's winning campaigns.
The Women's March on Washington website has on its front page an announcement for a new campaign: "Ten actions for the first 100 Days." Supporters of the movement, including its sponsors, are hoping these will translate into long-term activism.
The future will tell whether this initiative will help launch a new movement. If so, Trump's inauguration will be remembered as the beginning of two political forces that will be locked in a struggle over the success of his presidency.