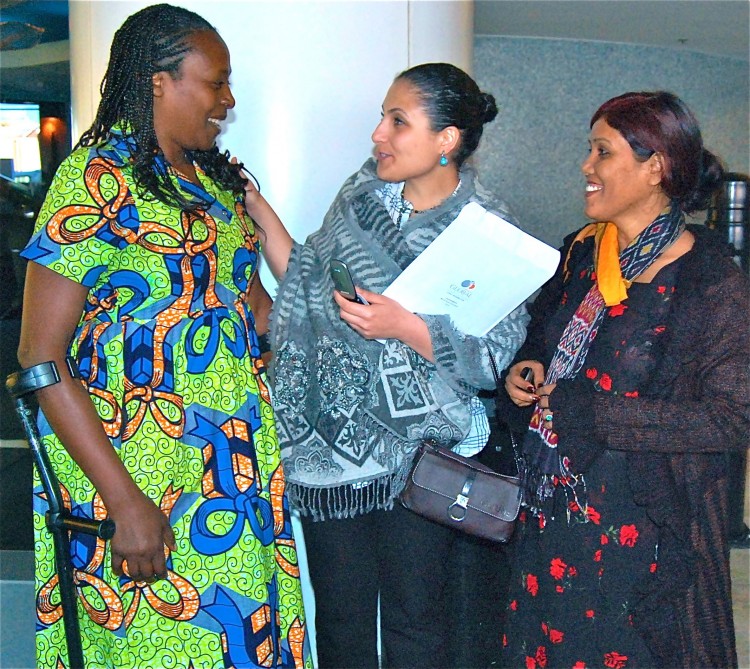 ATLANTA—A trio of World Pulse journalists from three countries traveled to America in September to tell their extraordinary stories at the Womenetics Conference in Atlanta, Ga. Hummingbird from Syria, Stella Paul from India, and Neema Namadamu from the Democratic Republic of Congo spoke of peril and courage, hope and connection.
Hummingbird spoke at the conference, and all three women spoke at the final tour event at the W Atlanta Hotel on Oct. 9. World Pulse founder Jensine Larsen kept a low profile.
Larsen said that she started the organization after working as a journalist in the Amazon, where women kept asking her to tell their stories to the world. She wanted to empower them to tell their own stories.
The mission of World Pulse "is to lift and unite women's voices to accelerate their impact for the world," according to its website.
Hummingbird uses a pseudonym to protect her family in Syria from reprisals. She said that she fears for them, but she decided that if she were to remain silent, then the murderous regime in her country would win. She wants the U.N. and governments to firmly insist that Syrian President Bashar Assad step down.
Hummingbird said that she remembers feeling a sense of freedom and abundance as a child, playing barefoot among olive and fig trees. After a military coup installed the current dictator's father, the regime began to enforce the worst aspects of traditional restrictions on women, including "enforced marriages, so that women have no rights," she said.
Like her mother and grandmother, Hummingbird was forced into a marriage, which she said was no better than slavery. She "packed up her life and walked away," only to face stigma and shame. She said that her courage and confidence has grown during her time working with World Pulse.
Now, Hummingbird encourages women to resist being coerced into marriages, and she helps them use social media and other technology for their benefit. She warned that the Internet in Syria is fast and powerful because the regime allows it to be so that they can track and capture dissidents. She has taught women in Syria how to protect themselves online and how to break the country's Internet restrictions to get their stories out.
Paul, also a Reuters reporter, said that she has no patience with top-down, one-size-fits-all solutions to problems. World Pulse takes the opposite approach. It connects women with the tools to talk to others and decide on their own solutions.
Paul wrote that when she joined World Pulse, she heard what she had always wanted to hear, "If you wrote a piece with a solution in sight—so a reader could ask, 'What can I do about it?' and find an answer—it would be read."
As part of her focus on practical, customized solutions, Paul sometimes chooses cellphones over computers. She taught poor, barely literate women to use free, Web-based texting apps on cellphones. A woman she knew was kidnapped and imprisoned in a brothel, she said. The woman used what Paul had taught her to send an SMS message that led to her rescue.
As a small child, Namadamu had polio, and it weakened her legs but not her spirit. "I won't let anyone say Congo is a lost cause," said Namadamu. "I am not a lost cause, so my country is not a lost cause."
In Congo, those with disabilities are often "left in a room, regarded as a punishment from God," she said. Namadamu's mother refused to accept that. Her mother carried her on her back to and from school every day. She became the first in her family to earn a university degree.
"My mother taught me love," she said. "I regard every person as my brother or sister," and she greets and listens to people with an intense warmth and attention that shows how strongly she took her mother's lesson to heart.
She has won a government telecommunications license to build a cellphone infrastructure in her war-torn country, where rape has become endemic. With cellphones, women can call for help and warn each other.
Namadamu also runs a women-only cybercafé, where she teaches Internet skills and offers a space where women can use computers without harassment. She said she has trouble asking for anything she needs, but she said that she does need money to run the cybercafé. The women's trip was to publicize their work and raise funds to support it.
"World Pulse is an action media network powered by women from 190 countries," according to its website.
The Epoch Times publishes in 35 countries and in 19 languages. Subscribe to our e-newsletter.