Men shaved off beards and women burned their burqas in a show of defiance and celebration after escaping their ISIS captors in the Syrian city of Raqqa.
U.S.-backed Syrian forces led the civilians to safety on July 20. Some immediately started to shave their beards and burn burqas to spite the rules imposed by the terrorist group, as seen in a video posted on YouTube. 
Note: See full video below.
ISIS enforced a strict dress code in Raqqa. Women were required women to wear burqas—full body and face covers—and could be reprimanded by police if they simply carried a brightly colored handbag.  
One woman who tore off her veil said that ISIS terrorists killed her son because he refused to pray.
"They didn't allow us to take his body for a whole week," the woman said.
Another woman, holding on to her two children in tears said that ISIS had killed her husband and father.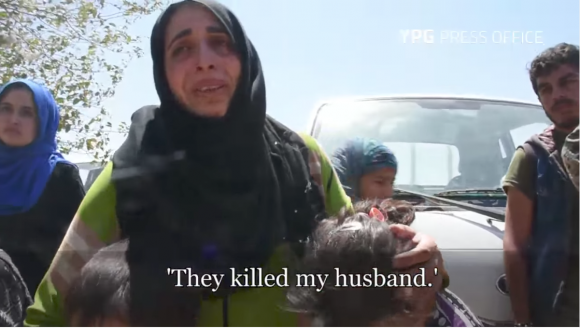 "They fired a mortar at our house. My husband was outside and he was hit and died," she said.
Another woman asked for a lighter and said: "May these clothes they forced us to wear be damned!"
She was joined by a younger woman who said ISIS burned her father. She stomped on a pile of burqas repeatedly before another woman set them on fire.
"Burn these! May Allah burn them [ISIS]! They burned my father!" she yelled in tears.
A man had a barber cut his beard off.
"Cut it all off, cut it all off to spite ISIS," he said.
ISIS has been defeated in its main Syrian stronghold in Mosul and is under pressure in Raqqa.
Syrian warplanes carried out air strikes against ISIS on July 22 east of Raqqa, Syrian state TV reported, citing a military source.