Police are looking for a woman who assaulted an Air Force veteran outside of his Veterans Village apartment building in Santa Ana, California.
The suspect, who remains at large, allegedly attacked the victim after he asked her to leave his apartment complex on the 3000 block of West First Street. The incident took place shortly after 8 p.m. on Oct. 21.
The elderly veteran, nicknamed "Cowboy," had asked the unidentified woman to leave the complex after initially offering to help her. An argument ensued, and a fight broke out between them.
The suspect punched Cowboy multiple times in the face until a bystander stepped into the middle of the two.
Santa Ana Police Cpl. Anthony Bertagna told The Epoch Times that the victim "had cuts and bruises and abrasions, but refused medical attention."
"He just didn't want to go to the hospital," Bertagna said.
Police said the veteran was in his home when he heard a woman screaming. When he went downstairs, he found a woman sitting outside on the curb who said she needed help.
"He heard the commotion downstairs. He went downstairs, saw this lady sitting on the sidewalk with three bags and told her, 'It's cold outside. Let me try and get you some help,' and brought her into the lobby," Bertagna said.
"And he said, 'Can I call you a taxi, a homeless shelter, something I can help you with?' She said, 'No, I just want money for a hotel room.' And he's like, 'I don't have money. And so now you need to leave because it's a secure facility.'
"And then he helped her out front, and it went downhill from there."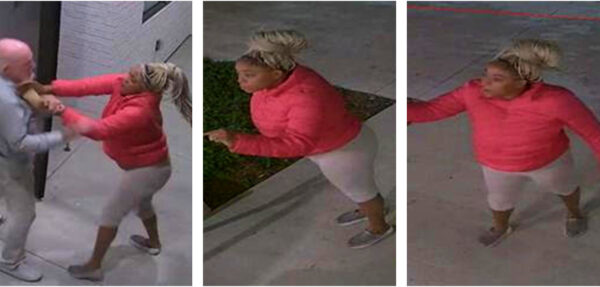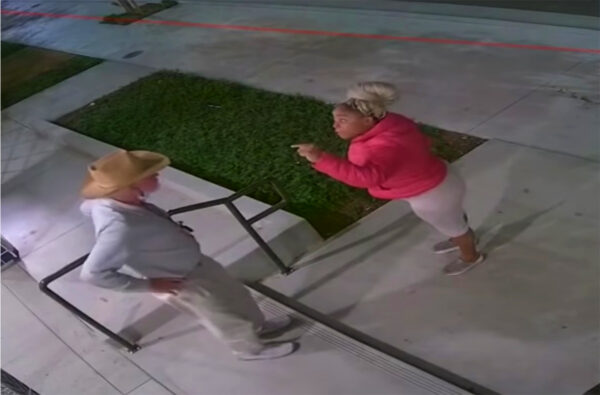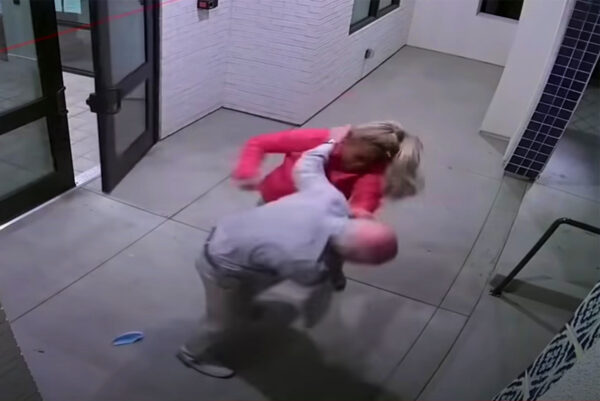 Cowboy helped the woman exit the building by holding the door open for her, because she had many heavy bags she had brought with her.
Surveillance video shows an argument ensued between the two as the woman was leaving. They were still arguing as Cowboy made his way back inside.
"He said, 'I'm trying to help you,' and he was telling her she had to leave the facility. So she was upset," Bertagna said.
As the door was closing, the woman approached Cowboy. Cowboy kicked the woman to deter her from reentering the building. She kicked back, then grabbed him by the collar, and began punching his face and head repeatedly.
Another woman intervened to break up the incident. She stepped in between the two and successfully stopped the assault.
"We don't know who she is. He [Cowboy] thought she was with the suspect, but there's nothing to indicate that that's true or not true," Bertanga said.
The bystander that intervened is wanted for questioning as well. "We would certainly like to talk to her and see if any information she can provide on who the suspect is or what she saw."
The suspect left the scene in an unknown direction. Police described her as a black woman between 20 and 30 years old, and between 5 feet 2 inches and 5 feet 4 inches tall. She was last seen wearing a hot pink coat and tan leggings.
"She's possibly a homeless person, but other than that we don't know anything about her," Bertagna said. Cowboy did not know the woman and had never seen her before.
Police described Cowboy as a man who had fallen on hard times before moving into Veterans Village.
"That facility is for veterans only. At the time he was picked to be placed in that facility, he was homeless. So he's grateful," Bertagna said.
Anyone with information about the case is asked to contact Detective Cpl. Angel at (714) 245-8404 or DAngel@santa-ana.org.