Ge Xiulan has endured a lot in her efforts to get her husband released from prison, including being harassed and detained herself, but she's not about to give up.
Ge's husband, Huang Liqiao, is serving a seven-year sentence for practicing Falun Gong, a spiritual discipline that has been brutally suppressed and persecuted by the Chinese communist regime since 1999.
On Huang's birthday last year, Ge showed up at Binhai Prison in Tianjin, bouquet of flowers in hand, to visit him. After waiting outside all morning, a guard finally came out and took the flowers, but she wasn't allowed to see him.
Ge wasn't surprised. After Huang, an engineer, was sentenced in September 2012, it was five years before she was allowed to visit him, and even after that, visits have been very sporadic.
Ge has been working to seek her husband's release since day one, appealing to various government entities in an effort to have him freed, maintaining all along that he had done nothing wrong in exercising his constitutional right to freedom of belief and therefore his seven-year sentence was unlawful.
"In movies, knives, guns, sticks, clubs, and drugs are often depicted as prosecution evidence. But there is no such evidence to prove Huang Liqiao had committed a crime. He was sent to prison to suffer endless torture," Ge wrote in a letter to officials at the Tianjin Superior Court in July 2017 that was published on Minghui.org, which serves as a clearinghouse for information on the persecution campaign against Falun Gong.
"Huang Liqiao has been wronged. In order to judge a person's guilt, one must examine whether what he did has harmed other people. Aren't people's actions the best evidence?"
The authorities threatened Gu, also a Falun Gong adherent, and interfered with her attempts to appeal for her husband. Her home was ransacked in 2013, and in March 2015, both her home and business were ransacked and she was detained in a labor camp for 25 days.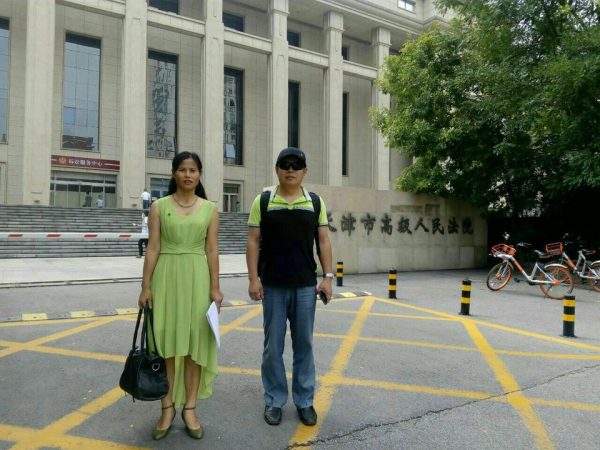 Torture Beyond Endurance
Starting in 2000, because he practiced Falun Gong and raised awareness about the facts behind the persecution campaign, Huang was held in a forced labor camp in Tianjin three times for a total of seven years, according to Minghui.
Because he refused to be "transformed," despite being forced to watch videos slandering Falun Gong, he became a prime target of the guards.
During those years he was heavily tortured, sometimes to the brink of death. This included being shocked with electric batons, viciously beaten with a wooden club, having his limbs forcefully stretched in a bed, "hung up" by handcuffs, and deprived of sleep for long periods.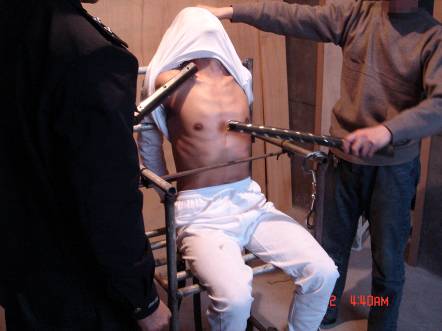 He was tied to his bed on a daily basis for as long as a year, except during mealtimes and toilet trips. In the summer he was covered with a heavy quilt to add to his suffering, while in winter, cold water was poured over him and the windows were left open.
He was also forced to perform hard labor for long hours. If he fell asleep while working, the guards used electric batons to shock his head to wake him up. If he was unable to get up in the mornings, the guards instigated other inmates to stab him with needles.
A type of torture called "one step to heaven" left him paralyzed, and he was bedridden for over two months and subsequently developed kidney problems.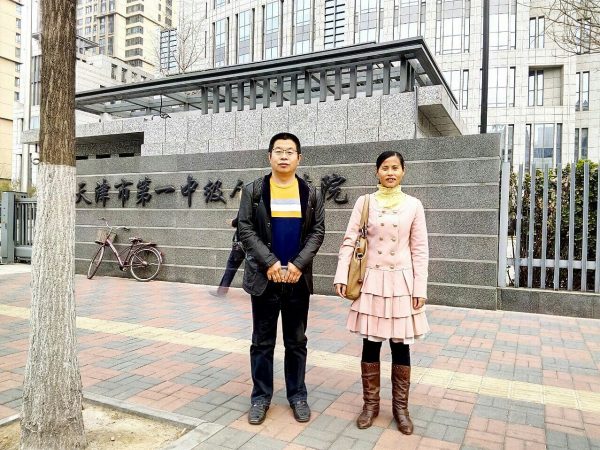 'Nurturing Kindness in Our Hearts'
Each time Huang was released from the labor camp, he soon recovered his health through the care of his family as well as practicing Falun Gong, a traditional practice that teaches people to improve their character by following truthfulness, compassion, and tolerance.
After he was again arrested in April 2012, he went on a hunger strike in protest and was force-fed—yet another type of torture.
When it came time for his trial on July 24, 2012, he was so weak from having been on a hunger strike for more than 70 days that he had to be brought into the courtroom in a wheelchair.
He was then diagnosed with tuberculosis, and on Sept. 20 he was rushed to the hospital in critical condition. Instead of giving him a medical reprieve, however, the local court handed down the seven-year prison sentence six days later.
Ge continues to appeal for Huang's release and to be able to visit him more often. A motion she filed with the Tianjin Superior Court in July 2017 urging them to reconsider her husband's case was rejected the following November.
But she is not deterred, and she explains why at the end of her letter.
"What matters more than life itself is people's true nature. Only by nurturing kindness in our hearts can we become people of benevolence, loyalty, propriety, and truth. If we practice truthfulness and compassion, we can have tolerance when encountering problems," she wrote.
"If [the imprisonment of my husband] hadn't violated my moral compass, I wouldn't have had the courage to face the threat of life and death and to persevere all these years."