A Utah woman faces attempted murder charges after police said she gave her boyfriend Drano intending to send him "into eternal sleep."
Elle Weissman, 43, allegedly tricked her boyfriend into drinking Drano drain cleaner by telling him that it was his medicine, according to KSL, citing a booking report.
Weissman, of South Salt Lake, was arrested Tuesday, April 30, on suspicion of "surreptitious administering of a certain substance," Salt Lake County Jail records show.
Police said in the booking report that Weissman allegedly "gave her live-in boyfriend a spoonful of Drano," adding that "her intention was to give her boyfriend Drano so that he would go into eternal sleep."
The report clarifies what the suspect meant by "eternal sleep."
"Elle stated that by eternal sleep she meant death. She knew that Drano could kill him and that was her intention."
'Death May Occur'
Drano, according to its manufacturer, "can unclog a drain fast."
The product contains "chemicals that quickly dissolve hair, soap scum, and gunk."
According to the U.S. National Library of Medicine, "swallowing this type of poison can have severe effects on many parts of the body."
"Damage to the esophagus and stomach continues to occur for several weeks after the sodium hydroxide was swallowed," the U.S. National Library of Medicine continues. "Death may occur up to several months later from additional complications. Holes (perforations) in the esophagus and stomach may cause serious infections in the inside spaces of the chest and abdomen, which may lead to death. Surgery may be needed if the chemical has perforated the esophagus, stomach, or intestine."
Victim Thought It Was Medicine
Police noted in the report that the victim was half-asleep when the suspect fed him the drain clog remover and that "her boyfriend thought she was giving him his medicine."
South Salt Lake Police Officer Gary Keller was cited by KSL as saying that the victim sought prompt medical attention after experiencing excruciating pain.
The allegations came to light on Monday when police were called to an urgent care center in Salt Lake City where the victim was being treated for symptoms related to poisoning.
Weissman told the staff at the medical facility that she had slipped her boyfriend some Drano, The Associated Press reported.
The suspect was then taken into custody and booked into Salt Lake County Jail, where she was being held on $100,000 bond.
The victim remains in hospital.
Crime in the United States
Violent crime in the United States has fallen sharply over the past 25 years, according to both the FBI's Uniform Crime Reports (UCR) and the Bureau of Justice Statistics (BJS) National Crime Victimization Survey (NCVS).
The rate of violent crimes fell by 49 percent between 1993 and 2017, according to the FBI's UCR, which only reflects crimes reported to the police.
The violent crime rate dropped by 74 percent between 1993 and 2017, according to BJS's CVS, which takes into account both crimes that have been reported to the police and those that have not.
"From 1993 to 2017, the rate of violent victimization declined 74 percent, from 79.8 to 20.6 victimizations per 1,000 persons age 12 or older," the U.S. Department of Justice stated (pdf).
Both studies are based on data up to and including 2017, the most recent year for which complete figures are available.
The FBI recently released preliminary data for 2018. According to the Preliminary Semiannual Uniform Crime Report, from January to June 2018, violent crime rates in the United States dropped by 4.3 percent compared to the same six-month period in 2017.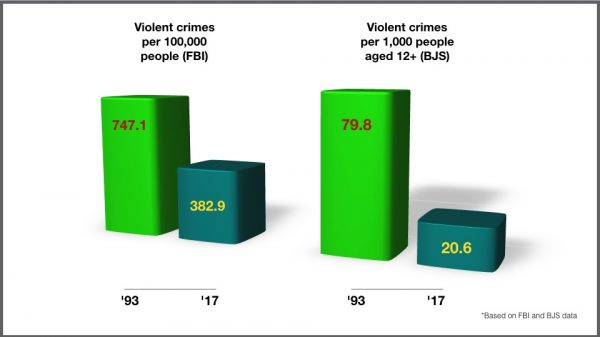 While the overall rate of violent crime has seen a steady downward drop since its peak in the 1990s, there have been several upticks that bucked the trend.
Between 2014 and 2016, the murder rate increased by more than 20 percent, to 5.4 per 100,000 residents, from 4.4, according to an analysis of FBI data. The last two-year period that the rate soared so quickly was between 1966 and 1968.
Property Crime
The property crime rate fell by 50 percent between 1993 and 2017, according to the FBI, and by 69 percent according to BJS.
According to the FBI's preliminary figures for the first half of 2018, property crime rates in the United States dropped by 7.2 percent compared to the same six-month period in 2017.
As with violent crime, the FBI survey only takes into account crime reported to the police, while the BJS figures include reported and nonreported crime.
Public Perception About Crime
Despite falling long-term trends in both violent crime and property crime, opinion surveys repeatedly show Americans believe that crime is up.
The vast majority of Gallup polls taken since 1993 show (pdf) that over 60 percent of Americans believe there is more crime in the United States on a national scale compared to the previous year.
Pew Research surveys show similar findings. A survey in late 2016 revealed that 57 percent of registered voters said crime in the nation as a whole increased since 2008, despite both FBI and BJS data showing double-digit drops in violent and property crimes.
Perceptions differed on a national versus local level.
Surveys of perceptions of crime levels on a local scale showed that fewer than 50 percent of respondents in every single Gallup survey (pdf) done since 1996 believed that crime in their area had risen compared to the previous year.
The Associated Press contributed to this report.