A woman was badly injured in a severe car crash in the Arizona desert near Phoenix and survived nearly a week before being rescued on Oct. 18, said the Arizona Department of Public Safety in a news release.
The 53-year-old woman was driving along U.S. 60 near milepost 117, a few miles outside of Wickenburg on Oct. 12.
She lost control of her vehicle and tore through a fence before she found her car falling 50 feet to land in a mesquite tree. Her damaged car was left stuck in the tree and hanging off the ground.
With no apparent witnesses to the crash, it would be six days before the woman was discovered by the authorities, according to the press release.
A woman lost control of her vehicle on a rainy night in October, went through a fence off the 60 near Wickenburg, and down a cliff. She was out there for SIX DAYS and survived…hear from the ADOT employee who found the tracks tonight #FOX10Phoenix pic.twitter.com/kojoF17aBR

— Matt Galka Fox 10 (@MattGalkaFox10) November 1, 2018
After a few days, the woman crawled out of the car and walked towards some nearby railroad tracks to try to find help. However, she was too weak to get very far and never made it to the tracks.
Six days later, an Arizona Department of Transportation (ADOT) maintenance crew was working with a nearby rancher to capture an escaped cow along the highway when they saw a large hole in the fencing.
"When they stood by the damaged fence, they observed a mangled vehicle lodged in a mesquite tree about 50 feet down from the roadway," the press release stated. "ADOT notified the Arizona Department of Public Safety (AZDPS) and a trooper was sent to the scene."
Trooper Caleb Hiegel and ADOT crew members Zach Moralez and Josh Miller, along with the rancher Dave Moralez, then inspected the car. When they didn't find anyone inside, they looked around and noticed footprints leading away from the vehicle towards the dry bed of the Hassayampa River.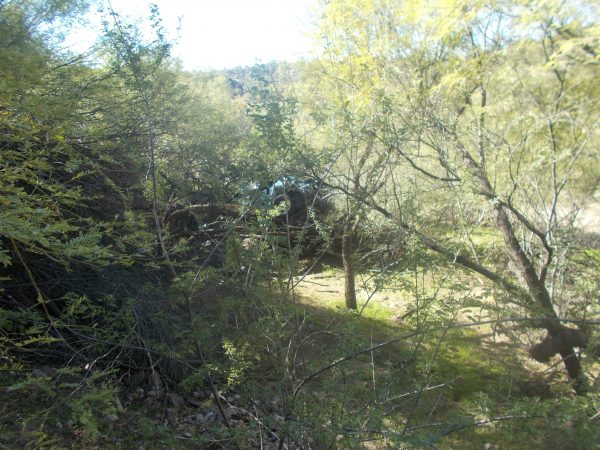 After about 500 yards, they "discovered a severely dehydrated woman with serious injuries" who was curled up in a fetal position on the ground. Fortunately, she was awake and responsive.
The men treated the woman and called for medical help, and she was soon airlifted to a hospital.
"The diligence of the ADOT crew and teamwork of everyone involved is exemplary and to be commended. Due to their outstanding efforts, this woman's life was saved," said Colonel Frank Milstead, AZDPS Director.