A woman has been reunited with her purse that she lost 65 years ago when she was only a teenager.
Martha "Marty" Everett said she had no idea she even lost the purse until it was mailed to her decades later. The purse surfaced during the demolition of a former Indiana high school, Today.com reported.
Everett graduated from the school in 1965, and construction workers found her purse behind the science classroom.
"Lost and Found Alert: Martha Ina Ingham's handbag from 1954 has been found in the Franklin Square demolition. We would love to return it to her or her family!" said the Greater Clark County School District on Facebook.
Later, in an update, the school posted that she was located.
"Martha Ina Ingham has been found! Thank you to everyone who shared our original post. We will provide an update soon," the district also posted.
According to Today's report, a relative saw the district's Facebook post and contacted Everett's family. The handbag then was mailed to her.
"It was a total surprise and shock," Everett, now 81, told Today.com.
Inside the purse, she discovered lipstick, gum wrappers, a Social Security card, and a schedule.
She also discovered a handwritten note asking her on a date.
"I've heard that Paul has asked you to go to the prom with him. If he hasn't, I would like very much to take you," wrote someone with the name "Torchy."
"Dear Marty," the letter reads in full, "Bobbie and I aren't going back together, I'm just continuing to walk her to classes. She asked me if I would and I told her that I would. But I am just trying to be friends with everybody. And I decided to start on the girls that I have done wrong. Is there anything wrong with that? I am just going to date everybody and be friends with everybody. I figure that's the least I can do."
Greater Clark County School spokeswoman Erin Bojorquez said she was happy that Everett's purse was located.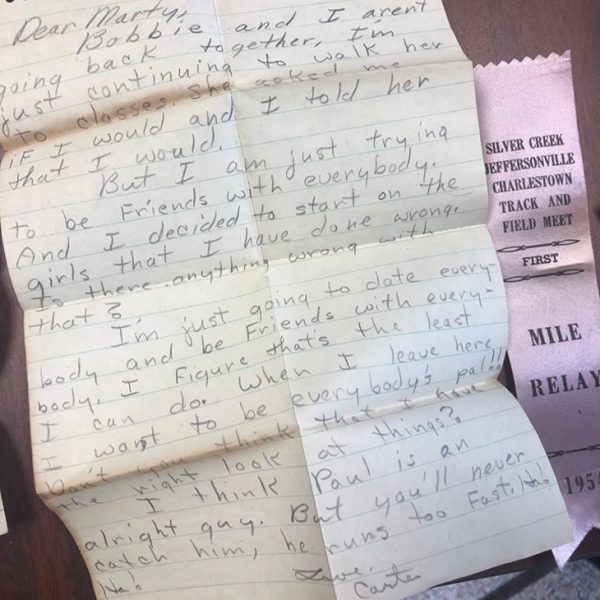 "I hope this little piece of history brings back fond memories of her year at Jeffersonville High School," she told WAVE 3 News. "I also hope to answer the community's burning question soon about who took Marty to prom."
Marty, now in her 80s, told Today that she ultimately went to the prom with her boyfriend at the time.
Reversal in China
In March, a taxi driver returned a brand new, expensive handbag to its rightful owner after she accidentally left it in his car. Instead of expressing gratitude, the owner complained about how the driver asked for fare after he delivered the bag to her.
The taxi driver reported the incident to the authorities, and it was resolved peacefully later. Many Chinese supported the driver who works in Shanghai, China.
"That bag was so expensive, it should be about 33,000 yuan ($5000)!" the driver said intensely, using the local Shanghai dialect, in a video posted on Weibo. He acknowledged how easy it would have been to take the bag. "But that would have been shameful of me, since I [only] found the bag."
When the woman complained about paying the fare, "That basically drove me crazy!" said the driver in the video. "I wanted to argue right back [with her]."
"Wouldn't it be great if I instead took that [bag] back to my wife?" the driver said, with a hint of anger in his voice. "[The customer] didn't realize that she had such good luck! She didn't even take her receipt; if I wanted to steal her bag it would have been so easy!"
Epoch Times reporter Daniel Holl contributed to this report.