A British woman was left lying in pain on a hospital floor in Hereford, England for several hours because there were no free beds, according to reports.
Kyra Dew, 22, is pictured using a coat as a pillow as she lay on the floor of the Accident & Emergency department of Hereford County Hospital as she waited for a bed to become available.
"When Kyra starts suffering pain she shakes with pain," her mother Sandra Dew told the Herford Times.
Kyra suffers from Poly Cystic Ovarian Disease and was struck with stabbing pains on Wednesday afternoon, Jan. 10. Her mother rushed her to hospital.
They arrived at A&E at about 2 p.m., but 90 minutes later things took a turn for the worse as Kyra's pain became so unbearable she was unable to sit or stand.
Hospital staff brought her a blanket but she was not given a bed until over 5 hours after they arrived, at about 7:15 p.m. her mother said.
Speaking to the Mirror, Sandra said "Seeing Kyra forced to lie on the floor of A&E for hours was heart-breaking."
Woman, 22, left lying on A&E floor using a coat as a pillowhttps://t.co/sqm1wv8uUP pic.twitter.com/3Th8MIogZH

— Daily Mirror (@DailyMirror) January 16, 2018
"There was no beds or trollies so she could only lie down on the floor and the receptionist got some bedding and made her comfortable," her mother told the newspaper.
"Unfortunately due to getting used to the Tramadol and oral morphine, A&E is the only option most months.
She added, "The closure of the Asda Walk-in centre meant that people were coming into A&E with cut fingers and bruises on their heads when before they would have gone elsewhere to get assessed."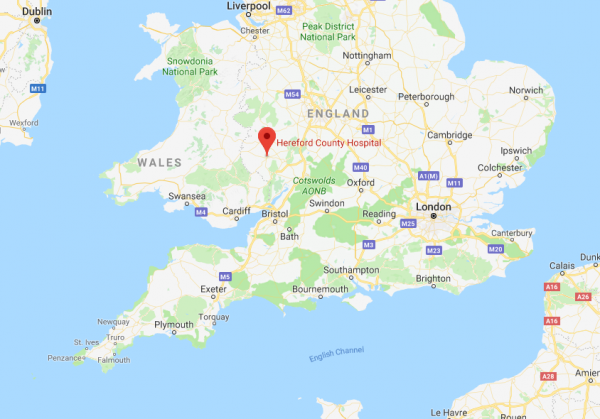 Sandra said that they would have preferred to stay at home but didn't have painkillers for her daughter so they had to go to the hospital.
"We also didn't know if it was more serious and maybe she'd suffered an internal bleed. She was in so much pain we had to do something," she said.
Woman, 22, in agonising pain forced to use coat as pillow on floor of A&E for five hours as she waited for a bed https://t.co/W1NfGIep27 pic.twitter.com/vQmd1xfFpc

— Yahoo UK News (@YahooNewsUK) January 16, 2018
In a statement sent to the Hereford Times, a spokesman for Hereford County Hospital said:
"Unfortunately, our Emergency Department was experiencing high demand at this time. Wye Valley NHS Trust has experienced unprecedented pressure on its services in recent weeks. This pressure is unrelenting.
"These winter pressures have been well documented in the media and, like other NHS Trusts, WVT has plans to help it cope with these extra demands on its services.
"Patients are triaged within the Emergency Department to ensure they are seen and treated according to their clinical need."
It added, "We apologise to those patients who have had to wait longer than they would have expected. While we can't comment on individual patients, it would be true to say that we are committed to ensuring that every patient who comes through our doors receives the best possible care we can give them. Our dedicated team of staff in the Emergency Department has been working under enormous pressure for several weeks and we would like to pay tribute to their professionalism and the compassionate care they give our patients."
Recommended Video:
Toddler With Rare Heart Condition Gets to Go Home After 402 Days in the Hospital