A woman who went on a 100-mph chase through the streets of Cleveland nearly ran over two officers and damaged three patrol cars told police she had to get to work.
The dramatic 25-minute chase in rush-hour morning traffic on March 22 was caught on dashcam video by state troopers, which shows a minivan weaving through traffic, using signal lights throughout.
The driver, Imani Edwards, has been charged with felonious assault and failure to comply, according to Cleveland 19.
The woman didn't stop because said she had to make it to work, according to police.
She had initially refused to stop for a trooper who tried to pull her over for tinted windows and fictitious plates.
After several minutes dashcam footage shows the police cruisers boxing in the minivan, and bringing it to a stop on I-77.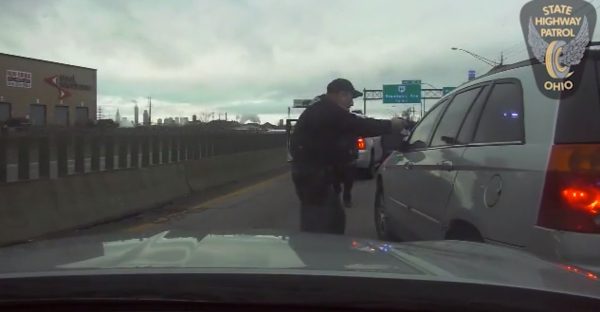 Two officers approach, guns drawn, and try to open the door, yelling at her to get out. But Edwards pulls off, swerving toward them, then ramming one police vehicle out of the way and bending the door of another before the chase starts again.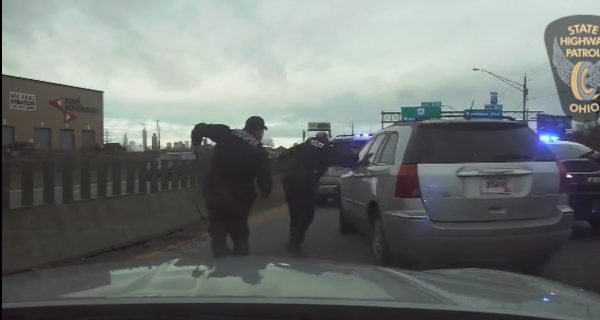 When they finally brought Edwards to a halt, some 15 minutes later, police officers can be heard expressing their frustration at Edward's life-threatening chase.
"What are you doing?" the state trooper asks. "I was on my way to work," comes the reply.
"Do you have any idea what you just did?" asked the trooper.
"Yes, sir," she replied.
"Obviously you don't," he said.
"You are so lucky you didn't get shot!" an officer tells her, as they slam the door shut.
Police said that the two officers restrained themselves while considering they could have been killed.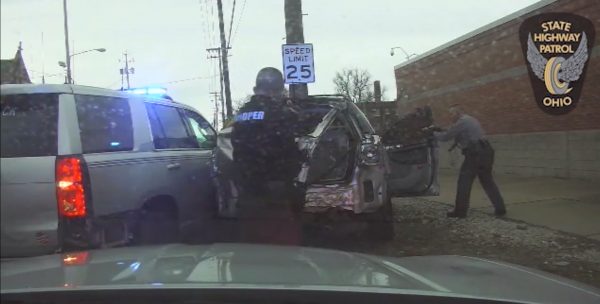 Newburgh Heights Police Chief John Majoy  told Cleveland 19, "Their lives were at stake, she almost ran them over, that's a 2,000-pound weapon coming at you, they jumped out of the way just in the nick of time, to save their own lives."
Edwards can be seen using her signal lights through much of the chase—at least until the lights were smashed and the rear of the vehicle ripped off as a police cruiser tried in vain to ram her vehicle into a utility pole.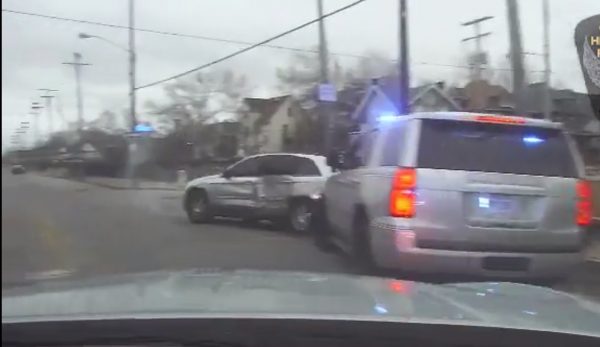 Even with her back end demolished, she continued to speed through residential streets in the rush hour, running numerous stop signs and red lights.
The chase finally came to an end when one trooper pushed her vehicle into a utility pole, and officers once again surrounded her at gunpoint, this time successfully taking her into custody.
"She's late for work; well, she's really late now, you know, and it didn't have to be that way," Majoy told Fox 8.