When asked about food delivery, one may think of a car, perhaps a bike or motorcycle, or even on foot in some cases. But one woman has resorted to a strong rope and jumping off a cliff, in what she describes as the fastest possible method for her situation.
Wan Tiandi is the logistics director for a mountainous scenic park in the city of Chongqing, in the Chinese province of Sichuan, according to a June 21 report by online news outlet Cover News. Her job is to make sure all of her co-workers get their meals.
She now uses a strong rope and harness to send meals to co-workers who are 980 feet (300 meters) below the edge of a mountain.
"The scenic area is pretty big, if we drive a car it'll take about two hours," Wan told Cover News. "This way it takes less than two minutes to send the food."
Wan works at the Wansheng Ordovician park, a mountainous park with fickle weather patterns.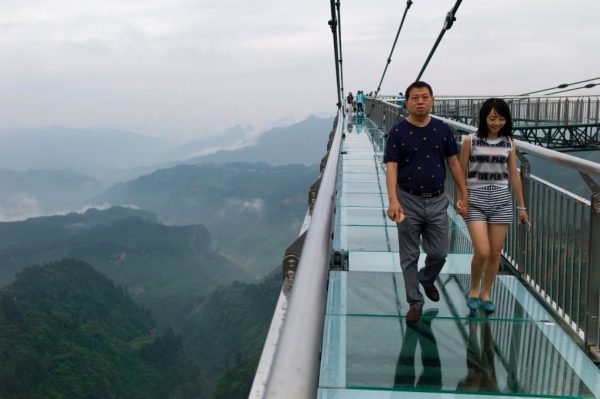 Wan explained that jumping off the mountain to deliver food was just part of her job. "Since it's noon, all my co-workers are down below, and I want to give them their food," Wan said to Cover News.
"When someone drives the car down, the food will get cold. So we talked about it, and decided this way is faster."
A group of onlookers watched as Wan stood on the platform, surrounded by a haze of gray clouds, as everyone counted down "three, two, one, jump!"
In the video, Wan immediately braces the food to her body, and flies down the drop, almost disappearing into the clouds below. Once she stops swinging, she's lowered to the road below.
"Mm, it's still hot," one of Wan's co-workers said to Cover News as he unpacked the box sealed with a plastic film. "When she sends food, it's really fast, on time, and reliable."
After she made the jump, she was asked if she'd ever made a mess of the meal boxes. "I don't mess them up, since I do this specially," Wan told Cover News. "We've tried all the other ways."
When Cover News asked Wan if the job scares her, she responded with a smile and said, "It doesn't."