A woman was filmed smashing her laptop into another passenger's head, it was reported.
The incident apparently took place on July 21 on an American Airlines flight departing Miami, Fox News reported. The plane was reportedly waiting to depart to Los Angeles.
The man and woman are apparently in a relationship, and the violent incident (warning: profanity) was seemingly started over an argument.
فتاة تكسر لاب توب على رأس صديقها بسبب نظرة على فتاة اخرى .😅https://t.co/s4VVtfEwr6 pic.twitter.com/Ib8DtU17nZ

— عمر العنزي 🦅🖤🇸🇦 (@B_O_Alenazi) July 23, 2019
The woman appears to be screaming at the man for "looking at other women," according to the profanity-laced video.
A flight attendant pleads with the woman to calm down, telling her there are children on board. "Yeah, I know," she said, adding that she attempted to console them.
Another passenger is heard saying, "Just take her off the plane!"
VIDEO: Woman Kicked Off Plane After Giving Boyfriend A Tongue-Lashing For The Ages, Attacking Him With A Laptop Bag https://t.co/unqNauQV85

— Paul Sacca (@Paul_Sacca) July 22, 2019
The flight crew appears to try and separate the couple and remove them both.
Then, the woman grabbed her laptop and hit the man in the head. The woman is then informed that she will be charged with assault, to which she replies, "Fine, whatever."
American Airlines confirmed the incident to Fox News.
Miami airport police make no arrest which is why people act this way on airplanes. They know they can get away with it. Lock her up!!

Plane passenger throws laptop at boyfriend for 'looking at other women': https://t.co/gSCe6cD7Nx

— The Persistence (@lockherup737) July 23, 2019
"Prior to departure from the gate on Sunday at Miami International Airport, two passengers who were traveling together were involved in a dispute. Law enforcement was requested, and both passengers were removed from the aircraft," the statement read.
"We thank the American crew who worked quickly to diffuse the situation," the statement added. "Their actions resulted in a safe environment for all of our passengers."
Other details about the incident aren't clear.
The woman and man have not yet been identified.
American Airlines Extends Boeing 737 MAX Cancellations
American Airlines Group Inc.,  said on Sunday it is extending for a fourth time cancellations of about 115 daily flights into early November due to the ongoing grounding of the Boeing Co 737 MAX jets.
The airline's decision was expected after the Federal Aviation Administration, which must reapprove the jets for flight following two fatal crashes, last month uncovered a new flaw that Boeing estimates will take until at least September to fix.
"American Airlines remains confident that impending software updates to the Boeing 737 MAX, along with the new training elements Boeing is developing in coordination with our union partners, will lead to recertification of the aircraft this year," the airline said in a statement on Sunday.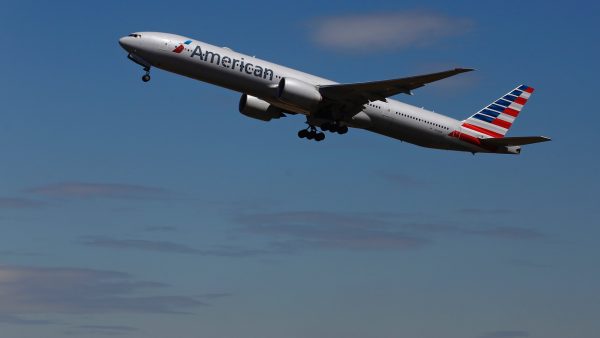 American, the world's largest airline and the second-largest MAX operator in the United States, most recently had planned to keep the MAX, which is used on most flights between New York's LaGuardia airport and Miami, off its schedule through Sept. 3. It has been substituting other aircraft for its busiest flights while canceling others and temporarily suspending direct flights between Oakland, California, and Dallas-Fort Worth.
Some analysts have said they do not expect the MAX jets to fly again before the end of the year.
American, with 24 737 MAX aircraft and dozens more on order, is scheduling without the jets through Nov. 2.
Reuters contributed to this report.