Police said a woman who was found bound and gagged in a vacant California home lied about being kidnapped, according to ABC7.
On Tuesday, May 7, maintenance crews scheduled to do work on what was supposed to be an unoccupied city-owned property in Santa Ana discovered an unauthorized padlock and called the police, CBSLA reported.
Officers responded to the call and heard suspicious sounds coming from inside the house, described in the report as moaning.
Deputies entered the property and found the woman inside, tied up on a bed and gagged.
According to the Orange County Register, she told the officers that someone had kidnapped her earlier that day from a nearby bike trail and kept her captive for hours. She also provided a description of the suspect.
Woman found bound and gagged in vacant Santa Ana house https://t.co/NHuFTEnqmv

— O.C. Register (@ocregister) May 8, 2019
But when officers brought in a bloodhound to catch the scent of the alleged kidnapper, the dog found no trace.
After further investigation, detectives cited by CBSLA found the woman had lied to police about being kidnapped to avoid being arrested for squatting.
Neighbors cited in the report said the city had bought homes in the area for a development project and homeless people have started squatting in them.
Santa Ana Police Cpl. Anthony Bertagna was cited by the Orange County Register as saying: "After the homicide detectives interviewed her, they determined that there was no street kidnapping that occurred as alleged. What detectives are continuing to investigate is the condition they found her in at that locked residence."
Bertagna said that investigators are still trying to determine how she came to be found bound and gagged inside the locked property and added that "at this point she's still a victim."
Crime in the United States
Violent crime in the United States has fallen sharply over the past 25 years, according to both the FBI's Uniform Crime Reports (UCR) and the Bureau of Justice Statistics (BJS) National Crime Victimization Survey (NCVS).
The rate of violent crimes fell by 49 percent between 1993 and 2017, according to the FBI's UCR, which only reflects crimes reported to the police.
The violent crime rate dropped by 74 percent between 1993 and 2017, according to BJS's CVS, which takes into account both crimes that have been reported to the police and those that have not.
"From 1993 to 2017, the rate of violent victimization declined 74 percent, from 79.8 to 20.6 victimizations per 1,000 persons age 12 or older," the U.S. Department of Justice stated (pdf).
Both studies are based on data up to and including 2017, the most recent year for which complete figures are available.
The FBI recently released preliminary data for 2018. According to the Preliminary Semiannual Uniform Crime Report, from January to June 2018, violent crime rates in the United States dropped by 4.3 percent compared to the same six-month period in 2017.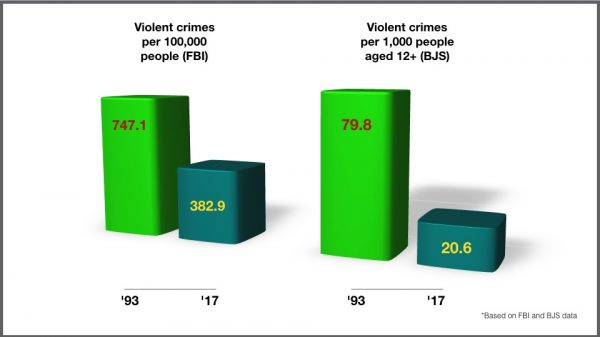 While the overall rate of violent crime has seen a steady downward drop since its peak in the 1990s, there have been several upticks that bucked the trend.
Between 2014 and 2016, the murder rate increased by more than 20 percent, to 5.4 per 100,000 residents, from 4.4, according to an analysis of FBI data. The last two-year period that the rate soared so quickly was between 1966 and 1968.
Property Crime
The property crime rate fell by 50 percent between 1993 and 2017, according to the FBI, and by 69 percent according to BJS.
According to the FBI's preliminary figures for the first half of 2018, property crime rates in the United States dropped by 7.2 percent compared to the same six-month period in 2017.
As with violent crime, the FBI survey only takes into account crime reported to the police, while the BJS figures include reported and nonreported crime.
Public Perception About Crime
Despite falling long-term trends in both violent crime and property crime, opinion surveys repeatedly show Americans believe that crime is up.
The vast majority of Gallup polls taken since 1993 show (pdf) that over 60 percent of Americans believe there is more crime in the United States on a national scale compared to the previous year.
Pew Research surveys show similar findings. A survey in late 2016 revealed that 57 percent of registered voters said crime in the nation as a whole increased since 2008, despite both FBI and BJS data showing double-digit drops in violent and property crimes.
Perceptions differed on a national versus local level.
Surveys of perceptions of crime levels on a local scale showed that fewer than 50 percent of respondents in every single Gallup survey (pdf) done since 1996 believed that crime in their area had risen compared to the previous year.