Whitney Anderson of Salem, Virginia, went to a restaurant and noticed something odd after she handed over her credit card to a waiter.
Anderson said her family ate at Abuelo's and noticed that more money than expected was drawn from her bank account the next day, WSLS-TV reported.
"It was $45.50 and I tipped $10 even, made it $55.50, " said Anderson.
Anderson said she looked at her bank statement and the numbers didn't add up as she remembered. Anderson said the amount that was withdrawn was $65.50 instead of $55.50. When she went back to the restaurant to bring her concerns to the management, she asked to see her receipt.

"I was like before you give me that, is that the merchant copy or customer copy" she said. "He looked at it, opened it and was like, 'It's the customer copy'."
Anderson said her signature was forged and didn't look like her handwriting at all. The tip line had $20 in instead of $10, which she signed for.
Being a former waitress herself, Anderson said the issue isn't how much was tipped, but it's about trust.
"It was almost a 25% tip and then they go behind you and fraudulently sign a name to a credit card receipt," she told the station. "I don't feel that's any different than someone taking your debit card."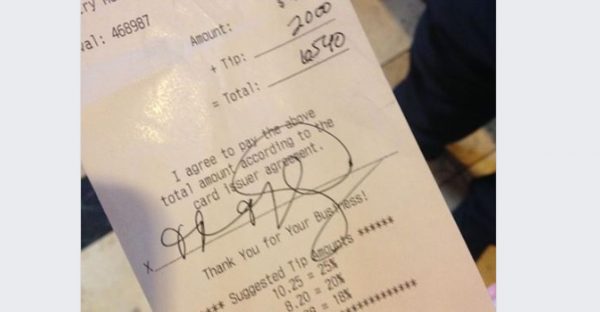 Anderson issued a warning for fellow restaurant patrons in a Facebook post.
"I'm so angry that a server did this and who knows how many times she's done this and stole money from customers!" she wrote.
She also posted a photo of the receipt. "I have been serving for 11 years now and so many people leave that blank copy of the receipt and it's never crossed my mind to fill it out and forge their signature!"
The waitress "forged a signature that doesn't even look like my name. I mean seriously. She could have at least tried to sign my last name Anderson," she said.
How Much to Tip?
Everyone should know that the standard tipping fare is 15 to 20 percent of the pre-tax bill at a restaurant, but what about other places?
"Tipping is important. There are so many services where people aren't even paid minimum wage," says Debby Mayne, etiquette guide, according to AARP's website. "The pizza delivery guy is out there braving the elements. There's a reason why you didn't go get that pizza yourself."
According to AARP's website:
Valet parking personnel
When your car is returned to you, it's appropriate to tip the valet $2 to $5.
Hairstylist/barber
Stylists and barbers should be tipped a minimum of 15 to 20 percent of the service, and that tip can be split among others who assisted (for example, the shampoo person and colorist). Apply the same value to manicures, pedicures, massages and the like. Think the owner of the salon shouldn't be tipped? Turns out that's an old tradition. Owners today appreciate and will accept 15 to 20 percent.
Contractors
If you work with a regular contractor who cuts you a break from time to time, you may be compelled to offer a tip. Most of the time it isn't necessary to tip an electrician or plumber, Mayne says. "However, if they do anything extra or spend more time than expected, a tip is always appreciated, with the minimum being $20."
Movers
For a local move (with no broken dishes), Mayne says $20 per mover is fair. If it's long distance, consider offering more.
Maid
At a hotel, you're expected to leave a little something for maid service, based on how many days you stayed. But what about at home? Tipping a house cleaner who's employed not by you but by a cleaning service is optional. If you feel so inclined, 10 to 15 percent is acceptable. At holiday time, or if you're particularly impressed by a job (the gunk was cleaned from all your liquid soap dispensers), increase it, but by no more than $20.