Woman Finds Ring Growing on Carrot She Lost 13 Years Ago
August 17, 2017 2:39 pm Last Updated: August 17, 2017 2:39 pm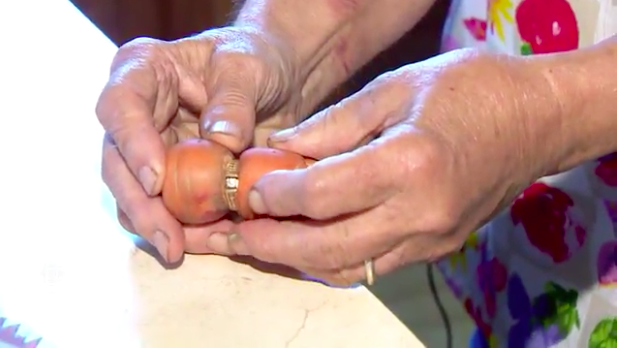 The daughter-in-law of an 84-year-old woman who lost her engagement ring 13 years ago almost fed the newly found ring to a dog.
Colleen Daley was picking carrots for dinner at the farm that had been in her husband's family in Alberta, Canada, about 37 miles southeast of Edmonton, for 105 years when she found a misshapen carrot.
She thought about giving the deformed root to the dog Billy who was picking carrots with her at the time, but decided to give it a second chance and threw it in her pail.
It wasn't till she was washing it that she realized the cause of its deformity—a ring had gotten wrapped around the carrot, and as it grew, it had pinched the middle of the carrot, shaping it like an hourglass.
Her mother-in-law, Mary Grams had lost the ring in September 2004 while she was pulling out a large weed in the garden.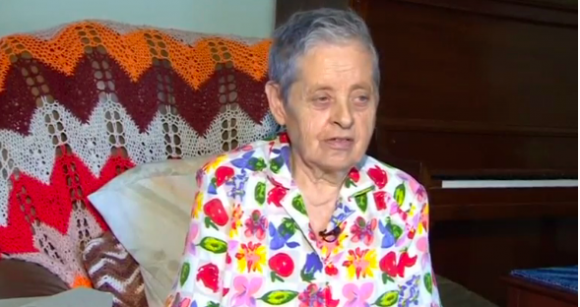 "We looked high and low on our hands and knees. We couldn't find it. I thought for sure either they rototilled it or something happened to it," she told the Canadian Broadcasting Corporation. "I cried so many times."
Having given up on ever finding it, she went to a jeweler and bought a cheap one to replace it, but without telling her husband.
"Because I thought for sure he'd give me heck or something," she said.
He gave it to her in 1951, the year before they were married, and never noticed the replacement on her finger wasn't the same one. He passed away five years ago, a month after the couple's 60th wedding anniversary.
Grams did tell her son, Daley's husband, however, the only one she let in on the secret.
When Daley discovered the ring on the carrot, she showed it to her husband.
"I knew it had to belong to either grandma or my mother-in-law," Daley told the CBC, "because no other women have lived on that farm."
He did recognize the ring and recounted the story of how his mother had lost it years ago in the garden.
When Daley called Grams and told her what she had found, "She couldn't believe it," Daley told The Associated Press.
She washed the ring off with a little soap and water to remove the dirt and, surrounded by her family, slid it easily onto her finger.
"I thought I would have to go to the jeweler today, but it still fits," she said, according to the Guardian.