A 23-year-old woman has been convicted of battery for slapping a Trump supporter at a march in Orange County, California.
Jessica Aguilar, 23, of Sacramento, was convicted on Aug. 14 of one misdemeanor count of battery, according to the District Attorney's office, for slapping the man in the face twice on March 25, 2017.
She was one of several dozen people who had attempted to block a 2000-strong Make America Great Again march before tempers flared into a sprawling brawl on Huntington Beach.

Aguilar was sentenced to 20 days in jail, 10 days Cal Trans work—working along the freeway, picking up trash, and doing manual labor—and three years probation.
The DA's office said in a statement that the growing number of political demonstrations had brought "an increase in professional protestors who travel the country inciting violence by baiting demonstrators into attacking them."
Aguilar's conviction was secured in part by numerous videos of the violent clashes.

"The Orange County District Attorney's Office does not condone random acts of violence," said Orange County District Attorney Todd Spitzer. "With political dissension on the rise across the country, it is important to remember that right to protest is afforded to everyone; no one has the right to commit an act of violence against someone because they don't agree with their views. If someone chooses to commit violence, they will be prosecuted."
In addition to Aguilar, other people were also arrested, but the charges were not carried forward because prosecutors said they could not prove who started the fight, which, according to the Orange County Register, rolled on for about half an hour.
Others besides Aguilar had been arrested, including individuals suspected of illegal use of pepper spray, according to KTLA, but prosecutors said they rejected their charges because they could not prove who started the fights.
The event was one of around 50 organized across the country that day in support of the military, veterans, law enforcement, and emergency responders, as well as President Donald Trump.
"Organizers said they were hoping for a family-friendly, kid-friendly march," reported the Register.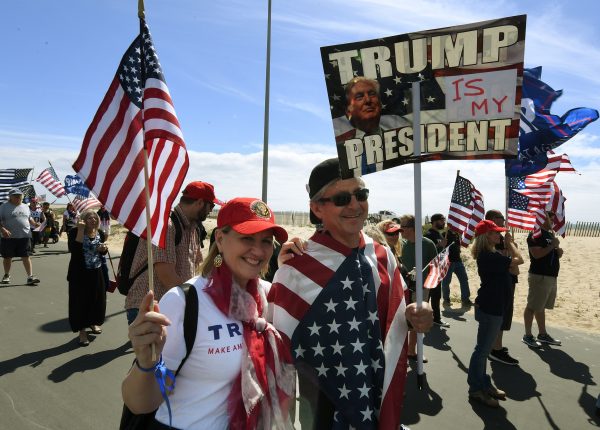 The rally had already been moved to the beach by authorities who hoped to avoid a confrontation between the marchers and the anti-Trump contingent.
The march was initially blocked by the group of protesters, reported the Register.
Video footage shows people shoving and threatening on all sides, as tempers frayed to breaking point and the situation descending into violence.
Local law enforcement was criticized for not stepping in to stop the violence.
California State Parks Police Capt. Kevin Pearsall said at the time that his officers saw "a lot of people punching,"
"When you have that many people going at the same time, it's difficult," he said, according to the  Register. "We went into this with the thinking that if a situation became life-threatening, we would act."
The protesters said that they were simply exercising their right to peaceful protest.
Two local photographers and a journalist said that they were physically assaulted by pro-Trump marchers during the incident, reported the LA Times.
One of the marchers, John Beaman, who was trying to break up fights, laid the blame with the protesters.
"You get a bunch of testosterone going and people getting in each other's faces, this is what you get," he told the Register. "(The marchers) weren't there to cause trouble. The protesters were the ones who came to try and stop us. They were looking for trouble and they found it."