A woman made what some people have described as a once-in-a-lifetime catch after reeling in a fish that appears to have two mouths.
Debbie Geddes, of Upstate New York, said she caught the unique fish while she was fishing on Lake Champlain.
"When this particular fish bit, it felt like I had a nice fish on," she told Fox News. "I actually commented, 'I hope it's as big as it feels!' When we got it in the boat I couldn't believe what I was seeing! Two mouths! And yet this fish was healthy and thriving! Pretty amazing!"
Geddes said they took photos of the fish and released it back into the lake, which borders the state of Vermont and the Canadian province of Quebec.
"She wasn't convinced anyone would care about the catch," co-worker Adam Facteau told Fox News.
He uploaded a photo of the fish. "I knew it would be popular," he explained.
The picture was then re-posted on the Facebook page for Knotty Boys Fishing before it was shared thousands of times.
Fish with 'two mouths' caught in upstate NY shocks anglers https://t.co/G3D9MmF2RP pic.twitter.com/OGK5tjDkMS

— New York Post (@nypost) August 21, 2019
"I just can't believe all the attention this has received," Geddes told Fox. "The public's responses/theories are quite interesting, to say the least. I personally believe it was caused by a previous injury, most likely from another angler."
On Facebook, some claimed that the fish's two "mouths" may have been caused by pollution or even nuclear radiation from the crippled Fukushima plant in Japan.
"Well, I think everyone has an opinion, which makes it interesting for discussion," Facteau said of the theories. He said he's not sure it's an injury.
"Sure, that's possible. Maybe," he added. "However, Lake Champlain is also known for being a sewage dumping ground from Canada and (Vermont). Plus, many of these fish are stocked."
"Could it be? Not sure," he explained. "Regardless, it's a catch of a lifetime and has a lot of public opinions."
Elaborating further, Facteau told MyNBC5 that he's received messages from all over the world." The news outlet reported that there has been no confirmed answer for the oddity yet.
Geddes also had simple advice to anyone trying to reel in the same fish: "Good luck."
Other details about the fish were not provided.
Maryland Woman Reels In Record-Breaking Mahi Mahi
A Maryland woman has set a new state record for catching the largest mahi mahi, also known as a common dolphinfish.
The Maryland Department of Natural Resources said in a news release that Kristy Frashure of Pasadena reeled in the 74.5-pound fish during a tournament in Ocean City on Aug. 16.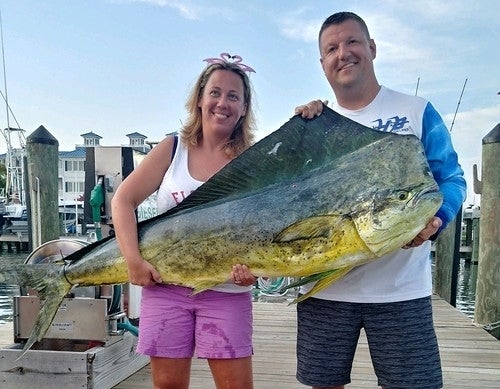 Frashure was taking in the Poor Girls Fishing Tournament when she made the record-breaking catch.
"It took nearly 20-30 minutes to reel in … it felt like an eternity," Frashure said, according to the news release. She and five friends were fishing off Poor Man's Canyon when she made the massive catch.
"We were taking bets on how much it weighed," she said of the fish, which was identified by a Maryland Department of Natural Resources biologist as a common dolphinfish—known by its Latin name Coryphaena hippurus.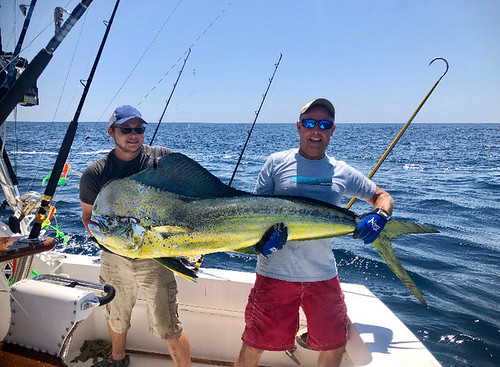 Frashure's mahi mahi displaced Jeff Wright's three-week-old state Atlantic Division record for the same breed of fish.
Epoch Times reporter Tom Ozimek contributed to this report.