A woman allegedly nearly choked on a metal object in a drink from a London Starbucks coffee shop.
She and her husband were visiting from Hardwicke on the morning of Oct. 25. She ordered a Mango Passion Fruit Frappuccino in the Starbucks at Tavistock Square.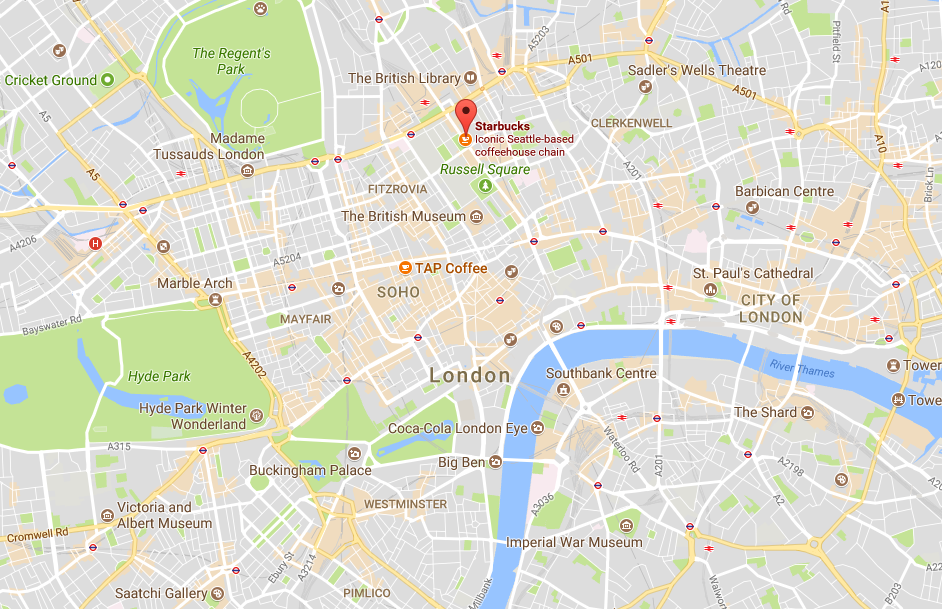 When she took a gulp, something got stuck in her throat. After she managed to dislodge it and get it out, she realised it was a twisted piece of metal wire.
Her husband, Matt Miller, 27, tweeted a picture of the object on Oct. 25, commenting, "@Starbucks when you choke on a piece of metal from your Starbucks drink…"

Miller later removed the tweet.
"I've been getting messages all day from journalists so hoped by deleting it no-one else would contact me," he explained over Twitter.
"I was shocked and worried when I saw the metal," Gloucestershire Live quoted Miller as saying. "It was my wife that drank it and pulled the metal out of her throat."
The drink is made from Teavana tea, blended juice, and ice.
"We are concerned to hear about this and have begun an investigation to find out what happened," a Starbucks spokesperson said. "We have been in touch with the customer directly to apologise and hope to welcome him back into store soon."
Miller received a £15 (about $20) gift voucher from the company, he told The Epoch Times over Twitter.
This was not the first time something unusual has been found in a Starbucks drink.
In June, investigators on BBC's "Watchdog" program found fecal bacteria in three out of 10 samples of iced drinks from Starbucks.
They tested Caffè Nero and Costa coffee shops too. Three of 10 Caffè Nero samples also contained the bacteria and seven out of 10 Costa samples were contaminated, BBC reported.
Costa told the BBC it had updated its ice-handling guidelines and was in the process of introducing new ice equipment storage.
Starbucks and Caffe Nero said they were conducting their own investigations into the claims.
Fecal bacteria are generally not harmful on their own, but they indicate water contamination by sewage and the presence of harmful bacteria and viruses, according to the U.S. Environmental Protection Agency.
"Since it is difficult, time-consuming, and expensive to test directly for the presence of a large variety of pathogens, water is usually tested for [fecal bacteria] instead," the agency states on its website.