An 85-year-old woman sued Walmart after another customer hit her with a motorized cart, forcing her to seek hospital treatment.
Versella Grasz, of South Dakota, was hit by another person driving a scooter around a Sioux Falls store in 2017, reported The Argus Leader.
The elderly woman then filed a lawsuit, saying the incident caused her "serious injury and extreme pain."
A Sioux Falls woman says Walmart was negligent in its operating instructions on its scooters.

由 Argus911 发布于 2019年3月25日周一
Meanwhile, the other customer "clearly did not know how to stop" the motorized shopping cart, claiming that Walmart was negligent in its instructions on how to drive the carts, according to her suit.
Grasz said she incurred about $30,000 in medical bills after going to the emergency room in 2017, the Argus Leader reported.
The driver of the scooter hit her right side, and Grasz was brought to her knees in pain, according to the lawsuit.
Now, her lawsuit is asking for a "reasonable amount" in damages from the retailer, but the figure wasn't disclosed.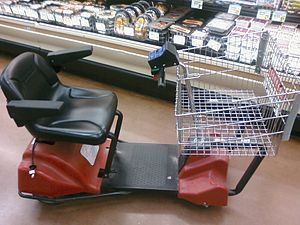 Walmart "knew or should have known" that allowing "unskilled shoppers" to drive scooters around other shoppers would cause a "foreseeable dangerous condition," her lawsuit stated.
A Walmart spokesperson issued a comment to Yahoo News, saying the driver of the scooter was responsible—not Walmart.
"We want all of our customers to have a pleasant shopping experience in our stores," Walmart spokesperson Randy Hargrove told the website. "We regret that Ms. Grasz was injured."
"However, we do not feel that we did anything wrong. We believe the actions of the customer who was operating the motorized cart and hit Ms. Grasz were the sole cause of her injuries. We intend to defend the company against this litigation," she said.
Woman Gets $1.3 Million in Ohio
A woman in Cleveland was awarded $1.3 million by a jury in October 2016 after she was injured by someone driving a motorized shopping cart, Cleveland.com reported.
Barbara Rieger was struck in 2012 by Ruth Kurka at a Giant Eagle store, according to the 2014 lawsuit. The impact threw Rieger, 71, about four feet, and she hit her head against a shelf, causing head and neck injuries.
Her attorneys argued that Giant Eagle didn't provide customers with the appropriate amount of instructions to operate the scooters.
"Giant Eagle knew, either through actual knowledge or through knowledge implied from known facts and circumstances, that by permitting and/or entrusting the operation of a motorized grocery cart to an inexperienced or incompetent operator, such as Kurka, that injury to innocent third parties would be foreseeable result of such negligent entrustment," her attorneys wrote in a complaint.
Giant Eagle denied the allegations.
Disabled Greeters Canned?
After more than a week of backlash, Walmart stated that it's pledging to make "every effort" to find other roles for disabled workers who'd accused the retailer of targeting them as it prepares to eliminate the "people greeter" job at 1,000 stores.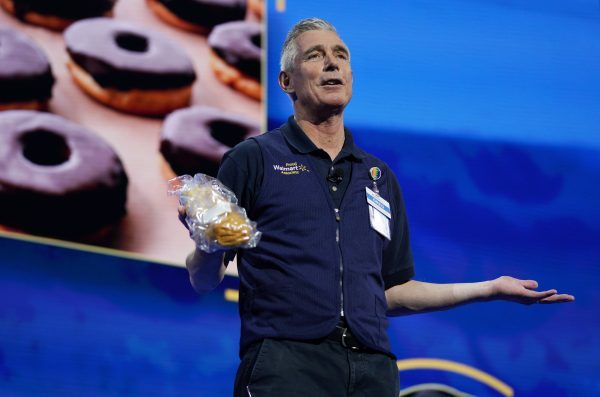 Greg Foran, president and CEO of Walmart's U.S. stores, said in a memo to store managers that "we are taking some specific steps to support" greeters with disabilities. Walmart released the memo publicly.
Walmart told greeters around the country last week that their positions were being eliminated in late April in favor of an expanded "customer host" role that involves not only welcoming customers, but helping with returns, checking receipts to help prevent shoplifting and keeping the front of the store clean. The position requires hosts to be able to lift heavy weights, climb ladders and do other tasks.
People with disabilities who have traditionally filled the greeter job at many stores accused Walmart of acting heartlessly. Outraged customers and others started online petitions, formed Facebook support groups and called and emailed Walmart corporate to register their displeasure.
Acknowledging the change had "created some conversation," Foran wrote: "Let me be clear: If any associate in this unique situation wants to continue working at Walmart, we should make every effort to make that happen."
The Associated Press contributed to this report.