A woman and her 5-year-old daughter were killed in Linn County, Oregon, on the evening of July 23, according to reports.
Officials said a driver faces DUI charges after their deaths, KPTV reported.
In the incident, two vehicles crashed in the 25700 block of Brush Creek Road near Crawfordsville, according to the Linn County Sheriff's Office.
The Linn County Sheriff's Office said alcohol was a factor in a crash that killed a mother and her young child on Tuesday evening. https://t.co/uKhqjK2XVP pic.twitter.com/2SOGlhAldU

— KEZI 9 NEWS (@KEZI9) July 24, 2019
During the investigation, officials discovered that a 2003 black Mitsubishi Lancer, driven by 23-year-old Ty Kirkland, was driving south. Three passengers in the vehicle were identified as 24-year-old Stormy Barge and her two children, 3-year-old Macy Pulido and 5-year-old Emma Pulido, according to the report.
A 1999 Jeep wrangler driven by Brian McIntire, 29, was going north when it veered out of its land and hit the Mitsubishi, said officials.
Barge died at the scene while Emma was taken via an air ambulance but ultimately succumbed to her injuries, authorities said.
Kirkland and Macy were taken to a nearby hospital with minor injuries.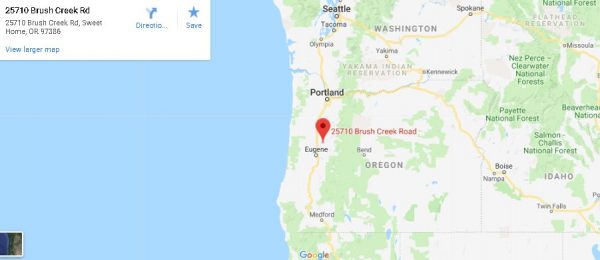 The crash remains under investigation, and police said alcohol was a factor in the accident.
Police arrested McIntire before he was taken to the Linn County Jail, KPTV reported. He faces DUI charges, two counts of manslaughter, and reckless driving.
"I would like to plead with everyone to please take caution while driving on our roads. Please do not drink and drive," Linn County Sheriff Jim Yon said in a statement to the Statesman Journal.
Deputies: Woman and her 5-year-old daughter killed in Linn Co. crash, DUII suspect arrested https://t.co/bJTB6zKoya pic.twitter.com/LxmxQJNjcC

— FOX 12 Oregon KPTV (@fox12oregon) July 24, 2019
He added, "There are many options out there so you do not have to drive. If you have to ask yourself if you are alright to drive, you are not alright to drive. You are placing people at risk by making poor choices. This is the third fatality on Brush Creek road since Sunday. Please slow down and drive responsibly. There is a lot of extra vehicle traffic on our road system during this time of year," according to KVAL in Eugene, Oregon.
Other details about the crash are not clear. It's also not clear if McIntire was injured.
Crash Deaths in the United States
Tens of thousands of people are killed and millions injured each year from motor vehicle crashes, according to the Centers for Disease Control and Prevention (CDC). The CDC says these deaths cost more than $380 million in direct medical costs.
The major risk factors for crash deaths in the United States are not using seat belts, car seats, and booster seats (factors in over 9,500 crash deaths); drunk driving (a factor in more than 10,000 crash deaths); and speeding (contributing to more than 9,500 crash deaths).
According to 
2017 data from the CDC
, the 10 leading causes of death in the United States were: heart disease, cancer, unintentional injuries, chronic lower respiratory diseases, stroke, Alzheimer disease, diabetes, influenza and pneumonia, kidney disease, and suicide.
These further break down as follows: the most common are unintentional poisoning deaths (58,335), followed by motor vehicle traffic deaths (40,327), and unintentional fall deaths in third place (34,673).
The total number of emergency department visits for unintentional injuries in the United States in 2017 was 30.8 million, according to the CDC.
The 10 leading causes accounted for 74 percent of all deaths in the United States in 2017.
Epoch Times reporter Tom Ozimek contributed to this report.