Commentary
China is synonymous with the Tiger mom, a firm and demanding mother who pushes her child to achieve high levels of success. The United States, meanwhile, is synonymous with the soccer mom, a kind of middle-class, suburban woman who spends a significant amount of her time transporting her children to sporting events or other activities.
However, times have changed. The soccer mom has been replaced by the COVID mom, the type of woman who protests against vaccine mandates for kids, mandatory masking, school closures, and the like. These moms signal a profound cultural shift; they may very well decide the fate of the country, including President Joe Biden's successor. They are angry, justifiably so, and this anger will bring change.
Whatever happened to the soccer mom? Well, for the best part of two years, children haven't had much of an opportunity to play soccer. In fact, they haven't had much of an opportunity to do anything. The soccer mom has made way for the COVID mom. To be clear, the COVID mom is a product of our times. Our very recent times.
Some two years ago, the country underwent a profound shift, with millions of Americans affected by mandatory lockdowns and mandatory masking requirements. Everyone, in one way or another, was impacted by the pandemic—people lost their jobs as well as their freedom. Of all the people affected, young children were, perhaps, hit the hardest.
Two years on, millions of children are still paying a price. If in doubt, let me point you in the direction of Los Angeles, where children who attend public schools are now required to wear "well-fitting, non-cloth masks with a nose-wire."
On Jan. 21, the Los Angeles Unified School District (LAUSD) informed parents that, going forward, masking "will be required at all times, indoors and outdoors" and that all students should "wear well-fitting, non-cloth masks with a nose wire." All employees, meanwhile, "are required to wear surgical grade masks or higher."
Although we can debate the merits of wearing masks indoors, there appears to be little evidence to support outdoor mask-wearing.
Moreover, the effects of the pandemic, including mandatory masking, appear to be having a profoundly negative impact on young children.
As Sean Deoni, a director of MRI research at Rhode Island Hospital, wrote: "[Children] are inherently shaped by their environment. Across the fetal, infant, and early childhood life stages, a child's brain undergoes immense structural and functional growth that is driven by an integrative mixture of genetic and environmental factors. The outbreak of the COVID-19 pandemic, and the associated economic shut-down, school disruptions, and social distancing, stay-at-home, and mask policies have fundamentally altered the environment in which children live, grow and play."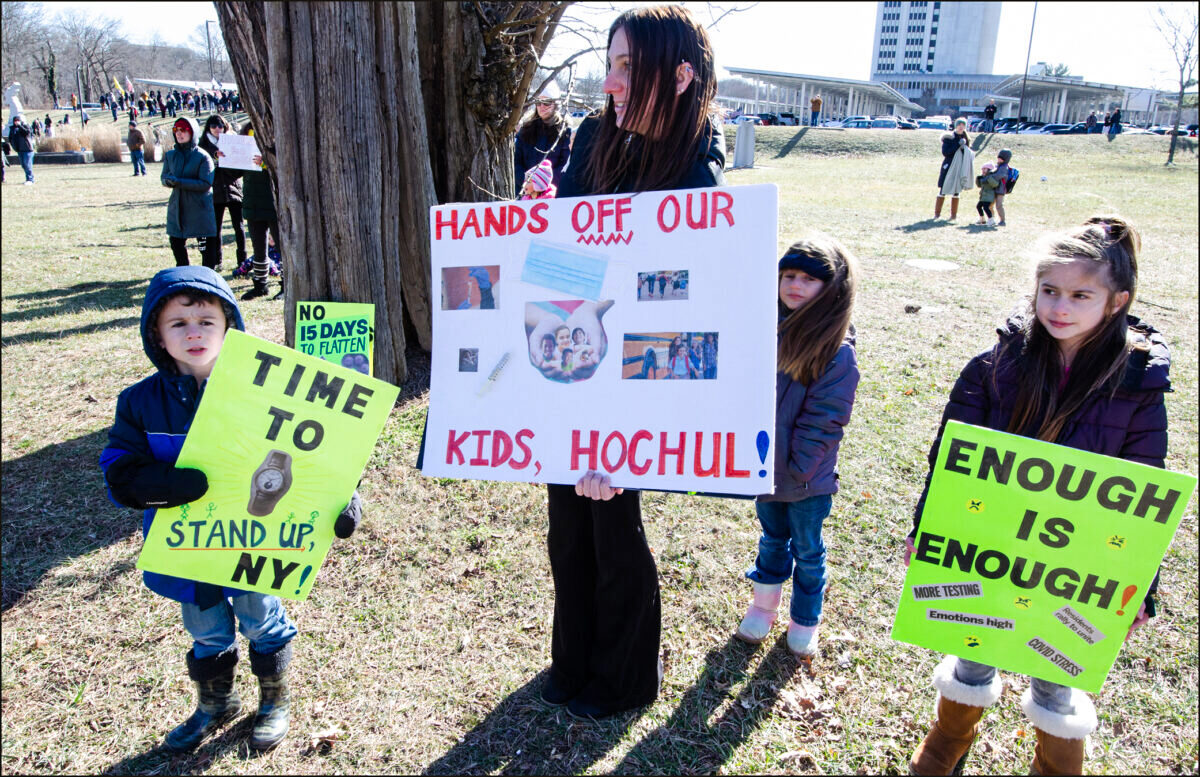 His research team found "that measured verbal, non-verbal, and overall cognitive scores are significantly lower since the beginning of the pandemic." Although mandatory masking isn't solely to blame, such policies do appear to affect a child's socio-emotional development, as well as their language and cognitive development.
Right now, the country has never been more divided. Americans appear to be clashing over everything, from abortion issues to the integrity of the election process. They're also clashing over the efficacy of masks.
Missouri's attorney general recently vowed to sue school districts over their controversial mask requirements.
In Virginia, meanwhile, Glenn Youngkin, the state's new governor, just rescinded a public school mask mandate. His decision was a welcome one, as it allowed parents to decide whether or not their children should wear a mask. Youngkin's decision gives more power to the parent—this is just one of the reasons why he has proven to be such a success.
Now, finally, we are getting to the reason for the rise of the COVID mom. It isn't necessarily the masking. It's the fact that, when it comes to the welfare of their children, mothers (and fathers) have been, and continue to be, frozen out of the decision process.
Why shouldn't a mother get to decide whether or not her child has to wear a mask? In fact, when it comes to young, impressionable children, why should anyone else, bar a parent, get to decide?
Ask yourself this, how did Youngkin storm to victory in Virginia, a blue-leaning state (or a once blue-leaning state)? Because he listened to parents, the people who actually vote. Politics, contrary to popular belief, isn't rocket science. Listen to the voters, take note of their concerns, and respond accordingly to these concerns. Put their interests before your own. This is why Youngkin is so popular. His success is a sign of things to come. What occurred in Virginia was just a teaser.
The COVID moms of America are tired. More worryingly for Democrats, they're angry. Understandably so. Their anger helped propel Youngkin to victory, and their anger may very well prove to be the deciding factor in the next presidential election.
Views expressed in this article are the opinions of the author and do not necessarily reflect the views of The Epoch Times.