The first witness called in Kyle Rittenhouse's murder trial told the court room on Nov. 2 that his friend was acting in self-defense when he shot three men in Wisconsin last year.
"He just said he had to do it; it was self-defense," Dominick Black, who was dating Rittenhouse's sister last year, said on the stand at the Kenosha County Courthouse.
"People were trying to hurt him," Black added.
Rittenhouse, 18, is accused of shooting dead Joseph Rosenbaum, 36, in the parking lot of a Kenosha car dealership during rioting in the Wisconsin city on Aug. 25, 2020. Rosenbaum moved towards Rittenhouse and was "in near proximity" to him when he was shot, according to court documents.
The teenager was soon confronted by Anthony Huber, 26, who wielded a skateboard to try to hit him. Rittenhouse shot Huber, who died from his wounds, according to video footage from the scene.
Rittenhouse also fired bullets at Gaige Grosskreutz, who authorities said was holding a gun when he approached.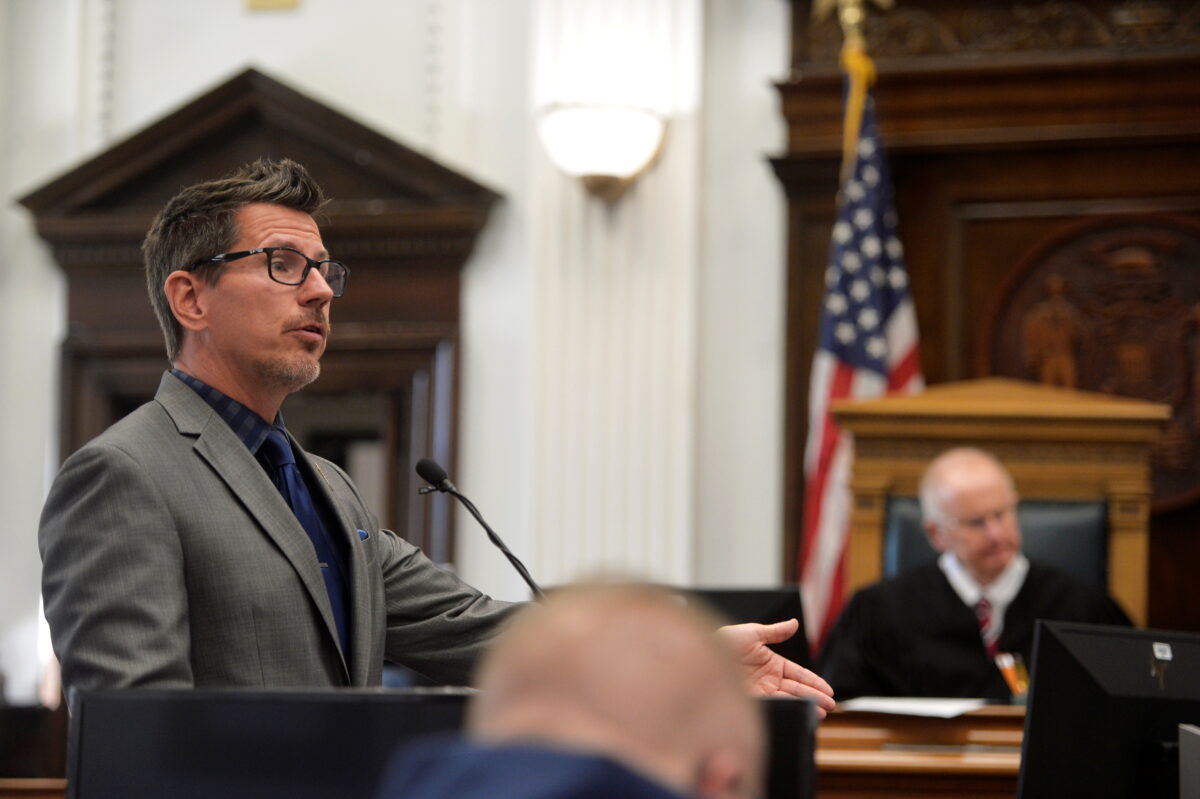 Thomas Binger, the assistant district attorney, claimed in his opening statements that Rittenhouse "chased down" Rosenbaum and shot him in the back before fleeing the scene.
"The only person who killed anyone was the defendant," he said.
But Mark Richards, representing Rittenhouse, said his client was acting in self-defense.
His actions "were reasonable under the circumstances as they existed that night being attacked by Mr. Rosenbaum," Richards said, adding that "the other individuals, who didn't see that shooting, attacked him in the street like an animal."
Rittenhouse arrived in Kenosha with a .223 rifle, according to police officials. He has said he wanted to help protect businesses from being torched and looted and help anybody who was hurt.

Black bought the rifle for Rittenhouse, who was not legally able to carry a gun because he was 17 at the time. But he said it was meant to be locked away until the teenager turned 18 and was not sure how he came to be in possession of the firearm after his stepfather took it and other guns from a safe in case somebody tried to break into the house.
Black was in Kenosha with Rittenhouse along with approximately six others. They initially tried to clean graffiti from the side of a school before returning to Black's house to get the guns and medical supplies. Later in the day, they traveled into the city to stand by businesses. Black, who was armed, ended up on the roof of a Car Source.
"I didn't want to get hurt. I didn't want to cause any problems. I figured it would be a lot safer up on top," he said.
Throughout the night, the crowd got closer to the dealership, having been pushed back by police officers. Law enforcement was using trucks and rubber bullets.
As people passed by the dealership, many were very upset, throwing things and making threats against the police and the group of armed men, Black recounted. Rittenhouse eventually went to a nearby gas station and was seen giving aid to at least one injured person and helping put out fires.

At one point, the group received word that a different Car Source location was being vandalized, with people possibly trying to burn it down. Rittenhouse was called and told what was happening. He took off running towards the direction of the other dealership, said Black, who soon heard gunshots ring out.
"I didn't believe the gunshots were actually his until I got a phone call. And I answered it and he just said 'I shot somebody, I shot somebody,'" Black said.
Rittenhouse went back to the dealership Black was trying to protect and he was "freaking out," Black recalled, before telling the courtroom Rittenhouse said he shot people in self-defense.
The group tried calming Rittenhouse down. Black drove Rittenhouse away before they decided he should turn himself in at a nearby police department.
Black is facing charges for buying the firearm for Rittenhouse and said he was testifying in the hopes that he will avoid jail time. He faces up to 12 years in prison.
Rittenhouse faces up to life in jail if convicted of the most serious charge, first-degree homicide.