News Analysis
As the Russian war machine trundled into Ukraine, the cacophony of international protest seemed to momentarily drown out the sound of Russian bombs falling on hospitals and kindergartens.
The only thing louder than both that raucous displeasure and the sounds of the chaos and the death and the gore, was the silence of the Chinese Communist Party (CCP).
For one week, the Russians have pushed their blundering conquest of Ukraine onward, making up for logistical errors such as tanks running out of gas and soldiers running out of food with sheer terror tactics including, reportedly, the blanketing of civilian infrastructure with illegal cluster munitions.
Since then, the CCP has repeatedly refused to acknowledge that there is any "invasion" at all.
Indeed, as the world was busy condemning the Russian warpath, the CCP was busy censoring voices critical of the invasion and supportive of Ukraine.
As the West leveraged the most broad-ranging sanctions ever seen, the CCP lifted its own restrictions on wheat imports Russia, providing an economic assist to Russian President Vladimir Putin and his regime as they bombarded whole cities.
The effects of Russia's war on Ukraine will not be contained to Ukraine. Nor will the tripartite relationship between America, China, and Russia, ever be the same.
The United States now faces the unprecedented challenge of deterring two global powers at the same time, at a time when Washington was hoping to charge full steam ahead in countering Beijing's growing might in the Indo-Pacific.
Many fear that the global strategic reality is forever changed. Yet no one knows exactly how this new balance of power, between three nuclear near peers, will be managed without catastrophic consequence.
An Alliance Forged in Autocracy
How did we get here? How did the international community allow the coalescence of regimes so seemingly intent on perpetuating mass murder? How did China and Russia come into one another's arms, and what are the allies to do in the face of an apparently unified Eurasian hatred of the West?
John Herbst, former U.S. ambassador to Ukraine, believes that this growing Eurasian alliance is the product of one overarching impulse: Enmity toward the rules-based international order.
"Right now, we're in a period of four or five, six years of closer Chinese-Russian cooperation driven entirely by one factor: Their opposition to the world order that the U.S. helped create and maintain," Herbst said. "The world order in which China, especially, has prospered."
"There have been [other] periods of cooperation, but they tend to be very brief," Herbst added.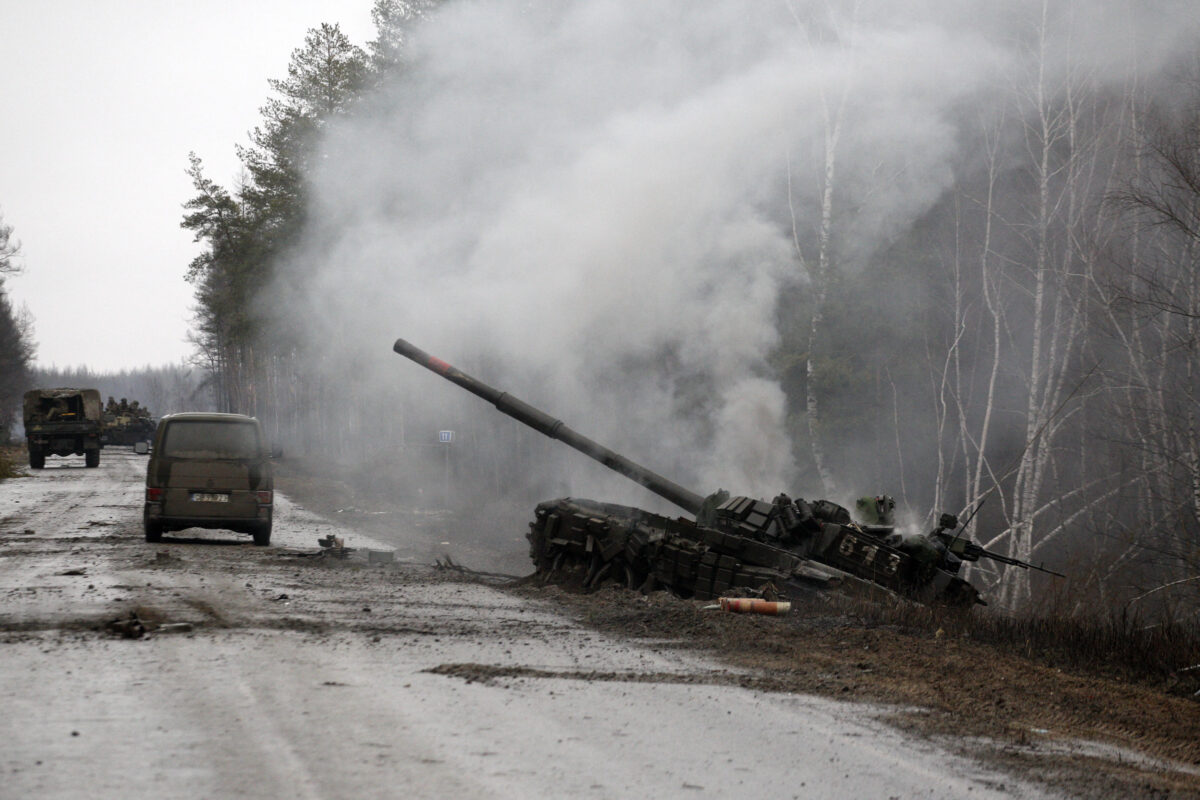 Herbst, speaking at a recent virtual event hosted by the Atlantic Council think tank, said that China and Russia historically had fraught ties. The last time the two nations were this close, he said, was when the CCP seized control of China in 1949.
That partnership also deteriorated, and decades later the Chinese and Russians were fighting in the far east.
To that end, he said that the current power structure, united against the West as it may be, was largely based on the individual personages of Putin and CCP leader Xi Jinping.
"I think it's important to stress that the relationship between the two powers is unusually personalistic, based upon the ties at the very top," Herbst said.
He added that, if Putin were to fail in his ambitions of toppling the lawful government of Ukraine, the failure would "quickly reduce the cooperation" between both nations.
"I don't think there's any doubt that Russia is less valuable an asset for China as a result of the things that took place over the last three or four days," Herbst said in reference to Russia's many strategic failures, and alleged war crimes.
That will be a difficult thing to accept, as it could be argued that top CCP officials contributed in their own way to the invasion of Ukraine.
In the months leading up to Putin's invasion of Ukraine, senior Biden administration officials held half a dozen meetings with top CCP, the New York Times reported. During these meetings, the Americans presented the Chinese with intelligence about Russia's military buildup around Ukraine, and its intended use.
At every meeting, CCP officials denied that an invasion was imminent.

After one session, according to U.S. intelligence sources, the CCP delivered the American intelligence given to them to Russia, and promised Russian officials that China would take no action to impede Russian efforts in Ukraine.
This should not have been a surprise to American intelligence. After all, Xi and Putin met 37 times before 2022, and their mutual understanding was made public in February.
On Feb. 4, Xi and Putin announced that there would be "no limits" to their cooperation and that they would mutually denounce the expansion of NATO. The pair also inked new oil and gas deals worth nearly $118 billion.
CCP leadership appeared to have held to that pledge, increasing diplomatic, economic, and military ties with Russia despite the knowledge that Russia would invade Ukraine. A move that some believe was premeditated.
Rep. Ken Buck (R-Colo.) recently told EpochTV's "China Insider" program, "I think they have coordinated and I think that China is in a better position letting Russia go first, to evaluate."
"China has designs on Taiwan," Buck said. "And they want to see if the world imposes real sanctions on Russia, and how much it hurts Russian, and what really the willpower is to stop an aggressive nation from gaining further territory."
Ukraine a Symbol of Authoritarian Betrayal
As Putin commenced his war of aggression on Ukraine, CCP leadership went into propaganda overdrive, walking a tightrope of not openly backing either side. Russia had "reasonable" and "legitimate security concerns," it claimed. This, despite its simultaneous claim that Ukraine had a right to "sovereignty and territorial integrity."
It has also refused to denounce Russia's aggression, nor call the attack an invasion.
After Putin ordered his troops to move in, CCP Foreign Ministry spokeswoman Hua Chunying said that the United States was "the culprit of current tensions surrounding Ukraine," and that NATO expansion was "irresponsible and immoral."
"We shouldn't be surprised that China has gone in this direction of supporting Russia for the most part, even if they won't come out and actively defend an invasion or even call it an 'invasion,'" said David Shullman, a senior director for the Atlantic Council.
"Russia is China's closest and most important strategic partner. Full stop."
As such, Shullman said, the China-Russia relationship would likely deepen, at least until Putin was gone or otherwise rendered a liability to Beijing.
This is not to say that nothing could turn the CCP against Russia. Indeed, the war in Ukraine demonstrates a profound willingness among top CCP leadership to betray those they profess to be aligned with.
China had something of a strategic relationship with Ukraine, after all.
Prior to Russia's illegal annexation of Crimea in 2014, the CCP had been investing in a major port project in the region, which it reinvested in after Russia annexed the territory. Likewise, China and Ukraine had many lucrative arms deals over the years.
Without Ukraine, in fact, China would not have been able to construct its two aircraft carriers, the jewels of its fleet. It was Ukraine that primarily built China's first such vessel in the 1990s, after much pressure and a need to stabilize its post-Soviet-collapse economy.
To pour salt in the wound, the Ukrainian people are not likely to forget that Xi personally promised to never allow their nation to come under threat of nuclear invasion, though Putin and his officials have repeatedly beat their chests with jingoistic calls about the state of their nuclear arsenal.
"China pledges unconditionally not to use or threaten to use nuclear weapons against the nuclear-free Ukraine and China further pledges to provide Ukraine nuclear security guarantee when Ukraine encounters an invasion involving nuclear weapons or Ukraine is under threat of a nuclear invasion," a joint statement between China and Ukraine said in 2013.

The CCP's silence on Russia's war of aggression could therefore be seen as something more than an emblem of hypocrisy. It is a mark of betrayal—an enduring symbol that the CCP is not simply opportunistic, but deceitful and disloyal to those with whom it makes promises.
And analysts suggests that even Russia won't be immune to this trait.
"The duplicitous Chinese will try to squeeze all kinds of concessions out of a weakened and ostracized Russia," Frank Lehberger, a Germany-based sinologist, recently told The Epoch Times.
"They do this always when they smell weakness no matter if you are a friend or an ally," he added.
But Sarah Kirchberger, a senior fellow at the Atlantic Council, highlighted that Beijing's tacit support of Moscow will come with growing reputational and economic costs, as it could itself face secondary sanctions for helping Russia.
"Certainly, China will be seen as some sort of accomplice of that [Russia]," Kirchberger said.
Facing such possible blowback, it is still unclear to what extent the CCP is comfortable with being seen as such an accomplice.
So far, the regime appears to be treading carefully.
While it lifted import restrictions on Russian wheat on the first day of the invasion, some Chinese institutions appear to be adhering to Western sanctions. Two of China's largest state-owned banks, Bank of China and the Industrial and Commercial Bank of China, restricted financing for purchases of Russian commodities on Feb. 25, following the announcement of a series of sanctions by the United States and allies.
On March 2, China's top bank regulator announced that the regime would not take itself part in financial sanctions on Russia. The head of China's banking and insurance regulator said that sanctions lack a legal basis.
On the same day, the Chinese regime appeared to shift its tone during a phone call between Ukraine and Chinese foreign ministers, wherein Ukraine's Foreign Minister Dmytro Kuleba asked his Chinese counterpart to use Beijing's influence over Moscow to stop Russia from further violence.
While Beijing's readout of the call did not say whether Chinese Foreign Minister Wang Yi agreed to the request, Ukraine's statement said that Wang had "assured Dmytro Kuleba of China's readiness to make every effort to end the war on Ukrainian soil through diplomacy," including as a permanent member of the United Nations (U.N.) Security Council.
Over the past week, China has abstained from two votes at the U.N. Security Council and General Assembly, respectively, condemning Russia's aggression.
Taiwan in the Crosshairs
Besides calibrating its own role in the crisis, Beijing is also watching the developments intently in a desire to preemptively gather support and intelligence for a CCP invasion of Taiwan, the self-ruled island it claims as its own, according to experts.
Indeed, some analysts believed that the CCP may have used the opportunity to commence with aggression of some kind during Putin's initial declaration of military operations.
"It was a bit of a risk that China would use this opportunity to go after Taiwan," Kirchberger, of the Atlantic Council, said. "This has apparently not happened, and I think China may be hesitant to go down that road that Putin now apparently has chosen for himself."
Kirchberger said that Western experts often tried to underscore the innate fragility of the Sino-Russian partnership. She worried that such arguments missed the essence of authoritarianism and its associated destruction completely.
The fragility of Xi and Putin's entente, she said, should not be mistaken for an inability to cause horrific damage on a global scale, and such should be considered in the case of Taiwan.
"The question is: How much harm can they do together, even if it's just a very short term and very opportunistic type of cooperation," Kirchberger said. "Because, if you look historically [at] how authoritarian countries have acted in unison, sometimes these alliances were very short term and ended abruptly, but they often caused great havoc."
"Look at the Hitler-Stalin cooperation," she added, noting the immense destruction caused in Europe through the non-aggression pact of Soviet Russia and Nazi Germany, which lasted less than two years.

To that end, she expressed that the CCP's trepidation over using more aggressive means against Taiwan at this juncture could mean that its leadership understands the severity with which the West will unite against such threats, as is being demonstrated aptly on Russia.
"What happens now is that, for the first time, some parts of our societies that were convinced that China is so indispensable, and Russia also was so important a partner, are going to rethink that position," Kirchberger said.
"[Economic interdependence] cuts both ways. China is also extremely dependent on its export markets and access to the world's markets. They would suffer terribly from these types of sanctions now being inflicted on Russia."
To that end, Kirchberger hoped that one good thing would come of the carnage in eastern Europe: That China would learn from what it is witnessing that war with the West is just not worth it.
"The most important thing is that we are now teaching China what they can expect in terms of a reaction to a war on Taiwan," Kirchberger said.
"It doesn't pay to be the aggressor."
Senator Marco Rubio (R-Fla.) agreed with the assessment. He said that the Western response to Ukraine was vital to deterring future CCP aggression in the Indo-Pacific .
"We know that Beijing is closely watching Russia's invasion of Ukraine and weighing their own plans for expansion, specifically to overtake Taiwan," Rubio told The Epoch Times in an email.
"Beijing should be warned that attempting to seize another nation by force will lead to automatic international isolation."
Like Kirchberger, he believed that there was a lesson to learn about the economic interdependencies of rival states. For him, however, the lesson suggested that preemptive action from the United States was needed.
"The United States must not lose sight that the Chinese Communist Party is the number one threat to our national security and the security of our allies," Rubio said.
"This crisis has once again proven that depending on a foreign adversary for critical goods is a grave mistake, and we should be doing everything possible to move manufacturing and supply chains out of China and back to American shores."
K.T. McFarland, a former deputy national security advisor during the Trump administration, told EpochTV's "China Insider" that the United States must arm Taiwan and craft better alliances throughout Asia to ensure a collective defense in the event of CCP invasion.
"It's extremely important that the United States gives Taiwan the ability to defend itself, by itself, now," McFarland said. "Don't wait until there's a problem."
Looking Both East and West
A problem is already developing, however. One that the United States arguably could have aborted in its embryonic stage, but which now has matured to bear its consequences upon the whole world.
China and Russia are united in their antagonism of the United States and may be willing to jointly use their nuclear arsenals to challenge the West.
This presents an immense difficulty for American and allied strategists, who have never in history contended with the need to deter and defend against two nuclear peers simultaneously.
And the difficulty is immense.
"As China expands its arms to become a nuclear peer competitor with the U.S. and Russia, the U.S. will have to figure out how to deter two nuclear peers at once, which we've never had to do in our history," said Patty-Jane Geller, a policy analyst for the Heritage Foundation in November.
"Addressing this threat will require significant investment now and in future years to ensure the U.S. can maintain the strong nuclear deterrent that Americans have had the luxury of taking for granted."
Commander of the United States' nuclear arsenal, Admiral Charles Richard, spoke on the issue during March 1 strategic forces posture hearing before Congress.
"We're experiencing one of the largest shifts in global geostrategic power the world has ever witnessed," Richard said. "Today, we face two nuclear capable near-peers, who have the capability to unilaterally escalate a conflict to any level of violence in any domain worldwide with any instrument of national power. That is historically significant."
"The strategic security environment is now a three-party nuclear near-peer reality," Richard added.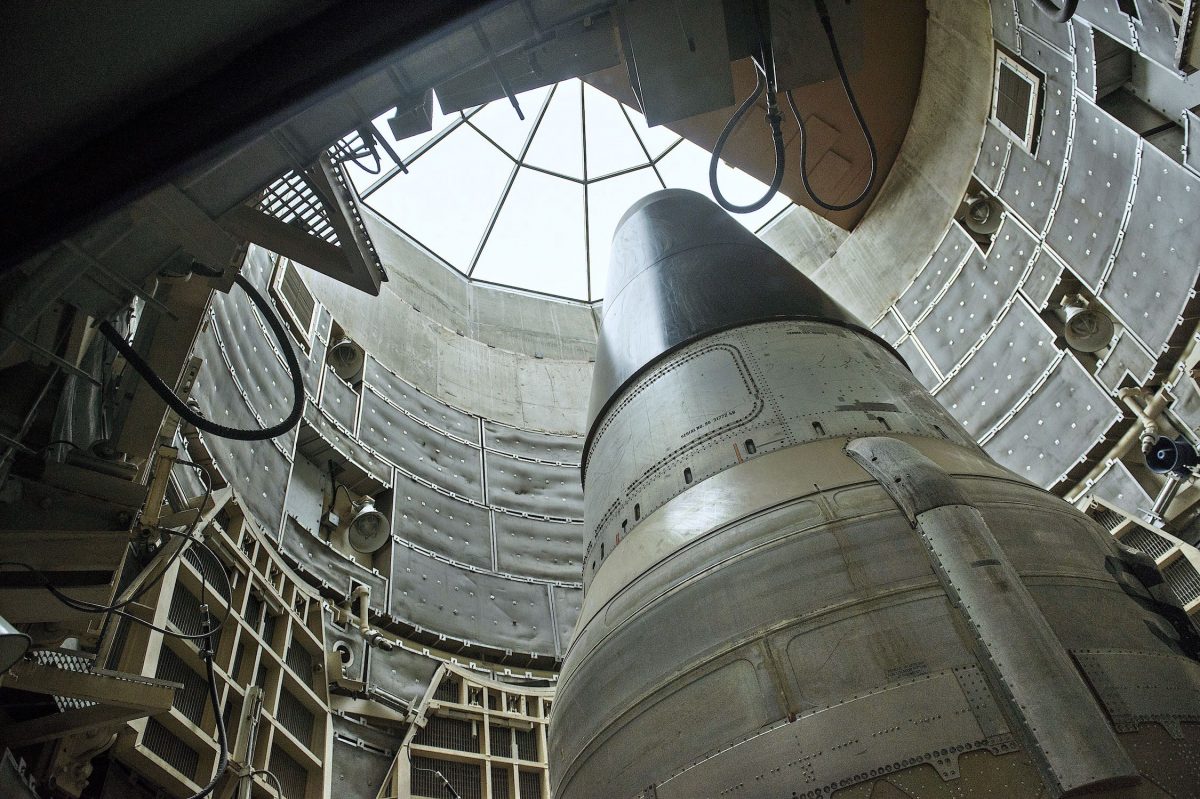 The comments follow months of increasing reports about the CCP's efforts to modernize and expand its nuclear arsenal despite international condemnation. The Pentagon estimates that the communist regime will have 1,000 nuclear weapons by 2030.
Experts have repeatedly warned that the new nuclear capabilities will allow China to intimidate rivals, as well as give cover to increased conventional warfare.
Richard described the CCP's "strategic breakout" as "breathtaking," and said that the possibility that the United States could have to face both Russia and China in a conflict simultaneously was the greatest challenge the United States had ever faced.
To meet the challenge, he said, the United States would need to improve its strategic readiness.
"I have previously emphasized our need to be able to deter two adversaries at the same time," Richard said. "That need is now an imperative."
The admiral said that every operational capability and plan in the United States' toolkit was predicated on its strategic nuclear capabilities. Put simply, he said, no part of U.S. military strategy will work in the way that it was designed to work without nuclear dominance.
The episode highlighted the challenge of the United States' new strategic position: How to combat a dictator threatening nuclear war in Europe while also maintaining the appropriate readiness needed to deter a nuclear-armed CCP from conflict in the Indo-Pacific?
Mira Rapp-Hooper, a White House director for U.S. Indo-Pacific strategy, said that the task was immensely difficult, but that it was possible, even with the ongoing war in Ukraine.
"There is a way that the resources we are sending to Ukraine right now are actually quite distinct from what we are trying to do on the Indo-Pacific strategy," Hooper said during a virtual event on Feb. 28. "That does not mean that we won't feel moments of resource scarcity, but it does mean that we can plan both simultaneously."
There are no easy paths forward. But, harnessing the cooperation of democratic nations worldwide may be the best chance the United States has to deter a more permanent shift in the balance of power towards Eurasia.
To utilize that advantage, McFarland said during a recent interview with EpochTV's "American Thought Leaders" program, America would need to exploit the CCP's greatest weakness.
"China doesn't have allies," she said. "China has vassals. 5,000 years of history, and China has vassals."
"What does the United States have that nobody else has? Allies. Friends. Like-minded countries."