An increasing number of American voters approve of the job performance of President Donald Trump, according to the latest Rasmussen poll released on Friday.
A total of 45 percent of voters approve of the job the president is doing, up 6 percent from the same time last week. The number of those who strongly approve of Trump's performance is also up 6 percent.
The percentage of voters who disapprove of the president's performance is down 8 percent from last week, while the number of those who strongly disapprove is down 5 percent.
The climbing poll numbers come amidst escalating tensions with North Korea. The president has taken a strong stance against the threats from the Communist dictator Jim Jung Un, using fiery language to assert America's will to use military force to put a stop to North Korea's nuclear ambitions.
The United Nations issued sanctions against North Korea earlier this month, with the world's leaders, including Russia and China, backing Trump's stance.
Meanwhile, corporate America is going through the best earnings season in 13 years, according to Bloomberg. Nearly 80 percent of the S&P 500 index companies reported higher than estimated profits.
Consumer comfort is also at a 16-year high according to Bloomberg, with substantial gains made following Trump's election in November.

Contrary to detractors who criticized President Trump's voter fraud commission, the majority of Americans believe that voter fraud is a serious problem, the latest poll from Rasmussen also found. A total of 54 percent of likely U.S. voters say voter fraud is at least a somewhat serious problem, with 27 percent of respondents saying it is a very serious problem.
As a result, it is not a surprise that the vast majority of likely voters, 70 percent, think that voters should be required to carry a photo identification, Rasmussen found.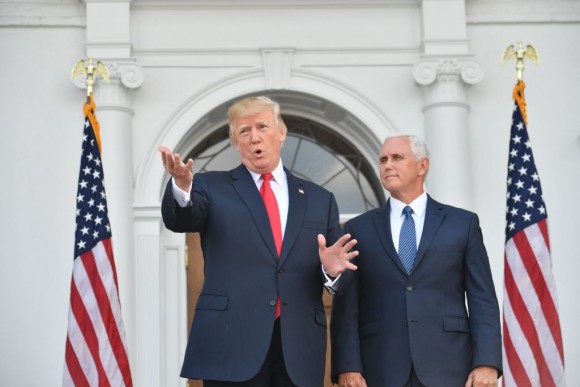 A Zogby Analytics survey also showed Trump's approval rating climbing to 45 percent, with soaring support from Hispanics, union households, and West Coast voters.
More men now approve of Trump than disapprove, the poll found.
Trump's approval rose 11 percent among Hispanics, 10 percent with Western voters and 8 percent with union households.
The president continues to receive vast support among his Republican base, with 76 percent approving of his job performance.
RELATED:
Trump Says Putin Expelling US Diplomats Will Help 'Cut Down Our Payroll'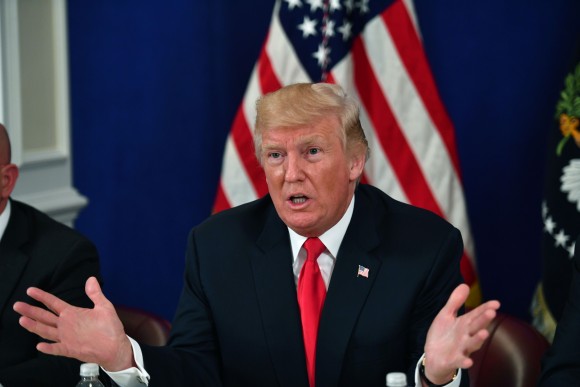 President Donald Trump rebuffed the effectiveness of Russian President Vladimir Putin expelling U.S. diplomats during a security briefing at his Bedminster, New Jersey, golf club on Thursday, Aug. 10.
Trump was asked about Russia's July 30 announcement that hundreds of U.S. diplomatic staff will be expelled as Putin forces a reduction in the U.S. diplomatic corps there from 1,200 to 755.
Trump suggested the cuts were to the U.S.'s advantage.
"I want to thank him because we are trying to cut down our payroll," said Trump.
The comment effectively denies Putin's expulsion will have any effect on the United States.
"There is no real reason for them to go back," Trump said of the diplomats being expelled.
"We'll save a lot of money."
The payroll reduction Trump referenced comes from the budget the White House set out for 2018.
Titled America First A Budget Blueprint to Make America Great Again, the budget proposes a 28 percent cut for the State Department and USAID—a target that requires significant staff reductions and a smaller diplomatic footprint.
While the 755 staff reduction will force many American's out of the country, many of those let go will be Russian nationals.
Trump's comment echoes his previously stated sentiments toward the amount of money and government attention directed outside the country.
Trump's Position
During his campaign, Trump emphasized retooling federal spending and foreign policy, including trade and security policy, toward efforts that will support the American economy as well as national security.
"My foreign policy will always put the interests of the American people and American security above all else. It has to be first. Has to be," Trump said in his campaign foreign policy speech in April 2016.
Trump has described U.S. foreign policy as a disaster that focused on democracy building in countries with no tradition of democracy and half-baked military interventions that destroyed functional governments and created chaos in many Middle Eastern countries.
"We tore up what institutions they had and then were surprised at what we unleashed: Civil war, religious fanaticism, thousands of Americans and just killed be lives, lives, lives wasted. Horribly wasted. Many trillions of dollars were lost as a result. "
Trump's position remained unchanged immediately after the election.
"We will stop racing to topple foreign regimes that we know nothing about, that we shouldn't be involved with," Trump told a large crowd in North Carolina, near the Fort Bragg military base, during his "thank-you tour" shortly after the election.
"Instead, our focus must be on defeating terrorism and destroying ISIS, and we will," he said.
Trump has emphasized that money invested in wars would be better spent on infrastructure, including America's aging roads, bridges and airports.
Trump has since softened his rhetoric and has developed a more nuanced position toward U.S. military operations overseas, though his general position on foreign spending is the same.
Trump's budget proposes a nearly one-third cut in U.S. bilateral foreign aid, which includes funding for the United Nations, World Bank, and the State Department's diplomatic duties.
The cuts, and Trump's comments in regard to Putin's expulsions, fall in line with his comments during the campaign, including efforts to retool trade deals that have often contributed to U.S. trade deficits.
"We're rebuilding other countries while weakening our own," said Trump in April 2016.