The Trump administration has beefed up border security in anticipation of Central American migrant caravans heading to the U.S. border. There are currently four caravans traveling through Mexico, with some estimates putting the total number of Central American migrants taking part at 12,000, according to local reports.
Concerns have been raised that the caravans may not be entirely made up of Central Americans fleeing gang violence and seeking a better life in the United States, and that there could be those from other backgrounds, including Middle Easterners, in the mix. Some, including President Donald Trump, have pointed out that what's most concerning is the risk that the caravans could include terrorists as well as MS-13 gang members.
A look at reports of terrorists making their way through the porous borders of Latin American countries shows that these fears aren't unsubstantiated.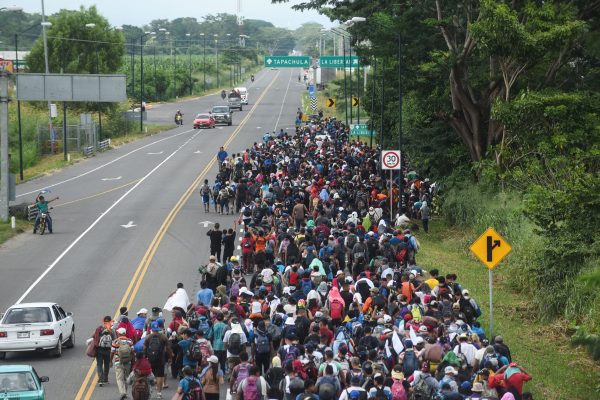 In border security jargon, migrants that have origins in specific nations that either promote or protect terrorist organizations, and try to come through the southern U.S. border, are referred to as special interest aliens (SIAs) by the Department of Homeland Security.
In July, federal authorities arrested a Jordanian man living in Mexico who smuggled six Yemeni citizens across the U.S.–Mexico border.
U.S. Customs and Border Protection said in a statement in April that authorities have arrested over 170 Bangladeshi nationals trying to cross the border since October 2017.
Recent reports have shown that some of the SIAs attempting to cross the border have proven links to terrorists.
A Texas Department of Public Safety report published by Houston Chronicle in 2015 states that members of recognized Islamist terrorist organizations have been caught at the border.
"Illegal aliens from countries documented by the U.S. Department of State as having a known terrorism presence continue to be smuggled into and throughout Texas and the nation on a regular basis," read the report.
The report cited the case of Ahmed Muhammed Dhakane, an SIA from Somalia who crossed the Texas border. Dhakane, a Somali national, is a member of al-Itihaad al-Islamiya, which is linked with Al Qaeda. The report said Dhakene helped smuggle several potentially dangerous Somali terrorists into the United States.
The mere presence of terrorist elements in Latin America so close to the U.S. border is a major risk in itself, one that is exacerbated if border security is compromised.
Guatemalan President Jimmy Morales revealed in October that his country has apprehended nearly 100 ISIS terrorists.
Judicial Watch reported in 2016 that Mexican cartels assist terrorists in scouting out potential U.S. targets for terrorist attacks. ISIS militant Shaykh Mahmood Omar Khabir touted his ease of access across the border in an Italian newspaper, boasting that he "could get in with a handful of men, and kill thousands of people in Texas or in Arizona in the space of a few hours."
A declassified State Department cable received by Judicial Watch in 2016 shows that U.S. law enforcement officials had information that an al-Qaida terrorist leader that was once based in South Florida hid in a border city in Mexico close to the Arizona border along with two other terrorists in early 2000s.
What's more, law enforcement officials have said that Iran-backed Lebanese terrorist organization Hezbollah, which has a close working relationship with Mexican drug cartels, use the same routes that the cartels use to smuggle drugs and traffic people into the United States, using the proceeds to finance its terrorist operations, the Washington Post reported in 2009.
In 2002, Mexican authorities arrested Salim Boughader Mucharrafille, a Mexican citizen of Lebanese descent, for smuggling about 200 Lebanese citizens into the United States, including Hezbollah sympathizers.
Retired assistant administrator and chief of operations at the U.S. Drug Enforcement Administration Michael Braum stated that Hezbollah uses "the same criminal weapon smugglers, document traffickers and transportation experts as the drug cartels," The Washington Post reported.