The Sacramento Public Library (SPL) has expanded its curbside offerings by hosting outdoor storytime-to-go pop-up events beginning in May this year.
The events are held on Thursdays and Fridays at rotating locations and are designed for parents and their young children ages 0 to 5. Families come to the front of the library and pick up a storytime goody bag containing a book to read together (bilingual English-Spanish or English only) and a few items for the child to play with.
They can take the bag home or find a place outside the library to read and play.
Pop-up storytimes are not traditional library storytimes, a staff member at the Arcade branch told The Epoch Times. In traditional library storytimes, librarians read books to children who attend with a parent or other caregiver.
These pop-up storytimes encourage the caregiver to play a more active role in engaging their child, reading the story with them and helping them discover the themed play items. English and Spanish flyers are included with guidance for caregivers who want or need it.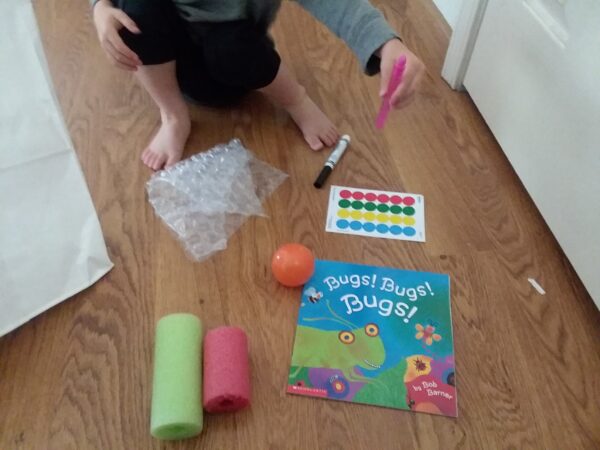 The storytime-to-go bags are similar in some ways to the themed story bags that the library has had available for checkout since before COVID-19 restrictions began, but the storytime-to-go bags have more play-related items and do not need to be returned.
The story bags that are available for checkout sometimes have books and a guide sheet only, especially when they include books for older preschoolers and up. Some story bags, particularly the ones geared toward babies and toddlers, have a book, a related toy, and a guide sheet.
The Valley Hi-North Laguna Library is an SPL branch next to Shasta Community Park, which provides outdoor space for families to spread out and a chance for active play. Because the storytime-to-go pop-up event at that location was scheduled to start an hour before the library's Meals at the Library Program, some families stayed to pick up food for their children before going home.
At some branches, leftover goody bags have been displayed inside, since most library branches are now open for browsing and computer use. Patrons who were not able to make the curbside events could grab one to take with them as they passed through.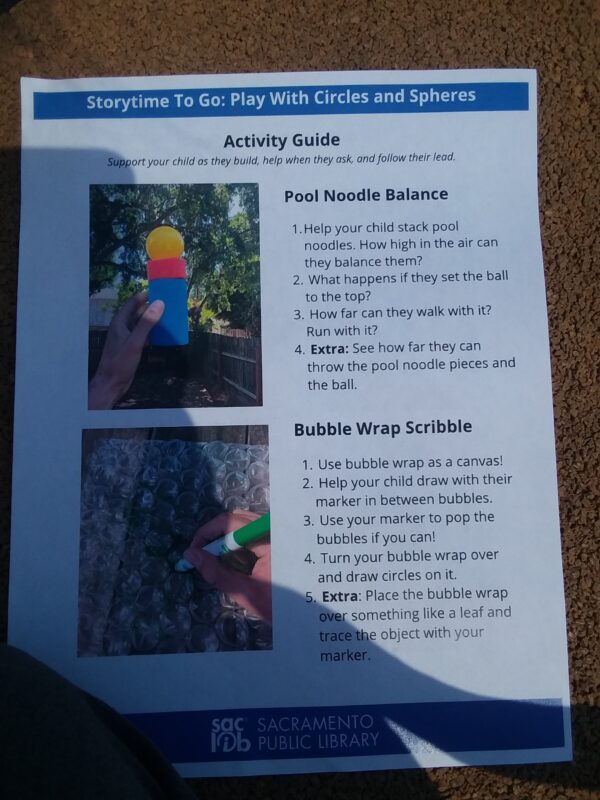 A zoo-related grab-and-go activity is also available. Neither packet requires checkout or return.
When COVID-19 lockdowns began, the SPL system, like most other libraries in California, was forced to close in-person services. Checking out physical books and library materials stopped for several months, and most programming, including storytimes, book clubs, and job search assistance, could only be presented online.
As a result, the library focused on improving and expanding its online programming and encouraged use of its online resources and eBooks. Services such as storytimes, book clubs, and job assistance are still available primarily online.
During the summer of 2020, the SPL began offering curbside pickup, allowing patrons to pick up and return books they had requested online or by phone. This was a typical next step for many libraries across the country, most notably public libraries and some school libraries, though the latter often depended in part on guidance from their district or school administration.
In-person browsing in SPL branches reopened briefly in December and then reopened again this past spring alongside curbside pickup, which also remains available. Some patrons have asked staff members about the SPL's traditional indoor in-person library programs, but these have not yet restarted.
While future storytime-to-go events are not yet on the schedule, the staff member at the Arcade branch said that the SPL is currently receiving a new book for storytime-to-go every month. Patrons can keep an eye out for the July storytime on the shelves as they browse, and on the library's calendar in case more curbside events are posted.