With his latest win, Floyd Mayweater Jr. may have entered rare territory: the billionaire athletes club.
In his career, the 40-year-old boxer has made some $700 million in fight purses, which include money from pay-per-view and ticket sales as well as endorsements.
There has been speculation that he will make $300 million for his fight against UFC star Conor McGregor after pay-per-view and ticket sales. He was guaranteed $100 million to show up, according to a recent MMA Fighting report.

Leonard Ellerbe, the CEO of Mayweather Promotions, told CNN Money that Mayweather likely will join the ranks of athletes like Tiger Woods and Michael Jordan, who have both earned more than $1 billion.
After the fight, Mayweather's net worth may have ballooned to around $700 million. Forbes said that in 2016, Mayweather was worth $340 million
"I don't think he's done too bad in his career," Ellerbe said Monday.
Jordan made most of his money via endorsements for Nike, Cola-Cola, Ball Park Franks, Wheaties, Gatorade, Hanes, and more. He is also the owner of the Charlotte Hornets. 
Woods, for his part, has made around $1.4 billion as of 2015, according to GolfDigest.com. In 2014, he made around $55.1 million. Like Jordan, he's made most of his money via endorsements.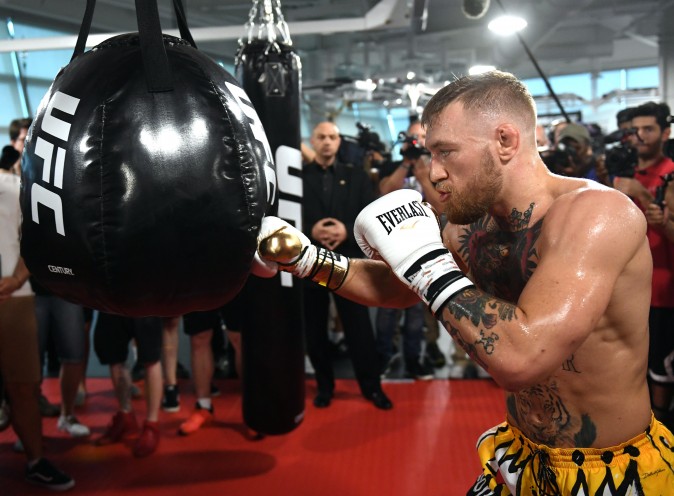 Mayweather defeated McGregor via TKO in the 10th Round, and his record now stands at 50-0. McGregor's boxing record is 0-1.
Later, Mayweather revealed that he had hand issues leading up to the fight.
"We had a cool training camp, but I didn't do any sparring for the last month," he said, according to the New York Post. "My hands are real brittle and I wanted them to be solid when I came out here. If I had serious hand injury I wouldn't have been able to hit so hard."
He then remarked on McGregor's ability in the boxing ring.
"He was solid, but I've been off for a couple of years and I'm older now," he said. "I still have a hell of an IQ and I'm still a thinker. His punching power is solid but I've felt it before so I kept coming forward. It wasn't the kind of power that stopped me coming forward."
He added: "I told you guys I'd come straight ahead. I could have sat back and counterpunched. My plan was to let him shoot heavy shots and take him down the stretch. I wanted to let him shoot heavy shots from the beginning."