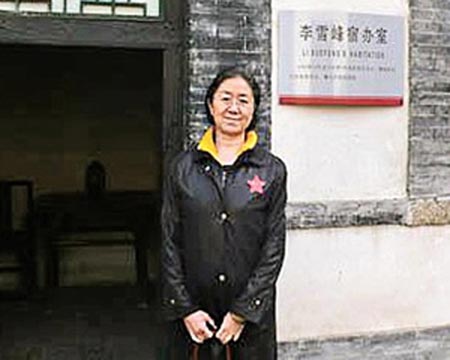 One of the most reliably resented characters of Chinese fiction is the Song dynasty dilettante scholar Chen Shimei, who ditched his wife and two children in order to advance his career in the capital through marrying the Emperor's daughter. Eventually he was tracked down by the famous righteous official Bao Zheng, who had him decapitated.
Bo Xilai's former wife, Li Danyu, likens Bo to a modern-day Chen, and has been intent on exposing her former husband's unsavory marital history. 
In 1976, Bo Xilai was a worker at the Hardware Repair Workshop of Beijing Second Light Industry Bureau. Almost 30, he was single, which was a concern for his family. Later he met Li Danyu, a doctor at the PLA General Hospital. Li's father, Li Xuefeng, was a former Beijing Party Secretary, and was also an army comrade to Bo Yibo, Bo Xilai's father. So Li Danyu was married to Bo, despite her higher social status. The following year, Li gave birth to Bo's first son, then named Bo Wangzhi. 
Bo Yibo resumed his political career after the Cultural Revolution (1966-1976) and became vice premier. Blessed with his father's position, Bo Xilai was enrolled in China's top Peking University, and later entered the Chinese Academy of Social Sciences. After graduation, Bo became an official in Jin County in Dalian City, Liaoning Province, while his wife Li Danyu stayed in Beijing to raise their son.
As he rose in rank, Bo grew tired of his plain-looking wife. So he began an affair with an in-law, Gu Kailai, whose older sister was married to Li Danyu's older brother. Gu, 11 years younger than Bo, was then a good-looking graduate student at Peking University.
When Li Danyu heard the news, she went to various government agencies to complain about Bo's betrayal, and threatened to never let Bo have peace if he went back to Beijing. Being an officer, Li's marriage was supposed to have some additional form of protection under Chinese law. None dared offend Bo's father by attempting to redress the matter, however. Ultimately Bo Yibo was able to have the marriage annulled, despite Li's protests. 
Regime organs, such as the Supreme Court and the All-China Women's Federation, did not dare to punish Gu Kailai, though they were supposed to. Li frequently went to the offices of the All-China Women's Federation in Beijing and loudly cursed Bo and Gu for hours; staff members learned to carefully avoid her, according to reports online.
After the divorce, Li Danyu changed her son's family name to Li. Having suffered desertion by his father at a young age, Li Wangzhi worked hard to make his mother proud. He graduated from Peking University before continuing graduate study at Columbia in the U.S. In 2003 he returned to China and became a banker and later an attorney. 
---
Click www.ept.ms/ccp-crisis to read about the most recent developments in the ongoing power struggle within the Chinese communist regime. In this special topic, we provide readers with the necessary context to understand the situation. Get the RSS feed. Get the Timeline of Events. Who are the Major Players?

---
"Every time I see Bo Guagua's name, I'd think of my classmate Li Wangzhi, Bo's oldest son," wrote Tang Baiqiao, a democracy activist who also received his Master's degree at Columbia University, and became good friends with Li while there. "How could Bo's two sons be so different? One is righteous and the other one is wicked. The exact opposite of each other."
According to the dissident website Boxun.com, before the 18th Party Congress this fall Bo was afraid his ex-wife would expose his former life and block his career opportunities, so he ordered Wang Lijun to arrange the arrest of Li Wangzhi on "economic crimes," as a way of blackmailing Li Danyu and forcing her to keep silent. Li was detained in Jinzhou City, the rumor said.
Now that Bo has been removed from the Politburo, his earlier scandals have bubbled to the surface. Former Wen Hui Po Dalian reporter Jiang Weiping earlier revealed Bo's affair with TV hostess Zhang Weijie in the early 1990's, when Bo was the mayor of Dalian, a large port city in the north. Back then, Gu Kailai attacked Zhang with media articles under the pen name Wang Hong. Gu also used police to pressure Zhang to resign from her job. 
According to Internet posts believed to be linked to Party insiders, an informant revealed that Bo and Zhang had an illegitimate daughter, though the daughter's whereabouts were not specified. 
Chinatimes.com also quoted Hong Kong's Waican News saying that a CCP insider claimed Bo had relations with over 100 women, including 28 celebrities, models, or CCTV hostesses. The recently arrested billionaire Xu Ming, head of the Dalian Shide Group, previously confessed to arranging women for Bo's "enjoyment."