News Analysis
Through its United Front Department, the Chinese Communist Party (CCP) runs a worldwide program to subvert other countries by manipulating the open nature of free societies.
In Taiwan, however, the CCP may soon find it more difficult to run these operations. Democratic Progressive Party legislator Lee Chun-yi pledged on April 6 to propose a new "anti-united front act."
The act, based on U.S. legislation, aims to "counteract 'severe undermining of Taiwanese democratic values' by Chinese 'united front' tactics," according to Taipei Times.
These tactics, it says, "include actions such as purchasing Taiwanese produce, promoting travel to counties and cities governed by the Chinese Nationalist Party and hosting Kaohsiung Mayor Han Kuo-yu's visit to China last month."
Lee said that other countries have enacted legislation to prevent foreign interference in finance and media, and that since Taiwan is the "main target" of "Chinese infiltration and aggression," it needs to counter the CCP's influence.
United front operations often work in broad daylight. The CCP United Front department, formerly known as the United Front Work Department, deals in overt espionage and subversion. This includes propaganda, influence on foreign media, manipulation of nonprofits, control of Chinese student organizations, control of universities, and infiltration of political circles.
Taiwan President Tsai Ing-wen emphasized the seriousness of CCP subversion in a March 2 Twitter thread, stating: "We're facing an onslaught of #Disinformation & #FakeNews aimed at undermining democracy. Today, Taiwan is in the crosshairs. Tomorrow, it will be another country."
I'm determined to work with like-minded partners such as #Japan in defending shared values. We're facing an onslaught of #Disinformation & #FakeNews aimed at undermining democracy. Today, Taiwan is in the crosshairs. Tomorrow, it will be another country. https://t.co/zBmUDKT9DO

— 蔡英文 Tsai Ing-wen (@iingwen) March 2, 2019
In Australia, the CCP front operations are being heavily exposed. Clive Hamilton, author of "Silent Invasion: China's Influence in Australia," released a map detailing the CCP agencies involved in united front work and how they relate to subversive movements operated under Chinese consulates.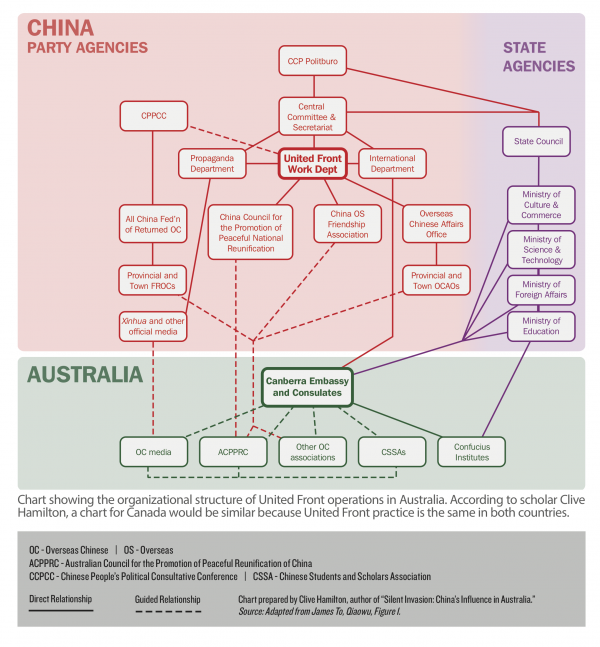 The United Front Department is under the CCP's Central Committee, and ties to the Propaganda Department, International Department, China Council for the Promotion of Peaceful National Unification (meant to absorb Taiwan), China Overseas Friendship Association, and the Overseas Chinese Affairs Office.
Various other CCP branches bring their interests to the table, as well, including CCP state-run media such as Xinhua, to spread the CCP's systems abroad.
When these operations reach the ground level, they are run under Chinese consulates and include overseas Chinese media, the Chinese Student and Scholar Association, Confucius Institutes, and various Chinese Tongs (fraternal organizations and Chinese hometown associations).
The CCP's specific united front operations vary from country to country, but typically maintain the same general structure.
In addition to its influence operations, United Front Department operatives of the CCP also keep tabs on Chinese people living overseas and use various means to suppress or attack people who speak out against issues such as Taiwanese independence, democracy in Hong Kong, or the CCP's persecutions against Falun Gong practitioners, Tibetans, and Uyghurs.
According to Taipei Times, Lee said the new legislation would focus on more recent united front tactics to influence media and commerce. He noted, however, that Taiwan is struggling to define what constitutes a united front tactic, while not overstepping laws to regulate free speech and movement.
Yet that's the nature of united front tactics. They play on a CCP slogan to "strangle you with your own system," and are designed to let the CCP to run its operations while allowing agents to typically comply with foreign laws.
Views expressed in this article are the opinions of the author and do not necessarily reflect the views of The Epoch Times.