Winter Storm Cleon is moving across the U.S. and brought snow to a range of states on Monday and Tuesday, including North and South Dakota, Montana, and Colorado.
Between one foot and one-and-a-half feet of snow is possible over the Tetons, Wasatch, and Colorado Rockies, the National Weather Service said. In some areas of Idaho, Minnesota, Montana, and Wyoming, more than 10 inches of snow fell between Sunday through Tuesday night.
The significant snowfall "make make travel very difficult," said weather expert Tom Niziol of the Weather Channel.
"This is a big event," he said. "This really is going to be a cold air mass, and it's going to affect a good part of the nation."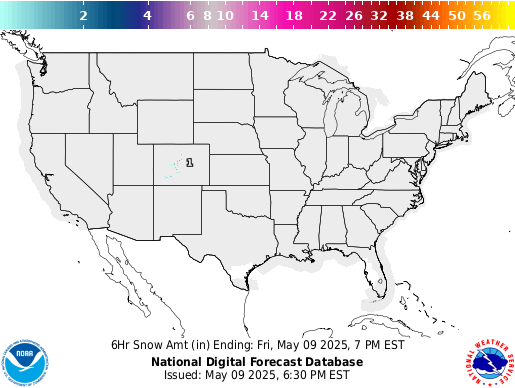 Tuesday night's forecast, top; below is the forecast for Wednesday night and Thursday morning. (NOAA)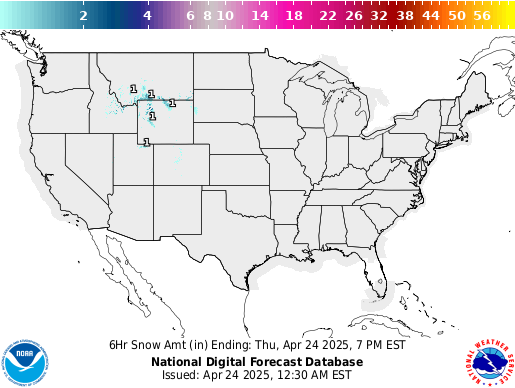 The areas where snow is predicted for Tuesday afternoon and evening.
The service predicted temperatures as low as 30 degrees below zero beginning on Wednesday in Montana. 
Snow or freezing rain is also expected in parts of Oregon, Nevada, Arizona, and Washington state.
Overall, the National Weather Service said that there is "a myriad of winter storm watches-warnings-advisories in place over much of the West and North-Central U.S.," the service said in short range forecast discussion. "A potent upper low currently crossing Vancouver Island is forecast to continue dropping southward into the Pacific Northwest. This system will help draw arctic air south of the U.S./Canadian border which should bring quite the chill to the air early this week."
Here's a state-by-state impact:
Montana
Sheriff's Lt. Bob Rosipal tells the Great Falls Tribune that 21-year-old Chelsea Stanfield of Great Falls died at the scene of a crash just east of Manchester on Monday afternoon, just as Cleon blew into the state.
Montana Highway Patrol Trooper Don Lee says Stanfield was driving too fast for road conditions and her sport utility vehicle went into a broadside skid, colliding with an oncoming SUV. A car that slowed as it approached the crash was rear-ended by another car and the two cars slid into the SUVs.
Over 10 inches of snow is predicted through late Tuesday (from Sunday) in multiple areas, including Eureka, Jackson, and Hinsdale.
North and South Dakota
Residents in parts of the Dakotas began their workweek dealing with icy roads and sidewalks as a three-wave storm began sweeping over the northern Great Plains.
The storm promised to bring significant snowfall to North Dakota and parts of South Dakota midweek and then usher in bitterly cold — and dangerous — temperatures late in the week.
Freezing rain had caused problems including some schools starting classes late or cutting back on bus transportation services.
The second wave of the system was expected to move in over the Rockies on Tuesday and into Wednesday, bringing significant snowfall to parts of the region, Merriman said.
Sub-zero air is forecast to follow the snow, with northern North Dakota feeling the brunt of the blast Thursday and Friday.
Several inches of snow was expected to fall through Tuesday night in Grand Forks, Minot, Buffalo, and other areas.
Minnesota
The Minnesota Department of Public Safety reported at least four fatal car accidents occurred on icy state roads Monday, and officials urged motorists to drive only if absolutely necessary.
A second, heavier round of snow was expected Tuesday into Tuesday night.
When it's done Wednesday, snowfall may reach two feet for the Twin Ports and across northeastern Minnesota.
Utah
Treacherous driving conditions confronted Utah motorists Tuesday even as the heaviest part of a snowstorm wasn't expected until overnight.
In the first major winter storm of the season, Park City's Deer Valley led the snowfall count of Utah ski resorts with 11 inches early Tuesday.
The snowfall contributed to about 45 notable crashes starting around 5 a.m. Tuesday, the Utah Department of Transportation said. The Utah Highway Patrol offered a higher number, around 75, that included minor slide-offs.
Washington
Forecasters say Washington is going into the deep freeze.
A cold front moving through the state Monday is expected to plunge low temperatures below freezing for the rest of the week.
Some cities are opening emergency shelters because of the cold.
Oregon
Snow was falling in multiple areas, including up to 9.5 inches in Flora, and three inches in Elgin, Weston, and Meacham.
Forecasters say low temperatures this week in parts of southern and eastern Oregon will be in the single digits.
Wyoming
Snow is falling across Wyoming and an Arctic cold front plunged into the state, dropping temperatures by 50 degrees or more in some spots.
Snow was falling east of the Continental Divide and in southwestern Wyoming on Tuesday and expected to continue through Wednesday.
Western Wyoming got snow on Sunday and Monday, temporarily halting flights at Jackson Hole's airport and raising the avalanche danger. The National Weather Service says 25 inches fell at Blind Bull Summit in Lincoln County and areas of Yellowstone National Park had 21 inches.
Colorado
Forecasters say the storm that begin Tuesday in the mountains will move east over the next few days.
Late Tuesday afternoon, accidents along the westbound lanes of Interstate 70 shut down the highway near Georgetown, west of the Eisenhower Tunnel, according to the Colorado Department of Transportation.
Heavy snowfall and strong winds are expected as it moves from the northwest to the southeast. Up to two feet of snow is expected in some areas.
Idaho
A search in the central Idaho backcountry for five people in a small plane that disappeared Sunday has been complicated by heavy snow and low visibility.
The search was resumed on Tuesday after being derailed on Monday because of poor weather.
The plane carrying five family members was flying from Baker City, Ore., to Butte, Mont. The pilot reported engine trouble and asked controllers in Salt Lake City for coordinates to the Johnson Creek Airstrip, a grass-covered backcountry landing strip near the Frank Church-River of No Return Wilderness.
Nevada
A winter storm dumped up to 5 inches of snow on the Reno area, snarling city streets during the morning commute and slowing Interstate 80 traffic over the Sierra as the system moved across the northern half of Nevada.
Truckee Meadows Community College suspended classes and Washoe County school students were being sent home early to help ease evening traffic congestion as streets slicken in sub-freezing temperatures.
Dozens of accidents included one involving a Nevada Highway Patrol cruiser and another with a school bus, but no injuries were reported.
More than 8 inches of snow was reported in the foothills above Sparks and 3.5 inches in Fernley.
Oklahoma
Snow and freezing rain could hit parts of Oklahoma this week as a storm system moves through the state, forecasters said Monday.
According to the National Weather Service, cold air will funnel into the state from the north Tuesday afternoon and Wednesday and keep temperature readings below freezing Thursday through Saturday. Low temperatures will range from the single digits to low 20s, and nighttime wind-chill readings could reach below zero.
"Take precautions now to prepare for an extended period of cold weather," forecasters said in a weather statement issued Monday afternoon. They also warned of power outages and tree damage.
While the cold air is in place, a number of disturbances should pass nearby Thursday and Friday. Forecasters are predicting snow for northern Oklahoma, with freezing rain switching over to snow in central and southwestern Oklahoma late Thursday and Friday.
Arkansas
Three championship football games are set for this weekend in Arkansas, and there could also be a winter storm.
Top-ranked Bentonville is to play No. 2 Cabot on 7 p.m. Friday in Class 7A. Games Saturday include the Class 5A game between No. 3 Batesville and Morrilton at noon and the Class 6A championship between No. 2 Pine Bluff and No. 3 El Dorado at 6:30 p.m.
Forecasters say there could be freezing rain, sleet and snow on Friday.
The Associated Press contributed to this report.