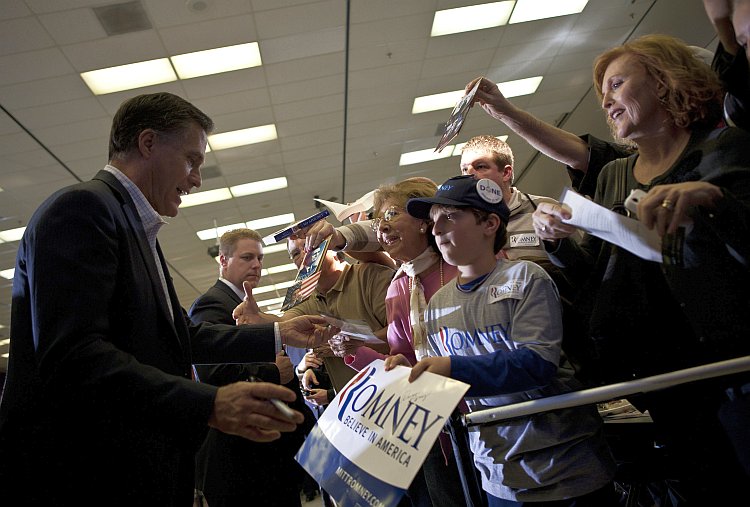 Former Massachusetts Gov. Mitt Romney won the Washington caucuses on Saturday, but Super Tuesday on March 6 is shaping up to be his biggest challenge yet.
In Washington's nonbinding straw poll March 3, Romney had a clear win, gaining 37.6 percent of the vote. Texas Rep. Ron Paul and former Pennsylvania Sen. Rick Santorum tied for second place with 24.8 percent and 23.8 percent respectively, separated by just 505 votes. House Speaker Newt Gingrich trailed well behind with 10.3 percent.
The win will boost Romney's campaign in the lead-up to Super Tuesday, topping off recent wins in Michigan and Arizona.
In retaliation to accusations from Gingrich and Santorum that he was not a true conservative, Romney said in a statement, "The voters of Washington have sent a signal that they do not want a Washington insider in the White House.
"They want a conservative businessman who understands the private sector and knows how to get the federal government out of the way so that the economy can once again grow vigorously," Romney stated.
Ten states will vote on March 6: Alaska, Georgia, Idaho, Massachusetts, North Dakota, Ohio, Oklahoma, Tennessee, Vermont, and Virginia. Despite losing the last three contests, Santorum remains a strong challenger, and has been picking up delegates as he goes.
The former senator jumped ahead of Romney last month, winning Colorado, Minnesota and Missouri, and according to political blogger Nate Silver, is likely to win the Tennessee and Oklahoma primaries. Both those states have larger than average strongly evangelical populations, who have consistently supported Santorum.
However, Santorum has lost momentum since his tri-state win, stumbling in the last national debate and creating controversy over his criticism of President Obama for encouraging young Americans to seek a college education, and his dismissal of President John F. Kennedy's 1960 speech over the separation of church and state.
Kennedy was America's first Catholic president, much lauded by members of the Catholic faith, of which Rick Santorum is also a member.
Research on exit polls done by the Pew Research Center shows Romney leading Santorum among Catholic voters by 25 points in at least three of the states polled.
Romney too has had his problems, unable to gain a solid lead as the GOP front-runner and accused of having a privileged life, too removed from the struggles facing middle- and working-class America.
The press has pointed to recent gaffs in his remarks, which may impact mainstream voters. In one instance he said he loved cars and mentioned that his wife Ann had not one but two Cadillacs, while in an effort to appeal to NASCAR voters, he explained he was a fan because some his friends were team-owners.
Ohio the Key
In Ohio, traditionally a bellwether state in elections, Santorum was leading last week but Romney has crept up in the polls, with the two candidates presently neck and neck at 32 percent, according to a Reuters/Ipsos poll conducted Sunday.
"We are hanging in there and we feel very confident that we're going to do well," Santorum told Fox News Sunday.
Should Santorum win, it will be a big setback for Romney, ensuring a longer protracted GOP race. Should Romney win, he must win convincingly to show his critics he has the mettle to survive yet another challenge to his quest for Republican presidential nomination.
If he does win convincingly it will put him in a comfortable lead and may turn the tide. He is already well ahead in delegates with 203 delegates to Santorum's 92, according to the Associated Press's delegate count.
To win the nomination a candidate needs 1,144 delegates out of the 2,286 that will be awarded nationwide.
There are 419 delegates up for grabs on Super Tuesday, with Ohio offering 63 delegates in a mixture of winner takes all and proportional. To Romney's advantage, neither Santorum nor House Speaker Newt Gingrich are contesting Virginia, which has 46 delegates.
Gingrich and Paul
Newt Gingrich has been focusing on Georgia, the state he represented in Congress for 20 years, and which he is predicted to win. Lagging in recent contests, the former speaker has 33 delegates to date. If he does well in Georgia, he stands to gain a good proportion of the 76 delegates available.
Whether that will be enough to keep Gingrich in the race will depend on how well he does in Georgia and in other states, but Gingrich has vowed to continue, flush with a large injection of money last month, to his super political action committee, (PAC), Winning Our Future, from billionaire casino magnate Sheldon Adelson.
"We're going to go on," he told ABC's "This Week" program. Romney "is a front-runner without any question, but I think he's not a very convincing front-runner, and he's a long way from having closed out this race."
Rep. Ron Paul, meanwhile, continues to target caucus states, leaving Ohio and Georgia to his rivals and focusing on Alaska, Idaho, and North Dakota caucuses.
Speaking on CBS's "Face the Nation" Sunday, he said he expected to gain "a majority of the delegates" in those three states.
Paul said his supporters were sick of the politics in Washington and were looking for something different.
"So few people who are in it for something other than just gaining power," he said. "See, I see what's happening in Washington with Republican and Democrats, everything is spent on gaining power."