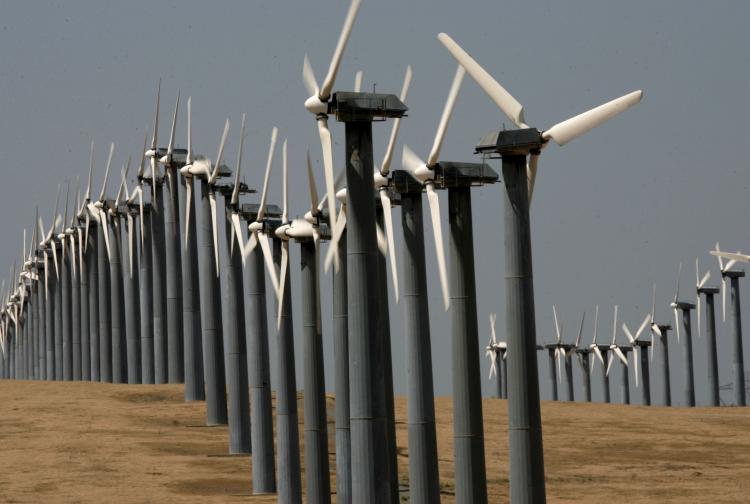 Wind turbines harnessing electricity from wind shunned their reputation as "bird blenders," but growing numbers of bat carcasses with no signs of external injuries appearing below the slow-spinning windmills have been a mystery recently.
Bats use a sophisticated method to "see" by producing sound pulses that enable them to navigate and catch insects in the dark, called echolocation. A recent study published in Current Biology says that an invisible force may be to blame for the deaths of the agile, winged mammals found underneath wind turbines.
The study revealed that when bats fly close to a turbine blade, they can experience a sudden air expansion in their respiratory system, causing their lungs to rupture. As a turbine blade turns, it forms pockets of low-pressure air trailing behind the blade. The sudden expansion of the air in the bats' lungs causes fatal hemorrhaging—called barotrauma, according to a University of Calgary research team.
Researchers from Canada determined that 90 percent of the bat fatalities at the Summerview Wind Farm in Pincher Creek, southern Alberta, showed signs of internal hemorrhaging consistent with barotrauma while only about half of the bats showed any evidence of direct contact with the blades.
"Because bats can detect objects with echolocation, they seldom collide with man-made structures," said project leader Erin Baerwald. "An atmospheric-pressure drop at wind-turbine blades is an undetectable—and potentially unforeseeable—hazard for bats, thus partially explaining the large number of bat fatalities at these specific structures."
The respiratory systems of bats and birds are different, as a bird's lungs are less delicate, the researchers explained. A bat's lungs, like those of other mammals, are balloon-like air sacks. When outside pressure drops, the lungs can over-expand, bursting the capillaries around them. Birds' lungs, on the other hand, are more rigid and can withstand sudden drops in air pressure.
Among the bats killed at the wind turbines are migratory bats that roost in trees—including hoary bats, eastern red bats, and silver-haired bats. Bats typically live for many years, in some cases reaching ages of 30 or more. But most bats have only one or two pups, and not every year. Canadian researchers say their deaths can have far-reaching effects on the environment.
Creatures of the night, all three of the bat species eat thousands of insects, including crop pests along their migration routes. Bats can eat as many insects as half of their body weight in a single night. Most of the deaths occur during the bats' fall migration period when wind speeds are low. One strategy that researchers recommend is to adjust the wind speed at which the turbine blades begin to rotate.
Bat losses in one area could have very real effects on ecosystems miles away, as migratory bats cross international and interstate boundaries.
Following a push to develop new forms of sustainable energy, turbines that generate electricity from wind have proved to be an effective source of power around the globe. This push has increased the number of wind turbines. Bat fatalities have now been documented at nearly every wind facility in North America, and several of these sites are estimated to cause the deaths of thousands of migratory bats per year.