As parts of Canada continue to reopen after the COVID-19 shutdown, the Windsor-Essex region will join the rest of Ontario in Stage 3 of the province's reopening plan on Aug. 12.
Outbreaks among migrant workers on farms in the region had previously held Windsor-Essex back when other parts of the province entered Stage 3 on July 17, 24, and 31.
Ontario's chief medical officer of health, Dr. David Williams, said in a press release that he made the decision based on positive local trends, including lower transmission rates, a significant increase in testing and the local public health unit's capacity to conduct rapid case, and contact management.
Premier Doug Ford said the decision will allow more businesses to reopen and more people to return to work.
"As all of Ontario now enters into Stage 3, I ask everyone to remain on their guard and keep following the public health measures to protect the tremendous progress we've made and keep this deadly virus at bay," he said in the release.
The area's medical officer of health, Dr. Wajid Ahmed, stressed in his own media briefing that despite the economic and social relief the reopening will bring, people must not stop practising physical distancing and wearing face coverings.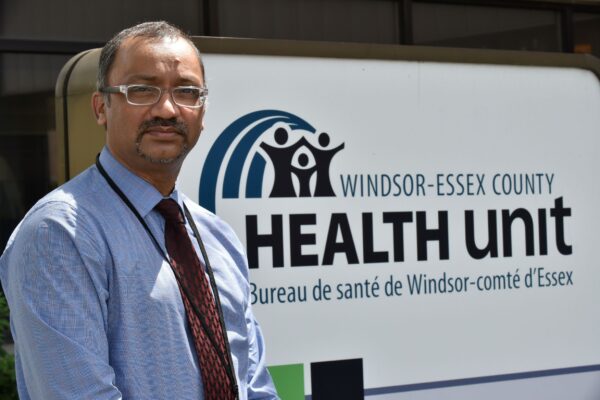 Ahmed said health officials are making progress in the region to contain outbreaks on local farms. Hundreds of migrant workers have contracted the virus in the region and the province continues to test and isolate them, he said.
"No one can predict what happens and which farms or workplaces can go into outbreak," he said. "The only way to prevent that is through proactive measures."
Ahmed said a number of factors were considered when it came to the decision to move the community forward, including local hospital capacity, which is currently at 85 percent.
Overall, Ontario reported 115 new cases of COVID-19 on Aug. 10. It was the first time in more than a week that the province saw more than 100 new cases of the virus in a day.
Health Minister Christine Elliott acknowledged the "slight uptick" but said the trend in the province remains downward. The minister also said 28 out of 34 of the province's public health units reported five or fewer new cases, while 18 reported none.
Ontario started to enter Stage 3 reopening on July 17, with more businesses and public spaces allowed to reopen gradually, and gatherings of 50 people indoors and 100 people outdoors, but in all cases individuals have to maintain social distancing of at least 2 metres. Gyms, movie theatres, and playgrounds also started to open as well as indoor dining with proper distancing.
B.C. entered its Phase 3 Restart Plan on June 24. At this stage, dining indoors with a group of up to 6 people is allowed with 2 metres social distancing. Overall, gatherings can't be more than 50 people.
Alberta entered Stage 2 of its Relaunch Strategy on June 12 when  indoor recreation, fitness, and sports, including gyms and arenas started to open. At this time, indoor social gatherings are still limited to 50 people and 200 maximum for audience-type community outdoor events, 100 maximum for other outdoor events and indoor seated/audience events.
In Quebec, festivals as well as some other public indoor and outdoor events can now resume, but with a maximum of 250 attendees. 
 With files from The Canadian Press.