HONG KONG—On the final week of the HKHA Premier A regular season on Sunday March 19 HKFC-A play at home against HKCC-A and Khalsa-A meet SSSC-A at King's Park. In Division-B HKFC-B play Pak-A at Football Club and KCC-A play Valley-A King's Park. On March 26 Shaheen-A play HKFC-B to conclude the Premier B matches.
Although Khalsa already have one hand on the trophy for the HKHA 2016-17 Premier league, the final meeting in the regular season between top clubs HKFC-A and Khalsa-A last Sunday March 12 was an event to look forward to. For HKFC it was about finishing in 2nd place (ahead of SSSC) and also a matter of honour for both clubs.
Played at the HKFC ground the match provided a less daunting task for HKFC than those played at Khalsa's home pitch, King's Park where Khalsa had won 8-3 in February. Although Khalsa were well supported in this match, fan presence and pitch surface were in favour of HKFC.
The match was fairly even in the first half with penalty corners missed at each end before Khalsa converted with a 2nd penalty corner 7 minutes from the break. Another shot at goal for Khalsa by Kuldeep Singh was well deflected by HKFC goalie Don Ng to keep the score down to 0-1 at the interval.
HKFC came out with added verve in the second half, secured a penalty corner just 1 minute into the period and Arif Ali dragflicked into the net for 1-1.  HKFC continued with good play competing very favourably with the champions. A run into the circle by Khalsa's Sukhjeet Singh and a clear shot on goal was expertly dealt with by Ng. A few minutes later a penalty corner to Khalsa was stopped while an attack on the Khalsa goal with a shot from a narrow angle by Ishtiaq Ahmed was blocked by the Khalsa keeper.
Seven minutes into the 2nd half pressure from HKFC set up another penalty corner and Arif Ali converted his 2nd goal, drag flicking high into the net, pushing Club in front 2-1. 
A shot by Club's Angus Allan was blocked, a hit across goal aimed at Ishtiaq was also intercepted by the Khalsa keeper. At the other end Khalsa had a great opportunity when an across goal pass just eluded Khalsa's Sukhjeet Singh. Club secured another penalty corner but this time the shot was over the bar.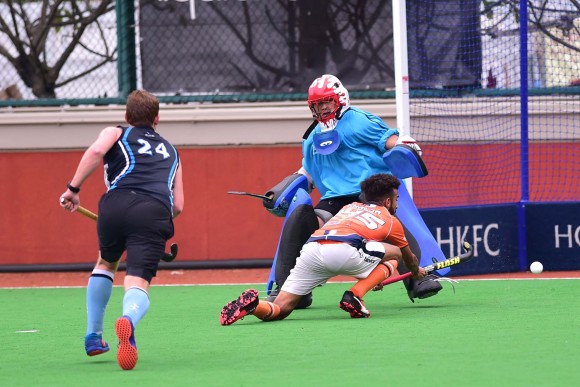 At the other end Khalsa forced a penalty corner which was deflected from danger by Michael Gee, while in another attack, a clear shot by Khalsa's Gaganndeep Singh was dealt with by HKFC goalie Ng.
Khalsa's Gaganddeep was yellow carded but soon after, with 9 minutes left on the clock, Khalsa equalised from another penalty corner for 2-2.
A second Khalsa yellow card, this time for Sukhjeet put further pressure on Khalsa. A long sky ball to Angus Allan, a move into the circle and a mistake by Khalsa produced a penalty corner. Arif Ali added his 3rd to push HKFC into a 3-2 lead with just 2 minutes remaining. Amidst frantic play HKFC held out for a memorable 3-2 win to move them to within 3 points of the leaders.
The HKFC team celebrated a fine moral boosting performance, HKFC put pressure on Khalsa with fine play. Youngster Phillip Boettger had a good game. For Khalsa it was a sager of missed opportunities. On their day, they could have converted a few more chances – but not on this occasion.
In the match at King's Park KNS-A outscored HKCC-A 4-2. While in the premier division B matches Shaheen-A were 5-3 winners over Valley-A and KCC-A beat Pak-A 4-1.
Next Matches
On the final week of the HKHA Premier A league on Sunday March 19, HKFC-A play HKCC-A and Khalsa-A meet SSSC-A. In Division-B, HKFC-B play Pak-A at Football Club and KCC-A play Valley-A King's Park. On March 26 Shaheen-A play HKFC-B.