WikiLeaks released more than 8,000 emails taken from the Democratic National Committee's server on Sunday night, showing that CNN and the DNC communicated about questions to ask Donald Trump.
Update as of 3:20 p.m. – CNN has responded to the WikiLeaks emails.
"This is completely unremarkable. We have similar communications with Republicans. When preparing for interviews we are regularly sent suggestions from rival campaigns and political parties, both solicited and unsolicited. Casting a wide net to ensure a tough and fair interview isn't just common media practice, it's smart," a CNN spokesperson told Epoch Times in an email.
On a daily basis, Wikileaks has released more than 50,000 emails in total, which were taken from the private email account of Hillary Clinton's campaign chairman, John Podesta.
On April 24, DNC research director Lauren Dillon sent an email to other officials and staffers about Wolf Blitzer, the longtime CNN anchor. On April 24, in the same email thread, she wrote: "Wolf Blitzer is interviewing Trump on Tues ahead of his foreign policy address on Wed. Please send me thoughts by 10:30 AM tomorrow."
She later said, on April 24: "CNN said the interview was canceled as of now but will keep the questions for the next one 🙁 . Good to have for others as well."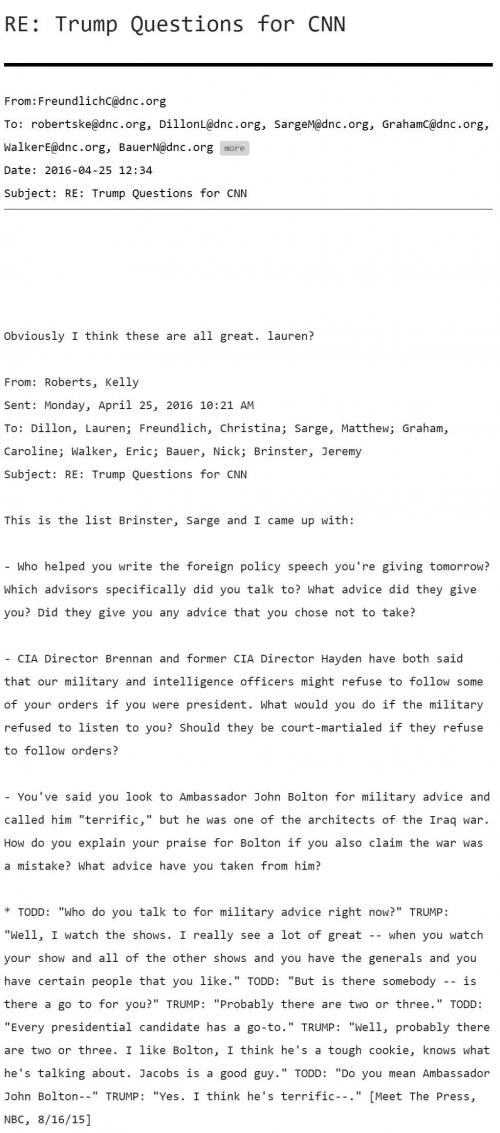 She then listed several questions that could be presumably asked by Blitzer.
"Who helped you write the foreign policy speech you're giving tomorrow? Which advisors specifically did you talk to? What advice did they give you? Did they give you any advice that you chose not to take?" More questions were submitted by DNC staffers for Blitzer to apparently ask Trump.
In an email dated April 28, Jason Seher, a writer for Jake Tapper's show on CNN, emailed former DNC booker Pablo Manriquez to thank him.
The emails said the thank you was sent for "facilitating Luis coming on today, and bearing with us through a meelee (sic) of GOP nonsense and cancellations and all that. Any particular points he'll want to make? We're gonna stay Dem focused…" Manriquez responded, saying Dillon and Christina Freundlich would be included in the thread.
Later, in another email, dated to April 28 of this year with the title "Cruz on CNN," says: "CNN is looking for questions. Please send some topical/interesting ones. Maybe a couple on [Carly] Fiorina. Someone please take point and send them all together by 3pm."