Li Wenzu has not seen her husband, Chinese human rights lawyer Wang Quanzhang, for over three years since he was detained and charged with "subversion of state power."
Wang, who defended spiritual groups persecuted by China's Communist Party including Christians and Falun Gong practitioners, was detained in August 2015 amid a nationwide crackdown on rights activists. Li said he has been held incommunicado and without trial since then.
On Dec. 17, Li and the wives of three other prominent rights lawyers mounted a protest against the communist party's repression of their husbands—by shaving their heads.
"They [the authorities] keep on shamelessly breaking the law. So today we are using this hairless act in protest, to show they are persistently and shamelessly breaking the law," Li said in Beijing.
Their symbolic protest plays on the fact that the Chinese word for "hair" and "law" are near homonyms—"bald" thus sounds similar to "lawlessness."
The four women gathered in the central park of a sleepy Beijing apartment complex and cut off their hair in front of neighbors and a small group of invited foreign journalists. They took turns shaving each other's heads, placing the hair in see-through plastic boxes alongside pictures of them with their husbands.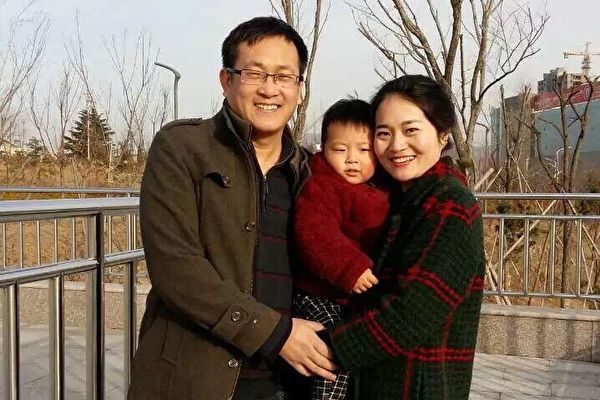 Li said she was protesting against the way her husband's case was being handled. She said judges in Wang's trial had unlawfully delayed proceedings and prevented her from appointing a lawyer of her choosing.
Wang was among the hundreds of lawyers and activists who were detained in a nationwide crackdown against lawyers, legal assistants, and human-rights activists in July 2015. The campaign is widely known as the"709" crackdown—a reference to July 9 in 2015 when the detentions started.
Yuan Shanshan also took part in the protest. Her husband, rights lawyer Xie Yanyi, was also arrested during the 709 crackdown and detained for 18 months. He was released on bail in January 2017 and is awaiting trial. Since his release, he has detailed the torture suffered by detained lawyers.
"In fact, this is a persecution against all lawyers in China. It's not just persecuting against benign lawyers; it's more a persecution against ordinary [Chinese] people, against the people who seek to protect us according to the law," Yuan said.
Another wife, Wang Qiaoling, said she was protesting to expose the hypocrisy of the communist party. Her husband, Li Heping, was given a three-year suspended sentence in April 2017 after being detained for two years in the aftermath of the crackdown.
"The government has made a special point of promoting the constitution and the [rule of] law in recent years, saying [China] must govern according to the law. That means lawlessness [from them] is against the law. Also during this process, to abuse ordinary people's rights like this is terrifying. [They] must not ignore the law," Wang said.
After the protest, the woman headed to China's Supreme People's Court to petition over their husbands' treatment. However, they were denied entry into the court by the police.
"We can go hairless, but you cannot be lawless," the women chanted the pun outside the court.
Reuters contributed to this article.
Watch Next:
Australian Vietnamese Community Has Warning About Communist China
"Yesterday is Tibet, today is Vietnam, and tomorrow is Australia," they say.