Wife of Abducted Taiwanese Man Visits Him in Chinese Jail
August 9, 2012 11:20 pm Last Updated: September 29, 2015 5:12 pm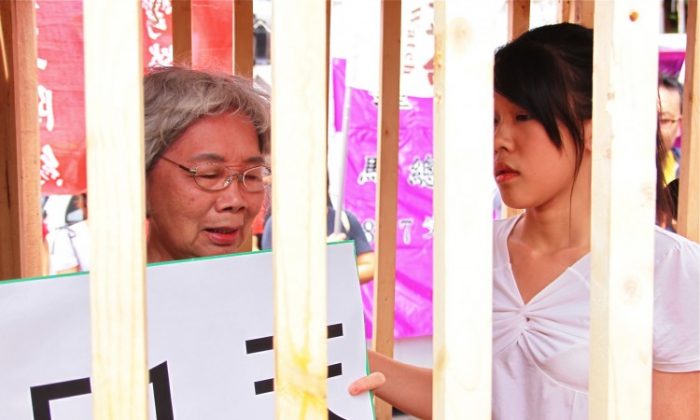 A hopeful turn took place in the case of the Taiwanese Falun Gong practitioner who was imprisoned in June in southeastern China's Jiangxi Province after visiting family there. For the first time, as far as is known, he received visitors from outside China, as his wife and a Taiwanese legislator met with him in prison.
Lee Ya-min, the wife of Chung Ting-pang, an IT manager in Hsinchu City, Taiwan, visited her husband in detention as arranged by the Taiwan Straits Exchange Foundation. She was accompanied by Tsai Cheng-yuan, a member of Taiwan's national legislature.
"We believe that through negotiation between the Taiwanese government and mainland China, soon, positive progress will be seen in the release of Chung Ting-pang," Lai Shin-yuan, the minister of Taiwan's Mainland Affairs Council, told Voice of America's China bureau.
Tsai's office said the lawmaker called mainland Chinese officials urging that Chung be reunited with his family.
An attorney representing the Chung family, Teresa Chu, told VOA that Mrs. Chung did indeed speak with her husband while she visited him but the rest of her family was unaware that the meeting took place.

On Tuesday, several hundred protesters from civic groups gathered in front of the Taiwanese presidential office in Taipei, calling upon the government to rescue Chung from his mainland Chinese captors.
To illustrate their point and to stress the urgency of the situation, supporters brought a mock wooden prison cell and carried out mock tortures that Chung may have been subjected to while in detention. Many Falun Gong practitioners in China have endured a wide number of tortures, according to the press office of Falun Gong, Faluninfo.net, as well as human rights groups including Amnesty International.
Chung was arrested for allegedly committing crimes considered "detrimental to national and public security" but his family and supporters have said he was likely arrested for practicing Falun Gong.
Despite the outpouring of support, Chung's family has not received any official response from the Taiwanese government yet. The family sent a request to the president's office for a third time Monday.
During the protest, Chung's mother, Lai Yu-hsia, said her son "did not do anything wrong by being a Falun Gong practitioner." Both his mother and daughter, Chung Ai, went into the wooden cell to simulate the torture their family member might be facing.
A leading Human rights activist in Taiwan, Tsai Chi-Hsun, who heads the Taiwan Association for Human Rights, said that 22 members of the legislative branch from different political parties signed a petition calling for Chung's release.
Democratic Progressive Party lawmaker Lin Chia-lung said that Chung's detention is an affront to the rights of Taiwanese citizens traveling in China and said he is supporting the Chung family in order to protect the rights of Taiwanese citizens.
Read the original Chinese article.
The Epoch Times publishes in 35 countries and in 19 languages. Subscribe to our e-newsletter.