Commentary
Elon Musk, a man I have discussed elsewhere, is a likable soul. Although he's now worth more than Bill Gates and Warren Buffet combined, he seems like the kind of guy you could grab a beer with. He's an everyman, just like you and me, but ten million times richer.
An outspoken critic of the U.S. government, Musk appears to abhor any sort of authority figure. Well, almost any. He has lavished generous amounts of praise (twice in the same month, in fact) on the Chinese Communist Party (CCP), perhaps the most tyrannical regime on the planet. According to Musk, "China rocks." It really doesn't.
The Charm Offensive
In reality, Musk's China-inspired charm offensive has been occurring for quite some time. Earlier in the year, the South African-born American entrepreneur had the temerity to praise China's climate plans, although the country is mining more coal than ever before.
Then, in September, at an event hosted by the Cyberspace Administration of China, Musk declared Tesla's undying commitment to the Chinese market. Further investment is on its way, he promised.
One needn't be a strategic expert to realize that Musk is sweet on China because China is sweet on him. The country, home to 1.4 billion people, is now the world's largest electrical vehicle market. There is money to be made, lots of it, so Musk will say whatever is needed to penetrate the Chinese market, even if China continues to steal data from Tesla. Interestingly (but not surprisingly), the American manufacturer just announced plans to build both a research center and a separate data center in Shanghai. Not even theft of valuable data is a deterrent.
The question I have is this: How should Americans feel about Musk being so sweet on China? Of course, some could argue that it's none of our business. Musk owes nothing to us or the United States. He is a renegade, a self-made billionaire; as he is in the business of making unfathomable amounts of money. China offers him the chance to fill his pockets and he has every right to penetrate that lucrative market.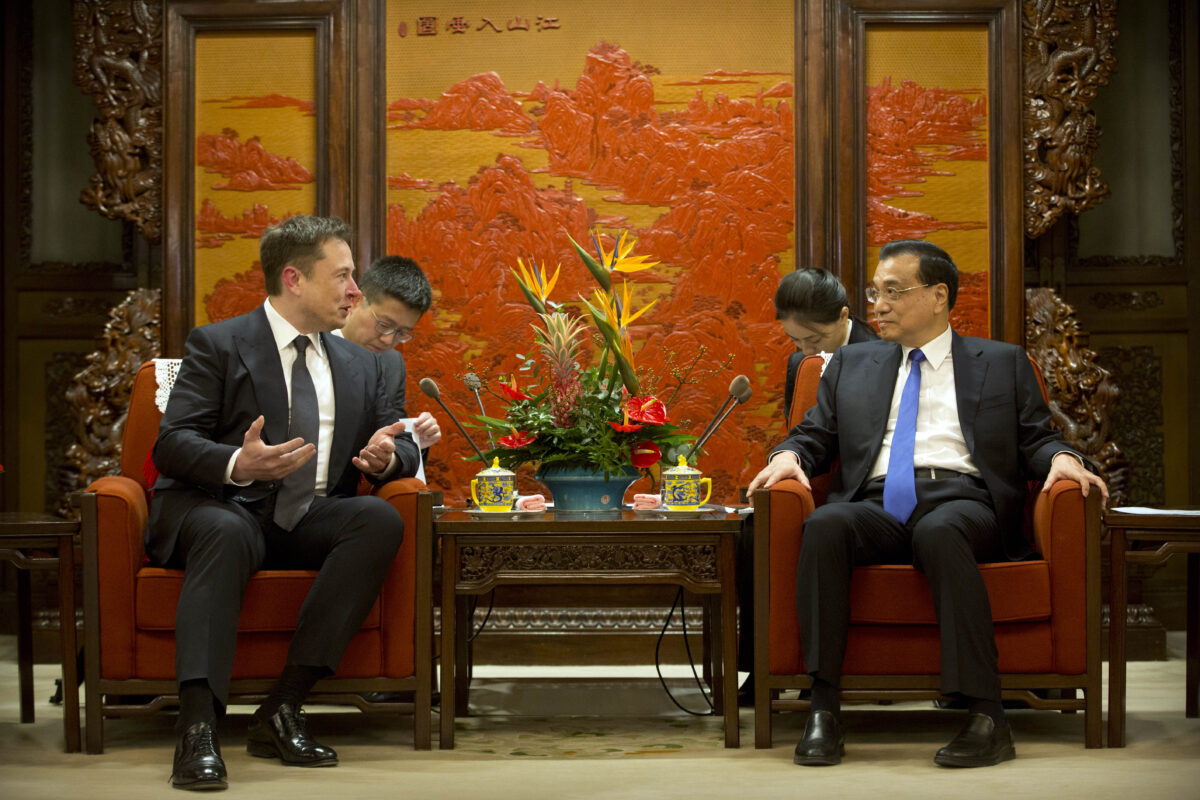 However, there is a reason to push back on such assumptions. Contrary to popular belief, Musk is not a self-made man. As the Los Angeles Times reported back in 2018, the enigmatic impresario "has built a multibillion-dollar fortune" with the help of "billions in government subsidies." These subsidies are funded by American taxpayers' dollars. In total, "Tesla Motors Inc., SolarCity Corp. and Space Exploration Technologies Corp., known as SpaceX, together have benefited from an estimated $4.9 billion in government support," the report said.
As Dan Doley, an analyst at Jefferies Equity Research, told The Times, Musk has a habit of going "where there is government money." Why wouldn't he, especially when the U.S. government offers him generous tax breaks and discounted loans. There is something highly unpalatable about taking billions of dollars from the U.S. government, then opting to praise its rival—China.
Although Musk has benefitted handsomely from such handouts, he has criticized government subsidies offered to other U.S. citizens, many of whom have been affected by COVID-19. Without the assistance of the U.S. government, Musk would not be the man he is today; nor would Tesla and SpaceX be anywhere near as profitable. Those generous subsidies have played a huge role in Tesla's international expansion, including its penetration of the Chinese market.
This makes Musk's allegiance to the CCP even more distasteful. Sadly, such an allegiance should come as no surprise. Nike, Starbucks, McDonald's, the NBA, to name just four huge brands, are all beholden to China—and by extension, the CCP. But Musk is different from those four, largely impersonal brands. He's very much the face of Tesla, and he's very much the face of SpaceX. His voice carries weight—and so do his actions, or lack thereof.
Although Musk presents himself as a man of the people, appearing on podcasts and tweeting out witty remarks, his moral compass appears to be compromised. As the richest man in the world, he doesn't need China—Musk could easily take a stand against a tyrannical regime. This might sound like a utopian dream, but it really shouldn't.
What is wrong with expecting more from influential people, especially people with more wealth than many small countries? Why are moral stances only ever taken in Hollywood movies? Is it too much to ask Musk, a man who essentially lives on Twitter, to tweet out about the abuse of Uyghurs in Xinjiang, or the repression occurring in Tibet, or the suppression of free speech currently taking place in Hong Kong?
I reached out to Mr. Musk's team for comment on the matter. No comments were offered.
If Boston Celtic's Enes Kanter, a man who has much more to lose than Musk, is brave enough to call out the CCP, why can't the Tesla CEO do the same?
We all know why: Money over morals, and profits over people. Musk is not alone in championing such an ethically-deficient philosophy, but that doesn't make it any easier to digest.
If the United States is to take the moral high ground, then people like Elon Musk, himself a U.S. citizen, must do more. Going forward, hopefully more people in positions of influence will take a leaf out of Kanter's playbook, rather than a leaf out of Musk's.
Views expressed in this article are the opinions of the author and do not necessarily reflect the views of The Epoch Times.