Commentary
Liu He, a member of the Politburo of the Chinese Communist Party (CCP), Vice Premier of the State Council, and the chief representative for China in the U.S.-China trade negotiations, is the most important financial advisor for the CCP's top leader Xi Jinping. Recently, he has become a target for ouster by Xi's political enemies who have been repeatedly publicizing potentially incriminating information such as his son's involvement in high stake investments.
Liu Tianran, Liu He's son, started a company (Skycus) that reportedly invested in two Chinese tech giants ̶ Tencent and JD.com ̶ with lucrative returns on the investment.
Several people close to Skycus's operations told the Financial Times that Liu Tianran, who also uses the English name Andy, continued to work on deals for the firm after stepping back as chair and transferring his shares. They added that he played a central role in lucrative transactions involving Tencent and JD.com units, according to Financial Times on May 19.
Skycus Capital invested $40 million in JD Health International, a healthcare arm of Chinese e-commerce giant JD.com, in 2019, which is now worth $230 million. It invested $70 million in JD Logistics in 2018, which is expected to triple in value after JD Logistics's IPO in 2021.
"In 2018, Skycus bought 1.23 million shares in Tencent Music Entertainment for $4.99 million, according to a U.S. securities filing. The stake was worth $18.39 million based [on] its closing price on Tuesday," reported The Standard on May 20.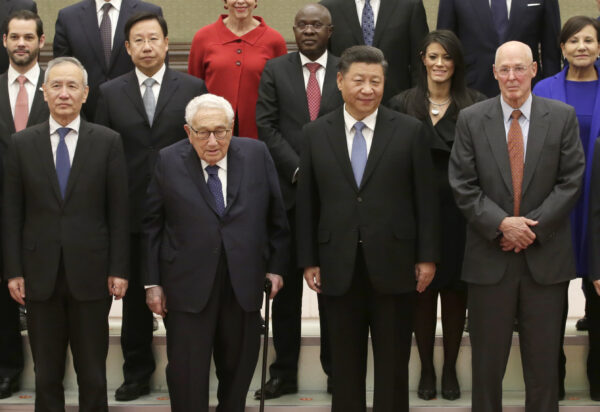 Currently, Skycus Capital manages over $1.57 billion in assets, and one of its funds has received capital injections from Tencent, JD.com, and China Development Bank (CBD), according to a May 20 RFI report.
Vice Premier Liu He is in charge of finance, but his son violates relevant regulations and makes secret investments for huge profits. There are stipulations that children of senior CCP officials should not do business or work in industries that are overseen by a parent. Therefore, this news of Liu Tianran making money in the financial industry is undoubtedly breaking news. Liu He is also suspected of abusing entrusted power for private gain—although I am not able to confirm the authenticity of the news yet.
Why is this information, pointing directly at Liu He, suddenly appearing now?
I think it is very likely that Xi's political enemies deliberately released the news abroad before the 20th National Congress of the CCP, ostensibly targeting Liu He, but it is actually an important action taken to attack Xi.
Who Are Xi's Biggest Political Enemies?
They are the top officials of the Jiang faction led by Jiang Zemin and Zeng Qinghong. Jiang is a former CCP dictator, and Zeng is a former member of the Standing Committee of the CCP's Politburo, Vice Chairman of the State, and the number two figure in the Jiang faction.
During Xi's first five years in power, he had 440 senior officials at the deputy provincial or ministerial level and above arrested through anti-corruption campaigns, as reported by the CCP's mouthpiece Xinhua News Agency in November 2017. Most of these senior-ranking CCP officials, called "tigers" by the CCP, were promoted and reappointed by Jiang and Zeng. These tigers, their tiger sons, tiger grandsons, old tigers, and tiger kings all hate Xi deeply.

In October or November next year, the 20th National Congress of the CCP will be held, and the General Secretary of the CCP's Central Committee, the chairman of the Central Military Commission, members of the Standing Committee of the CCP's Politburo, and the members of the CCP's Politburo will all be replaced. The replacement of top CCP echelons at the 20th National Congress will determine the replacement of the CCP's National People's Congress, State Council, Supreme Court, Supreme Procuratorate, and National Supervisory Commission in 2023.
Xi is now seeking a third term as general secretary of the CCP's Central Committee at the 20th National Congress while ensuring that those who are loyal to him take up key positions at the top of the CCP.
But for Jiang and Zeng, the run-up to the 20th CCP National Congress is their last chance to oust Xi from power. To do so, they must first oust Xi's most important financial adviser, Liu He, just as they ousted Xi's most important anti-corruption official, Wang Qishan, before the CCP's 19th National Congress.
Wang was a member of the Standing Committee of the 18th Politburo and Secretary of the Central Commission for Discipline Inspection. During Xi's first five years in power, Wang played an important role in helping Xi fight corruption and tigers.
At that time, there was a saying in the CCP official circles that "[corrupt people] would rather see Yan Wang (meaning they'd rather die by committing suicide) than see Lao Wang (meaning they wouldn't want to be investigated by Wang Qishan)." If Wang had been reelected to the Standing Committee of the CCP's Politburo and Secretary of the Central Commission for Discipline Inspection at the 19th CCP National Congress, more tigers would have been arrested. To prevent this from happening, Wang's political enemies continuously released negative news about him before the 19th National Congress, and ultimately, Wang was not reelected.
In March 2018, Xi had managed to get Wang elected as vice chairman of the country in appreciation for Wang's job of assisting Xi in his fight against corruption and tigers. However, Xi's political enemies were unhappy about this. Later, they took advantage of a growing suspicion Xi had of Wang due to his relationship with Ren Zhiqiang, a former prominent Chinese real estate developer, and they did everything they could to distance Xi from Wang. The incident that ultimately sidelined Wang was Ren's publication of an anti-Xi article last year, which made Xi very furious. Ren was charged with embezzlement and sentenced to 18 years in prison. This incident was repeatedly hyped by Wang's political opponents and seriously affected Xi and Wang's relationship. Wang gradually lost his political power.
For example, on July 1, 2019, when meeting with Mexican Foreign Affairs Minister Marcelo Ebrard in Beijing, Wang said that he was assisting Xi in doing a little bit of "ceremonial diplomacy," RFI reported on Feb. 7, 2019.
On April 20 this year, at the opening ceremony of the Boao Forum for Asia, Wang did not deliver a speech, saying he was only "a temporary host" and "I just serve as an announcer for Chairman Xi's speech."
The marginalization of Wang means the loss of a powerful political ally for Xi.
Turning Against Liu He
Liu He is one of the few scholarly officials at the top of the CCP today, and one of the very few senior officials at the top who studied in the United States and received a master's degree from Harvard University. Liu founded the Economists 50 Forum, which has "brought together nearly 50 Chinese economists" and is regarded as "a 'think tank' to China's top-level economic policymakers," as stated on the website of the forum.
Liu is a pragmatic member of the CCP's top hierarchy, and he is also the director of the Office of the Central Leading Group for Financial and Economic Affairs, deputy director of the National Science and Technology Leading Group, and director of the Financial Stability and Development Committee under the State Council. He is mainly responsible for overseeing finance, science and technology, and industry, and has participated in many important economic decisions. Liu has been hailed by Bloomberg as "China's Larry Summers (former U.S. Secretary of the Treasury)."
Liu's 70th birthday is next Jan. 25, which means he will have reached retirement age. However, Xi's biggest political opponents are concerned that Xi will break with the norm and allow Liu to become a member of the Standing Committee of the CCP's Politburo at the 20th National Congress, or stay on as Vice Premier, or become the next Premier. The muckraking about Liu He's son in foreign media is perhaps to prevent Liu He from keeping his political power. If Liu He is expelled from the political arena, Xi will lose another most important aide.
Striking on All Fronts
Xi's biggest political enemies have turned against him, not just by striking out against Wang Qishan and Liu He, two heavyweights, but by striking on all fronts.
Wang Huning, the most important crony installed by Jiang and Zeng to be at Xi's side and a current member of the CCP's Politburo Standing Committee, has played a key role in this. Wang was transferred from Fudan University in Shanghai to Zhongnanhai, the CCP's headquarters, in Beijing by Jiang Zemin in 1995. To date, Wang has worked in Zhongnanhai for 26 years.
Wang is in charge of an array of areas, including the CCP's party building work, ideology, and propaganda. He is also a member of various CCP organizations, including the Secretariat of the CCP's Central Committee, the Central Comprehensively Deepening Reforms Commission, Central Financial and Economic Affairs Commission, and Central Cyberspace Affairs Commission.

As chief of the CCP's ideological work, Wang exerts influence on Xi mainly in the following three ways:
First, Wang constantly brainwashes Xi with Marxist-Leninist theory.
Known as the "state adviser for three dynasties" (he has served two previous CCP general secretaries Jiang Zemin and Hu Jintao and the current general secretary Xi), Wang first prepared the so-called "Jiang Zemin Theory," for Jiang Zemin. Later he promoted Hu Jintao's theory "Scientific Outlook on Development," and he is the author of Xi's "Chinese Dream," according to Yue Shan, a freelance writer who used to work for CCP government organizations.
On April 23, 2018, the CCP's Politburo studied Karl Marx's Communist Manifesto en masse. On May 4, 2018, the CCP held a commemoration of the 200th anniversary of Marx's birth, in which Xi delivered a lengthy speech in praise of Marx.
Events like these may have been organized and led by Wang.
Miles Maochun Yu, the principal China policy and planning adviser to the former United States Secretary of State Mike Pompeo, said in an interview with  the Chinese edition of NTD, "Xi Jinping is a very theoretically poisoned CCP leader [by Marxism]." He added that "Xi Jinping thinks he is an adherent of Marxism and Leninism."
Yu's assessment exactly points out the root of Xi's problems. In recent years, Xi has made repeated mistakes in domestic and foreign affairs, all stemming from him being poisoned by Marxist ideology. And this is directly related to the influence exerted by Wang.
Second, Wang initiated a cult of personal worship of Xi, by which he isolated Xi from others, preventing him from hearing the truth and seeing the real situation. This is a very important reason why Xi has been making one miscalculation after another.
Third, Wang makes use of the power he has to control the CCP's propaganda machine and has extended the CCP's oppression and deception to Hong Kong, Taiwan, the United States, and other parts of the world. This is an important reason for Xi's unpopularity in many countries.
I think that the strike against Liu He by Xi's biggest political enemies is just one of their anti-Xi moves.
It is foreseeable that before the 20th National Congress of the CCP, Xi's political enemies will continue to expose a variety of negative information about Xi and Xi's cronies in an effort to oust Xi from power. Even if they can't succeed, they still want to create maximum trouble for Xi.
Of course, Xi is not likely to let these things happen. On Jan. 29 this year, Lai Xiaomin, the former chairman of China Huarong Asset Management Group, a close associate of Jiang and Zeng, was quickly executed—only 24 days from the death sentence to the execution—serving as a stern warning to Jiang and Zeng.
The infighting between Xi and anti-Xi forces may enter a much more heated stage later this year, and the possibility of major events that will shock the world should not be ruled out.
Wang Youqun graduated with a Ph.D. in Law from the Renmin University of China. He once worked as an aide and copywriter for Wei Jianxing (1931–2015), a member of the CCP Politburo Standing Committee from 1997 to 2002.
Views expressed in this article are the opinions of the author and do not necessarily reflect the views of The Epoch Times.