Why Did Pete Carroll Have the Seahawks Pass on Final Play that Led to Interception in Super Bowl? (Video)
February 1, 2015 Last Updated: February 1, 2015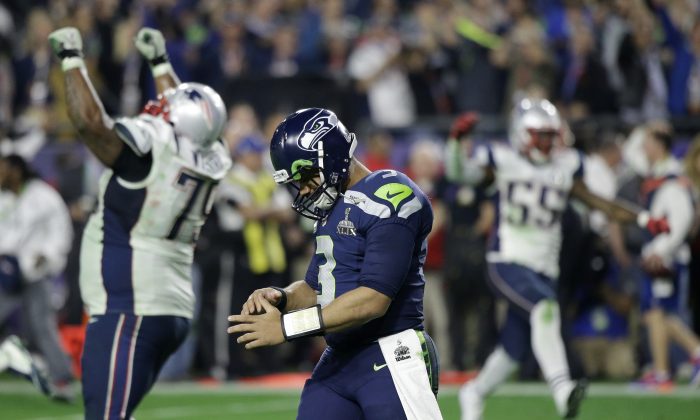 Seattle Seahawks coach Pete Carroll said that he made the final call to throw a pass on first and goal with less than a minute to go, saying he told his players that it was "my fault, totally."
Russell Wilson then threw an interception, giving the New England Patriots possession and ultimately, the win. Carroll a "miraculous play" was made on the interception.
In an interview with NBC after the game, the longtime head coach said that the call was made because he wanted to take a shot first and then try to run several times. Carroll noted that it's hard to have the whole season "come down to a play like that" because all the players "worked so hard" to get to that point.
"It was a fantastic football game," he said. He said, "We had plenty of downs and we had timeouts" during the final segment of the game.
"We have to live with that because we did everything right," he said.
A number of people questioned why the Seahawks opted to throw the ball in that situation when top running back Marshawn Lynch could have been used instead.
And Tom Brady and the Patriots made this Super Bowl all about football, not footballs.
Clutch football, spiced by a sensational fourth-quarter rally and a goal-line, game-saving interception.
This is what Wilson saw on the big INT. I would have thrown that, too. pic.twitter.com/UFBtJRIUtp

— Rob Guerrera (@StatsNBCSports) February 2, 2015
The record-setting Brady threw for four touchdowns, including a 3-yarder to Julian Edelman with 2:02 remaining Sunday night as New England rallied from a 10-point deficit to win its fourth Super Bowl in the Brady-Bill Belichick era, 28-24 over Seattle.
But the Patriots (15-4) had to survive a last-ditch drive by the Seahawks (14-5), who got to the 1, helped by a spectacular juggling catch by Jermaine Kearse. Rookie Malcolm Butler stepped in front of Ricardo Lockette and picked off Russell Wilson's off-target pass to complete one of the wildest Super Bowl finishes.
Brady leaped for joy on the Patriots sideline after Butler's interception.
"It wasn't the way we drew it up," said Brady, who won his third Super Bowl MVP award.
Brady surpassed Joe Montana's mark of 11 Super Bowl touchdown passes with a 5-yarder to Danny Amendola to bring the Patriots within three points.
Seattle, seeking to become the first repeat NFL champion since New England a decade ago, was outplayed for the first half, yet tied at 14. The Seahawks scored the only 10 points of the third period, but the NFL-leading defense couldn't slow the brilliant Brady when it counted most.
It didn't matter how much air was in the balls, game Brady was unstoppable when the pressure was strongest. While pushing aside the controversy over air pressure in the footballs stemming from the AFC title game, the Patriots toyed with Seattle in the final 12 minutes.
With The Associated Press.