Tiananmen Square Commemoration, Hong Kong Suppressed By Beijing
June 3, 2010 10:18 pm Last Updated: October 1, 2015 7:58 pm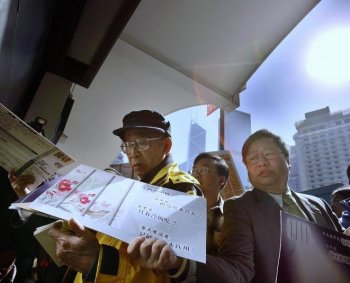 In 1989 more than 1 million people in Hong Kong participated in a demonstration protesting the Tiananmen Square Massacre almost immediately after it happened. This was a spontaneous act by a free people, an assertion of their revulsion at the actions of the tyranny to the north. Each year since then, commemorative events have been staged in Hong Kong around June 4, the date of the massacre.
This year's events were marred by Hong Kong police temporarily confiscating art work meant to be displayed in the week leading up to June 4 and restricting where the commemorative activities could take place. These attempts to interfere with the commemoration of the Tiananmen Square Massacre were driven by the political needs of a Chinese Communist Party (CCP) seeking to dominate events in Hong Kong while fearing it is losing control, according to activists and experts familiar with the situation.
Of first importance for the CCP in Hong Kong is to squelch efforts to give Hong Kong a truly democratically elected government. Hong Kong citizens have the right to vote for their own representatives, but the government is organized in such a way that the representatives elected by the people of Hong Kong are never able to control the government. Behind the scenes the CCP is able to control events.
The government of the Hong Kong Special Administrative Region (SAR) has sought since 2005 to pass through the city's Legislative Council a Beijing-backed "reform package" that is said to provide a path to universal suffrage for the city. Democracy activists have opposed this package as false reform, which appears to change the political system while in fact assuring that the CCP will continue to control it. While the democracy activists do not have the votes to pass their own proposal for reform, they have succeeded in blocking the government's.