Commentary
I currently reside in Nepal, a small, landlocked country. The home of Mount Everest, the world's highest mountain peak, Nepal is known for exporting very little and importing quite a lot, with the people of Nepal relying heavily on tourism as a source of income.
Then, one wonders, why are three of the most powerful countries—China, India, and the United States—so interested in a country roughly the size of Illinois?
Nepal shares a border with India. But as the movie "Grumpy Old Men" taught us, neighbors don't always get along. Despite linguistic, religious, and cultural similarities, India and Nepal are not on good terms. In fact, the two countries haven't been on good terms for decades.
In recent times, the governments of both countries have clashed over the Kalapani territory, a sort of no-man's-land that lies at the eastern border of Uttarakhand, a state in northern India crossed by the Himalayas, and Nepal's Sudurpashchim Pradesh. Although the territory is under Indian rule, the Nepali people argue that their neighbors have stolen what's rightfully theirs. India never tires of angering the people of Nepal, and because of this, the Nepali government has become increasingly close with their other neighbors in China. Not surprisingly, the Indian government is clearly worried about the Chinese Communist Party's (CCP) growing presence in Nepal.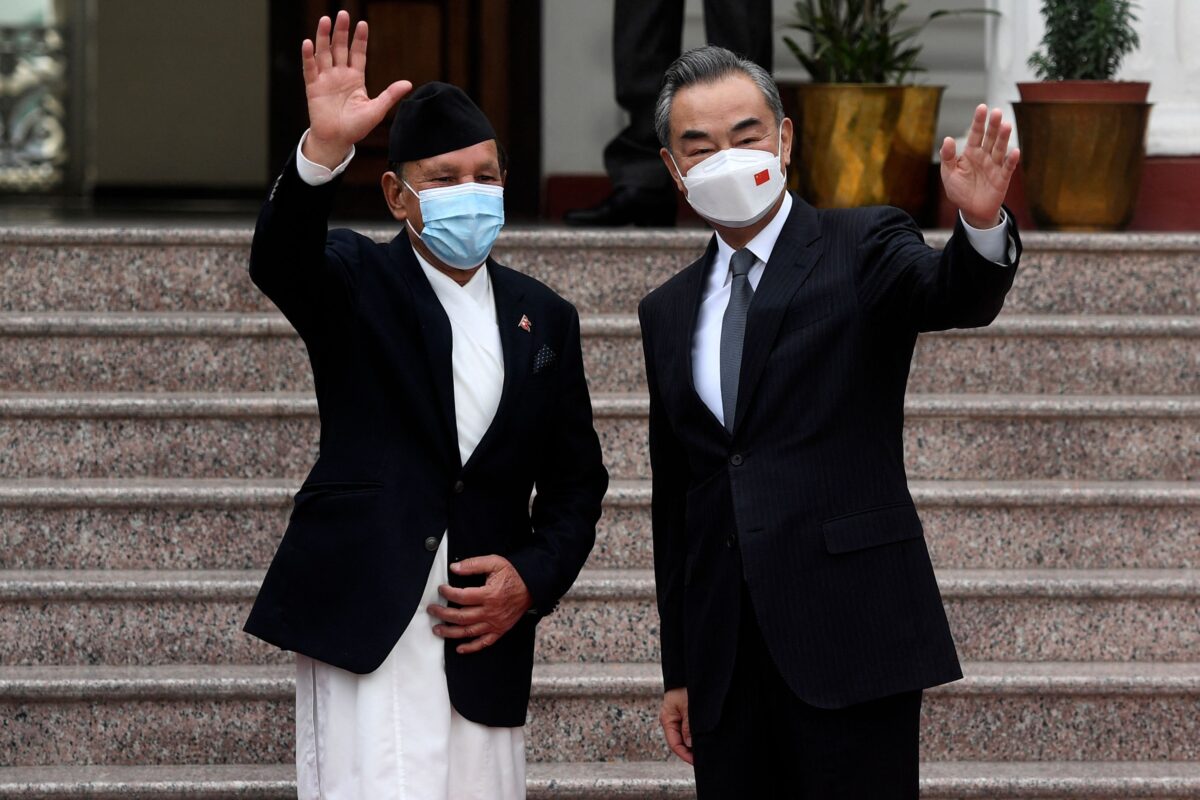 Another country that is worried about the influence of Beijing is the United States. In 2015, Nepal applied to be a part of the U.S. State Partnership Program (SPP), a joint security cooperation program between the Department of Defense (DOD) and foreign countries. Established in 1993, the program now has 77 partners around the world. In June of this year, however, Nepal's government had a change of heart, officially communicating that the land of 30 million people was no longer interested in joining the SPP.
Why?
Some critics have argued that the SPP is closely aligned with the United States' Indo-Pacific Strategy (IPS), a tactical plan designed to address the threat from China. Nepal, it seems, has little interest in angering its Chinese neighbors. That's because Sino-Nepalese relations are supposedly marked by reciprocity and cooperation.
Nepal is not a rich country. Its per capita income is a little over $1,000. Its infrastructure leaves a lot to be desired. Nepal needs all the investment it can get. China is only too willing to assist. Last year, Nepal received $268 million in foreign direct investment. China provided 71 percent ($188 million) of it. The question, though, is why? Why is China so interested in Nepal?
First, there is a degree of FOMO (fear of missing out). If China doesn't get in there, the CCP fears that its two biggest rivals, India and the United States, will. Second, Nepal, firmly nestled between India and China, occupies a location of real geostrategic significance. Third, Nepal has an abundance of valuable minerals like coal, iron, copper, and limestone.
There's also a fourth, extremely intriguing reason that explains China's interest. As Lt. Gen. Chauhan, a commander with the Indian Army, recently noted, "the slightest stir in Nepal will have a residual effect on India and China, especially in Tibet." Nepal is, in many ways, "the gateway to the Tibet Autonomous Region (TAR)." Chauhan believes Nepal now "plays a vital role in China's South Asia outreach and the gateway to the Indo–Gangetic Plains of India, in many ways the heartland of India." The Chinese, he warns readers, view Nepal as "the soft underbelly of Southern Tibet and are now determined to keep it under their influence."

This brings us to the Dalai Lama, a man synonymous with Tibet.
In 1959, when China annexed Tibet, Gyalwa Rinpoche, the 14th and current Dalai Lama, fled to the Indian city of Dharamsala. Situated on the edge of the Himalayas, the city is home to a large number of exiled Tibetans, the Dalai Lama included. Like us all, the spiritual guru is not getting any younger. He recently celebrated his 87th birthday. A successor must be chosen. The Dalai Lama has spoken about the possibility of his successor coming from a "free country." He has also floated the idea of an "attractive" female replacement.
Naturally, the CCP has other plans. Beijing has made it abundantly clear that the Dalai Lama's successor will be chosen by Chinese leader Xi Jinping and his colleagues. According to the Chinese foreign ministry, "the reincarnation must comply with Chinese laws and regulations, follow rituals and historic conventions."
We now face the very real possibility of two successors being chosen—one by the Dalai Lama and one by the CCP. Contrary to popular belief, Buddha was born in Nepal, not India. If Nepal were to throw its weight behind the CCP's candidate, it would add a veneer of credibility (albeit a very light one) to the Chinese candidate.
It's clear to see that Nepal is a country of real significance, thus explaining why China, India, and the United States are so interested in this highly volatile, multicultural state. Nepal, it seems, is only interested in one of its suitors. As I finish writing this short piece, Narayan Khadka, Nepal's foreign minister, is preparing to board a plane to China, much to the United States' dismay. At a time of heightened tensions between Beijing and Washington, Kathmandu is siding with the former and shunning the latter.
Views expressed in this article are the opinions of the author and do not necessarily reflect the views of The Epoch Times.