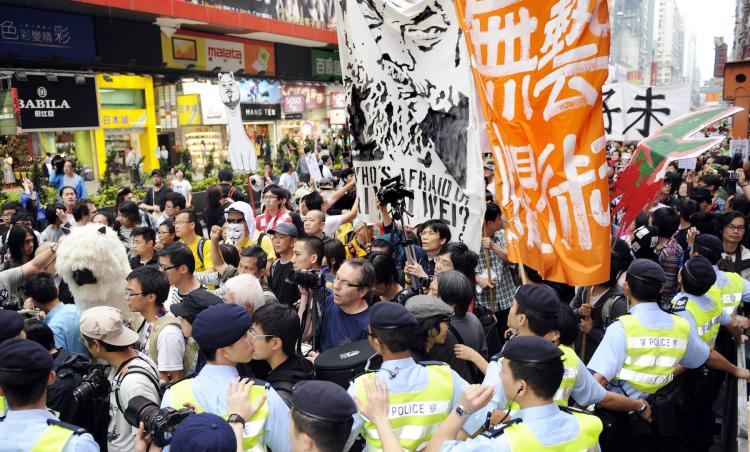 Three weeks after the disappearance of Ai Weiwei, people around the world are speaking out on his behalf. In Hong Kong thousands staged a protest march demanding the immediate release of the world-acclaimed Chinese artist and rights activist.
Many people showed up in creative costumes and masks and brought along expressive artwork, posters and banners, as well as gongs and drums. Banners displayed slogans asking for freedom of artistic expression and human rights.
Hong Kong event organizers, a coalition of artists, said about 2,500 participated in the April 23 march.
Cheng Zhanwei, the rally coordinator, entered a large "white terror" bug in the parade, a contraption he had built out of bed sheets and metal tubing that looked somewhat like a Chinese lion, and had the message "Freedom of Expression" printed on its sides.
The bug symbolizes white terror spreading to Hong Kong, Cheng explained. White Terror is a term used in some countries where political dissidents and public discussion are suppressed.
"Conducting a criminal investigation of a graffiti artist is an international joke. I think we need to stand up and tell people that we cannot allow this," Cheng told The Epoch Times.
Another mythical beast entered in the parade was a "Cao Ni Ma" or "grass mud horse," a homophone for a swear word Chinese bloggers use to evade Internet censors when swearing at the communist regime.

A large poster, bearing Ai's image and the question, "Who's afraid of Ai Weiwei?" headed the parade.
Ai, who spent much of his life in the West, went missing at the Beijing airport on April 3 before boarding a plane to Hong Kong en route to Taiwan. For three weeks now Ai's whereabouts has been unknown. During this time official Chinese media launched a smear campaign against him while Ai supporters world wide protested outside of Chinese consulates and circulated petitions for his release. The UN Working Group on Enforced or Involuntary Disappearances issued a statement for Ai's release on April 8 and said, "Enforced disappearance is a crime under international law."
An April 21 article submitted to the NGO "Human Rights in China" by a mainland Chinese using an alias, alleges that Ai has been severely tortured in custody and has signed a confession of tax fraud.
Mocking the Regime
Ai Weiwei's work as an artist has tremendous appeal to people all over the world because of his strong and stubborn conscience. Ai is fiercely critical and outspoken of the communist regime's civil rights violations. Ai has frequently made use of the "grass mud horse" and other homophones in his art to mock and express his contempt for the Chinese communist regime. And that's what people see as the real reason for Ai's disappearance.
"After 60 years of absolute power, the Chinese Communist Party is more fragile than the world thinks–and has trouble dealing with any criticism or challenge, especially from its own people," award-winning Montreal based writer Yan Liang said in an April 19 blog on Linda Leith's Salon of Montreal Writers.
Yan commented on Ai's provocative 2009 art called "Leapfrog with Cao Ni Ma." The piece is a photo of a nude pose by the artist with a model "grass mud horse," that barely covers up the artist's private parts–also a homophone for the central committee of Chinese Communist Party (Dang Zhong Yang), according to Yan.
Chinese political commentator He Qinglian said this piece by Ai is probably the one that has annoyed the authorities the most.

Read More…Taste of Freedom