WHO Says China Still Not Sharing Bird Flu Samples
December 30, 2005 12:00 am Last Updated: December 30, 2005 12:00 am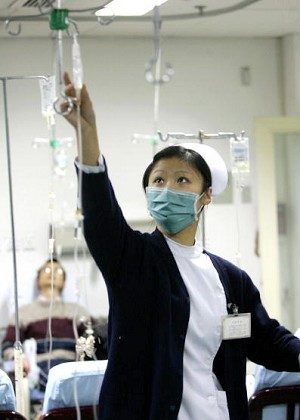 BEIJING — China is still not sharing virus samples from animal bird flu outbreaks, the World Health Organisation said on Friday, a day after Beijing announced the country's third human death from the disease.
The woman, a 41-year old factory worker from the southeastern province of Fujian, died from the deadly H5N1 form of the virus over a week ago, Xinhua, China's state-controlled news agency, said.
She had apparently contracted the disease in an area that had not officially reported previous outbreaks among birds.
The WHO and other international health bodies have called on China to pass on animal samples of the bird flu virus for testing, which China has not done.
"It means that there is a question mark that hangs over the progress of the virus in China," said Roy Wadia, the WHO's Beijing-based spokesman. "It's perhaps more significant to get animal viruses, because this virus is still something that is primarily in the animal sector."
The WHO has said it was unclear why China was not sharing the virus samples, but said it had not seen evidence of a SARS-style cover-up.
Some information has been shared this year, but only on paper, Wadia said.
The Ministry of Agriculture declined to comment.
China agreed earlier this month to share virus samples isolated from human bird flu cases.
"It's certainly a situation where the viruses need to be shared and not only shared but shared in a timely and consistent manner," Wadia said.
The new outbreak showed how difficult the monitoring of bird flu was in China, he added.
"If the animals in the area were sick and dying, and if they were dying in small numbers, it might have been very difficult to identify that as an outbreak," Wadia said.
"It just shows you that anything can happen at any time. It's a very unpredictable situation, whether on the human side or the animal side," he said, adding it was too early to say if the WHO was considering sending a mission to Fujian.
Seven Cases
China's latest human bird flu case—the seventh this year—comes after two fatalities from the virus in Anhui province in eastern China.
WHO experts also believe a 12-year old girl in the southern province of Hunan very probably died from bird flu in November, but China does not include her in its tally.
Xinhua did not offer any details of the latest victim's work or background; nor did it say how she may have contracted the H5N1 virus. Previous infections have involved people who had close contact with poultry.
Chinese newspapers ran brief reports about the latest death on their inside pages on Friday, and state television news broadcasts led with the opening of a film museum rather than bird flu.
The Chinese health ministry has notified the WHO, as well as Hong Kong and Taiwan—the self-governed island that lies opposite Fujian province.
Fujian has not reported any outbreaks among birds.
But in early 2003, two Hong Kong residents who travelled to Fujian were diagnosed with H5N1 after they returned home, including a 33-year-old man who died. One of the man's daughters had earlier died of pneumonia in a Fujian hospital.
Taiwan also says that bird flu turned up in exotic birds smuggled by boat to the island from Fujian.
The WHO's Wadia said Taiwan issues were handled by the group's head office in Geneva, not Beijing.
Taiwan is not a member of the WHO, and a bid to gain observer status in May failed after member states accepted without a vote a call by China to take no action on Taipei's request.
China says only sovereign states are entitled to join. Beijing claims Taiwan is a breakaway province to be eventually reunited, by force if necessary.
Additional reporting by the Epoch Times