The Ebola outbreak in the Democratic Republic of the Congo does not yet need to be declared as an international health emergency said global health officials.
The World Health Organisation (WHO) has been tracking the outbreak in recent months of what is regarded as one of the deadliest viral diseases known to humankind.
On Oct. 17, a WHO emergency committee said it remained "deeply concerned" by the Ebola outbreak in the DRC that has so far killed 139 people.
But the International Health Regulations Emergency Committee stopped short of officially declaring the situation as a public health emergency of international concern (PHEIC).
WHO officials previously warned of the outbreak coming amid a "perfect storm" of factors, including attacks by armed groups, the geographic spread of the disease, and public mistrust.
Ebola kills around half of those it infects, and is described by the Center for Disease Control (CDC) as one of the "deadliest viral diseases."
The outbreak started back in May, but was officially raised as a concern by the Congolese authorities in August.
According to the WHO, in the current outbreak, the overall fatality rate in the 216 reported cases is 64 percent.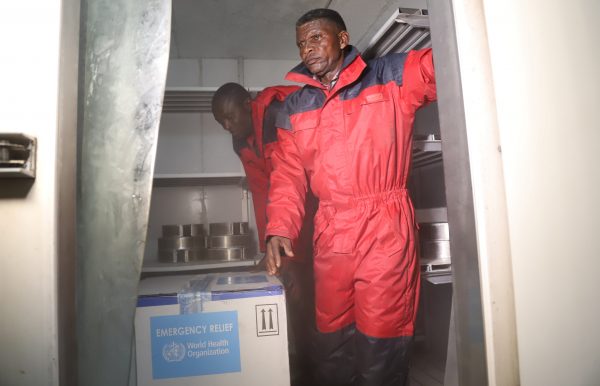 The WHO said that global response needed to be intensified and that "ongoing vigilance is critical. "
It also noted concerns over the security situation in DRC, which have been hampering efforts to trace and contain the virus.
"This outbreak is taking place in an active conflict zone amidst prolonged humanitarian crises," said a WHO statement. "Approximately eight major security incidents have occurred in the Beni area in the past eight weeks."
In September attacks by armed opposition groups increased in severity and frequency, especially those attributed to the Alliance of Democratic Forces.
At the end of September, the WHO was forced to suspend it's operations for several days after an attack in the city of Beni, where operations are based.
Fear, mistrust, and misinformation—made worse by the security problems—are also preventing people from seeking treatment.
"Nine neighbouring countries have been advised that they are at high risk of spread and have been supported with equipment and personnel," said the WHO statement. "Particular emphasis has been placed on Uganda, Rwanda, Burundi, and South Sudan in terms of preparedness activities."
"Exit screening, including at airports, ports, and land crossings, is of great importance; however, entry screening, particularly in distant airports, is not considered to be of any public health or cost-benefit value," the statement said.
The virus was  first discovered in 1976 near the Ebola River in what is now the DCR.
Scientists do not know where the Ebola virus comes from, according to the CDC, but they believe the virus is animal-borne, with bats being the most likely source, carrying the virus to other animals, like apes, monkeys, duikers, and humans.
The CDC website states, the "Ebola virus spreads to people through direct contact with bodily fluids of a person who is sick with or has died from EVD. This can occur when a person touches the infected body fluids (or objects that are contaminated with them), and the virus gets in through broken skin or mucous membranes in the eyes, nose, or mouth."