The White House says it is preparing in case diplomacy with Iran fails.
White House press secretary Jen Psaki told reporters Thursday that given ongoing advances in Iran's nuclear program President Joe Biden has ordered his team to make preparations for the possibility that diplomacy fails and the United States must resort to other options.
"If diplomacy cannot get on track soon and if Iran's nuclear program continues to accelerate then we will have to no choice but to take additional measures to further restrict Iran's revenue-producing sectors," said Psaki.
Psaki added that Office of Foreign Assets Control (OFAC) director Andrea Gacki will lead a Treasury-State delegation to the United Arab Emirates (UAE) next week to talk about sanctions compliance. The trip will focus on engagements with the private sector and UAE government officials to discuss the companies and financial institutions that facilitate noncompliant Iranian commerce, Psaki said.
The Biden administration has kept in place all Iranian sanctions it inherited from former President Donald Trump, who put the sanctions in place after backing the United States out of the Iran nuclear deal in 2018.
A year after the United States left the 2015 deal that also included France, Britain, Germany, Russia, and China, Iran began violating nuclear restrictions outlined in the deal, moving the country closer to developing the capacity to acquire a nuclear weapon.
Biden has signaled that he wants to rejoin the deal.
But ongoing indirect U.S.-Iranian nuclear talks in Vienna faltered last week when Iran's new, hardline government under anti-Western President Ebrahim Raisi abandoned many compromises it had made in the previous six rounds of talks.
This after Raisi's election in June caused a five-month hiatus in the talks.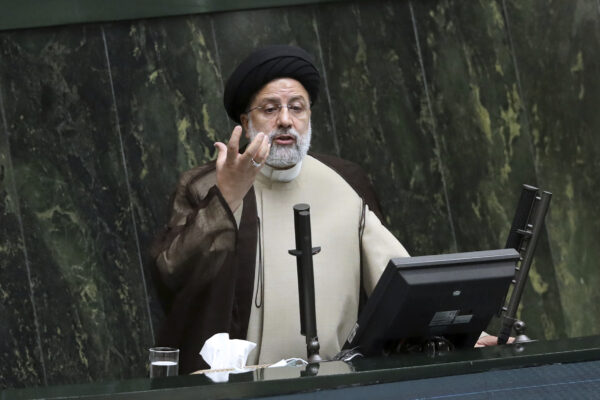 The seventh round of discussions resumed on Thursday with Iran's top negotiator saying he was sticking to positions Tehran set out last week.
"Iran underlined that it is seriously continuing the talks based on its previous position," chief negotiator Ali Bagheri Kani told reporters after an opening meeting with world powers on Thursday.
"Iran is serious about reaching an agreement if the ground is paved (towards a deal)…The fact all sides want the talks to continue shows that all parties want to narrow the gaps," said Kani.
"The runway is very short there is not much time left" State Department spokesman Ned Price said Thursday of Iran's path to return to compliance under the nuclear agreement through diplomacy.
Biden administration officials have maintained that diplomacy is the best course to return Iran and the U.S. to compliance with the deal known as Joint Comprehensive Plan of Action (JCPOA).
"We are still committed to seeing if that is the case," said Price.
Reuters contributed to this report.