Several U.S. agencies issued a "do not travel" advisory to eight southern African nationals due to the Omicron COVID-19 variant that was named last week, while on Monday morning, a previously announced federal travel ban on those countries went into effect.
The U.S. Centers for Disease Control and Prevention (CDC) recently raised its travel recommendation to "Level Four: Very High" for South Africa, Botswana, Zimbabwe, Namibia, Mozambique, Malawi, Lesotho, and Eswatini, formerly known as Swaziland. The Department of State also issued "Do Not Travel" advisories for the same countries.
Before alarm was raised over the Omicron variant set in last week, the CDC and State Department only listed Botswana as a "Level Four" country last week. Before the latest designation, the CDC recently lowered South Africa from "Level 3: High" to "Level 1: Low."
Last week, the White House announced it would bar nearly all foreign nationals who had been in the eight African nations within the last 14 days due to the new variant. That ban went into effect at around 12:01 a.m. on Monday, Nov. 29.
The Omicron variant has now been reported in Canada, the United Kingdom, many European Union countries, Israel, and others outside the African continent. It's not clear if the federal government will now move to suspend travel from any countries reporting cases of the variant.
Meanwhile, top federal health officials, including White House adviser Anthony Fauci, said during weekend interviews that Omicron is likely—or will likely—be in the United States. On Saturday, the CDC announced that no confirmed Omicron cases have been found in the United States so far.
Several doctors treating Omicron patients in Israel and South Africa have reported the strain so far appears to cause milder symptoms than the Delta variant. On Sunday, Dr. Sharon Alroy-Preis, Israel's head of public health services, told Haaretz that while the Omicron infection chance is "very high," vaccinated people have become only slightly sick.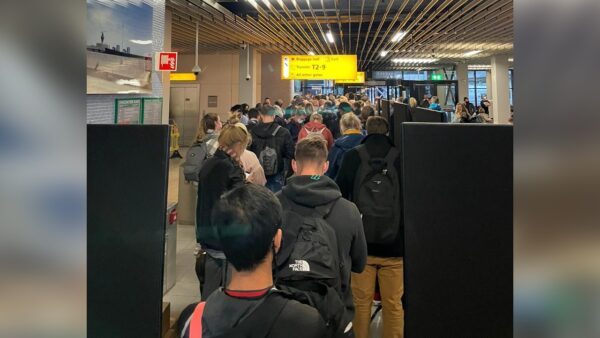 Before that, the head of the South African Medical Association, Dr. Angelique Coetzee, who  alerted authorities about the newest variant, said that Omicron patients' symptoms were "so different" yet "so mild from those I had treated before."
In an update on Sunday, the World Health Organization said it's not yet clear if Omicron is more transmissible than previous COVID-19 variants, including Delta. Also unclear is whether the variant can present more severe disease, the U.N. health agency said.
"There is currently no information to suggest that symptoms associated with Omicron are different from those from other variants," said WHO, which drew criticism for not calling the new strain "Xi." "Initial reported infections were among university students—younger individuals who tend to have more mild disease—but understanding the level of severity of the Omicron variant will take days to several weeks," the WHO said.
Individuals who were previously infected with COVID-19 may become reinfected more easily with Omicron, WHO said, as compared with other variants. However, the health body noted that more data is needed.
Other than the United States, the European Union, Israel, and more issued travel restrictions on southern African countries, drawing condemnation from South African and WHO officials.
"Travel restrictions may play a role in slightly reducing the spread of COVID-19 but place a heavy burden on lives and livelihoods," WHO's regional director for Africa, Matshidiso Moeti, said in a statement on Sunday. "If restrictions are implemented, they should not be unnecessarily invasive or intrusive, and should be scientifically based, according to the International Health Regulations, which is a legally binding instrument of international law recognized by over 190 nations."