The White House plans to hold a swearing-in event on Monday night for Supreme Court nominee Amy Coney Barrett following her expected confirmation in the Senate, according to White House chief of staff Mark Meadows.
Meadows told reporters on Monday morning that if Barrett's nomination is confirmed by the full Senate, the White House expects "a swearing in to happen later this evening if all goes well."
He pushed back on suggestions that the event could be a repeat of the late September event in which President Donald Trump announced Barrett's nomination. A number of people who attended that event in the Rose Garden were infected with COVID-19.
"The very first event, while there's a whole lot of connections that had been made with who was at the event and who came down with it, you know, we've been able to look at that and track … as many as three different areas where the virus actually infected different people within the White House. So it didn't all come from that particular event," Meadows said.
He added that during the event tonight—if it occurs—the White House would "encourage as much social distancing as possible."
"It'll be outdoors if it goes off as planned right now and [we'll] still continue to do testing in and around those that are critical to the mission to try to get there," he said.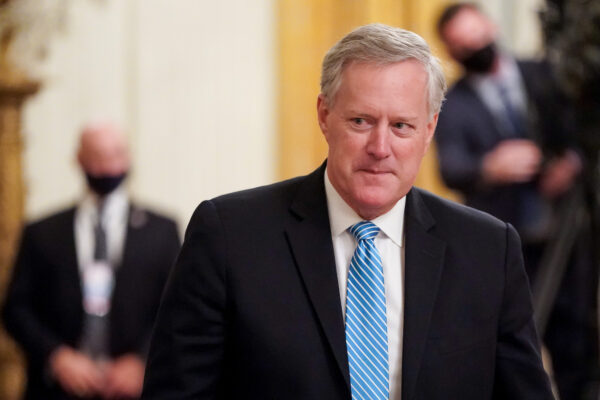 The Senate is expected to hold its final vote on Barrett's nomination on Monday following a procedural vote on Sunday to limit debates over Trump's nominee to just 30 hours. This means the upper chamber could vote as soon as 7 p.m. on Monday.
In Sunday's vote, senators voted 51-48 largely on party lines, with all Democrats voting against limiting the debate and Republican Sens. Lisa Murkowski (R-Alaska) and Susan Collins (R-Maine) joining them.
Murkowski on Saturday said on the Senate floor that although she opposes the process of filling the vacancy on the Supreme Court right before an election, she intends to vote to confirm Barrett.
"I believe that the only way to put us back on the path of appropriate consideration of judicial nominees is to evaluate Judge Barrett as we would want to be judged, on the merits of her qualifications. And we do that when that final question comes before us. And when it does, I will be a yes," Murkowski said.
Meanwhile, Collins has kept her initial position indicating that she would vote against Barrett's final confirmation, saying it's too close to the presidential election.
Republicans only need 51 votes to confirm a new justice, meaning that with a 53-member majority, the GOP can afford to lose up to three Republicans, with Vice President Mike Pence able to cast the tie-breaking vote if a 50-50 split occurs. Pence's vote isn't expected to be required as Sen. Mitt Romney (R-Utah), who was initially considered a swing vote, has repeatedly said he would confirm Barrett.
Republicans' push to confirm Barrett to the nation's highest court comes weeks before the Nov. 3 presidential election, drawing criticism from their Democratic colleagues who say that the winner of the election should select the nominee to replace the late Justice Ruth Bader Ginsburg.
Democrats have also taken issue over holding the proceedings during the pandemic as well as the tight schedule set by Republicans. They are also opposing Barrett's nomination because they are worried that the judge would not hesitate to vote to overturn former President Barrack Obama's signature health care law, the Affordable Care Act, which has been challenged in a lawsuit currently pending before the Supreme Court. Barrett could be confirmed in time to join the bench and hear that case.
Tom Ozimek contributed to this report.